Dual Islands Foster Collaboration in the Kitchen
From my first meeting with this homeowner, I knew this project wasn't going to be your average white kitchen. She came to her design consultation with a clear vision for her space, providing us with great inspiration and a large canvas to work with. How was I going to maximize functionality with ample room for gathering and food prep? Beyond the dual-island layout, this stunning kitchen has many special details that come together to make it a truly inspiring and functional space.
After gaining an appreciation for the homeowner's style at our initial consultation, I guided her through making selections from the Dura Supreme Crestwood cabinetry line. The Silverton Panel door style in the White paint finish provides a timeless look. We made sure to include elegant details throughout the design. The luxury French range by La Cornue with a custom hood is a focal point. The refrigerator and freezer are adorned with custom mirrored appliance panels, while the glass cabinetry with mullions, moldings, and island waterfall edges further embellish the space.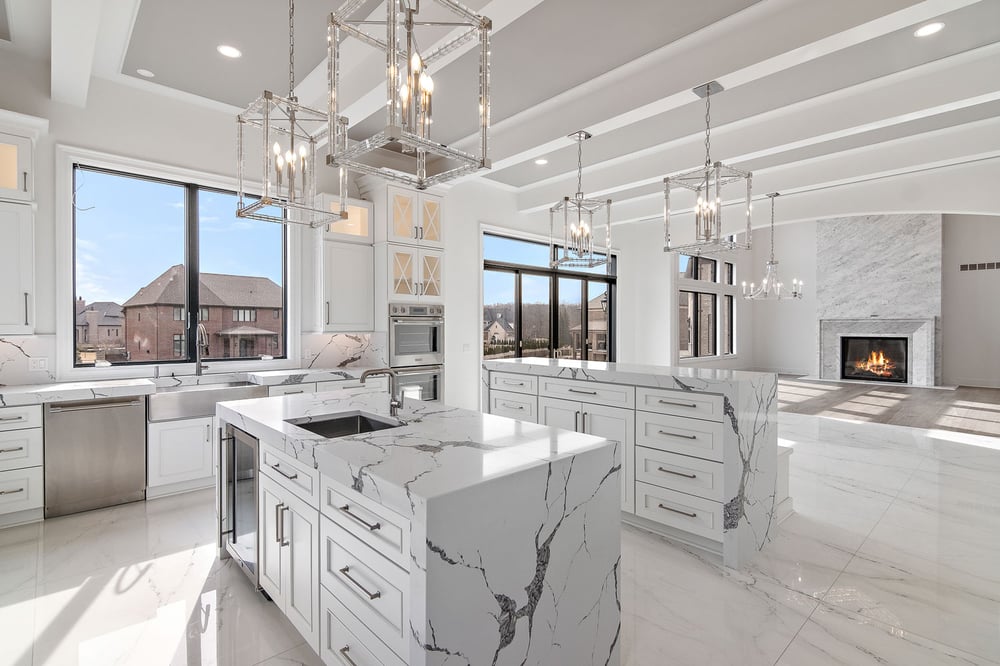 The space lends itself well to a two-island design. This arrangement creates extra counter space and storage while allowing for increased traffic flow throughout the kitchen. The first island has a secondary sink and an under-counter fridge, creating the perfect prep space. We designed the second island at a taller height with built-in bench seating where the homeowner plans to add cushions and a table for an ideal seating area. This dual-island design provides for increased functionality in the kitchen whether preparing meals, entertaining, or both!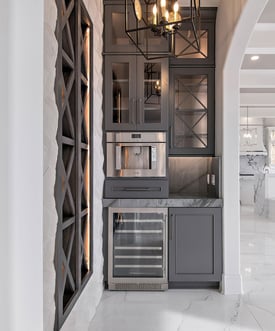 Right off the kitchen, there is also a convenient butler's pantry. We went with the Storm Gray paint color from Dura Supreme to create a bold contrast to the white kitchen around the corner, while carrying over the beautiful glass mullions to tie in to the overall look. With a built-in coffee maker and beverage center, this is the best place to start the day!
We partnered with builder Cranbrook Custom Homes to bring this space to life, with KSI providing the cabinetry and design layout. The homeowner also collaborated with interior designer Shannon Truesdell from Kirkshire Design Group throughout the home. Together we developed a truly inspired design perfect for collaborating and entertaining in the kitchen!