"I wish I had a photo of the shower and toilet. It was so small and dark and there was a tiled concrete lip that Jim had to navigate when transferring (from his wheelchair) into the shower that it was painful to watch. We're so very blessed that we had the means to remodel our bathroom and make it exactly what we wanted with both style and function." Christine, homeowner
Homeowner, Christine wanted a bathroom like everyone else. She wanted a bathroom that was beautiful, stylish and trendy. She also wanted a bathroom that would function well for both she and her husband Jim. Christine's husband was in a tree fall at the age of 17, which left him paralyzed from the waist down. Because of this, Christine needed help designing a bathroom that would not only function well for her husband and herself but was still a beautiful space they could both enjoy. Christine said she wanted to "Redo the master bath and make it their own, make it accessible, but not look 'handicapped'".
As luck would have it, Christine ended up finding a picture from HGTV, which really inspired her and helped with the vision for this project. Kem Wilson of Wilson's and Associates contractors assured her they could make her a beautiful master bath.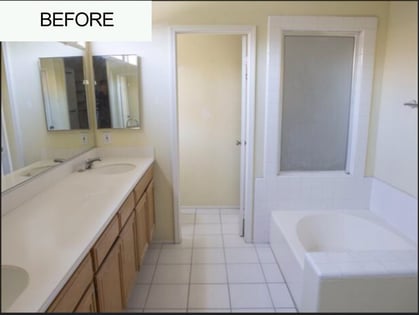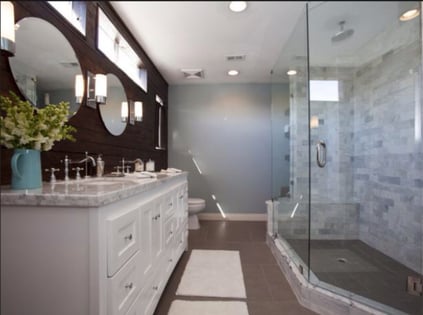 Above: This is the picture Christine found on HGTV that looked nearly identical to her Master Bath.
The zero entry shower, lighter grey color scheme and feature wall were exactly what Christine had envisioned. Even the layout followed the same lines and circulation of her master bath. Christine said "It was meant to be." She spoke with Kem and shared the inspiration photos from HGTV. Although the inspiration photo was not of an accessible bathroom, Ken was confident they could deliver the same vision while also tailoring it to function for Jim and Christine.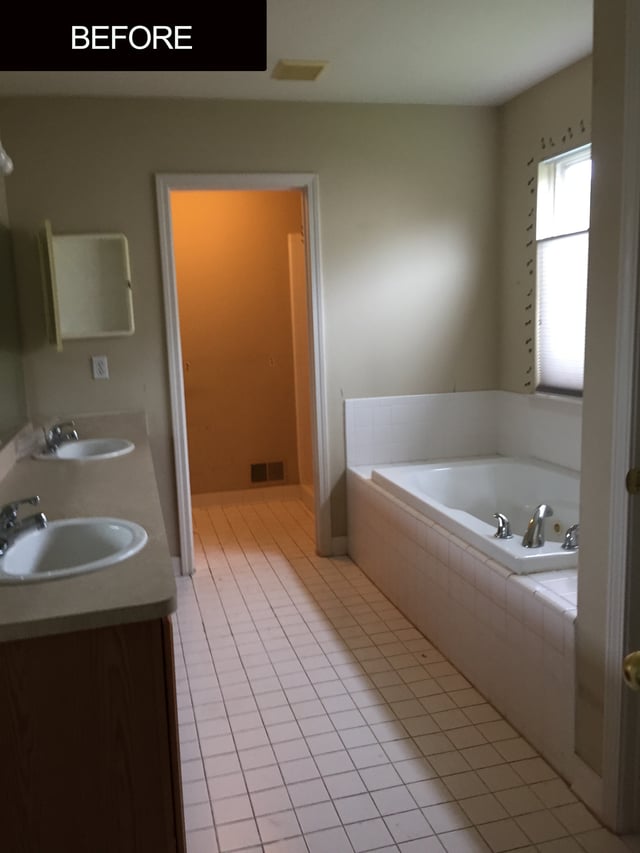 Christine and Jim's master bath before renovation – similar layout as HGTV makeover.
Can Accessible Universal Design Be Beautiful?
We respond with a hearty Yes! Christine, an Occupational Therapist by trade, did her research on zero entry showers and floating countertops when she decided to remodel their master bath. Zero entry showers, also referred to as curbless or barrier free, actually are trending right now with master bath remodels. They are spacious, create a spa like feel, and are an excellent choice for individuals who use a wheelchair or have physical limitations.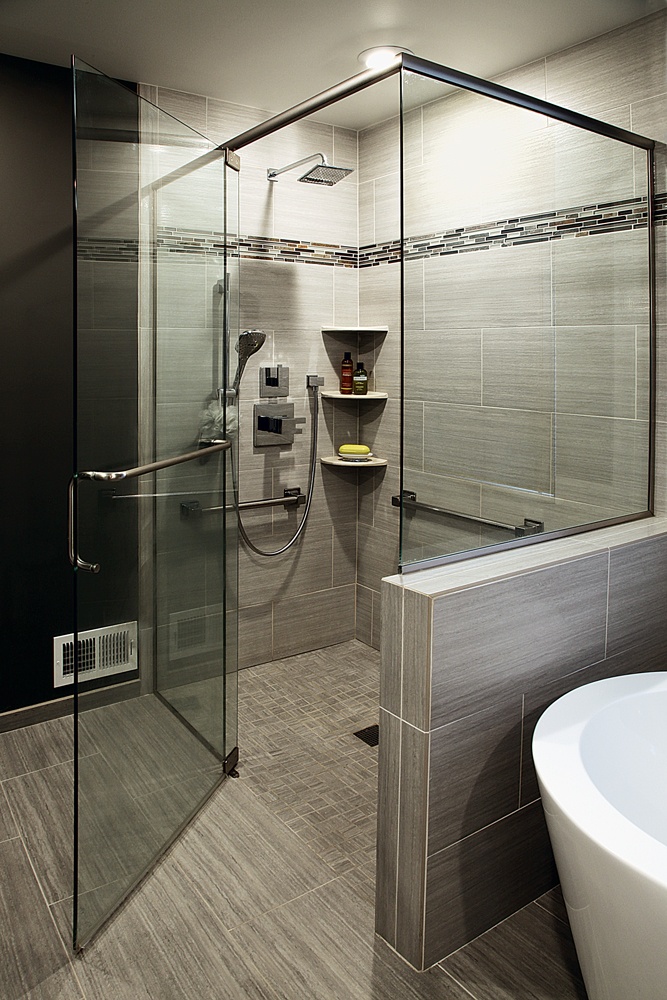 Curbless shower provides ease of accessibility and movement.
When it came time to select cabinetry and countertops, Jill Vanderwal, from KSI drew upon her experience in Universal Design and ADA to assist Christine and Jim. Picking out the material for a floating countertop can be tricky especially because several options are too heavy for that particular application. Jill recommended an engineered concrete solution which comes in a variety of colors, sink options and thicknesses.
The light grey countertop, white Dura cabinetry and stacking stone backsplash perfectly balance one another. The muted palette allows for design flexibility. Christine can accessorize using splashes of color in her towels, valances, candles - that can be updated and changed through seasons or years to come. It ended up being the perfect products for Christine and Jim!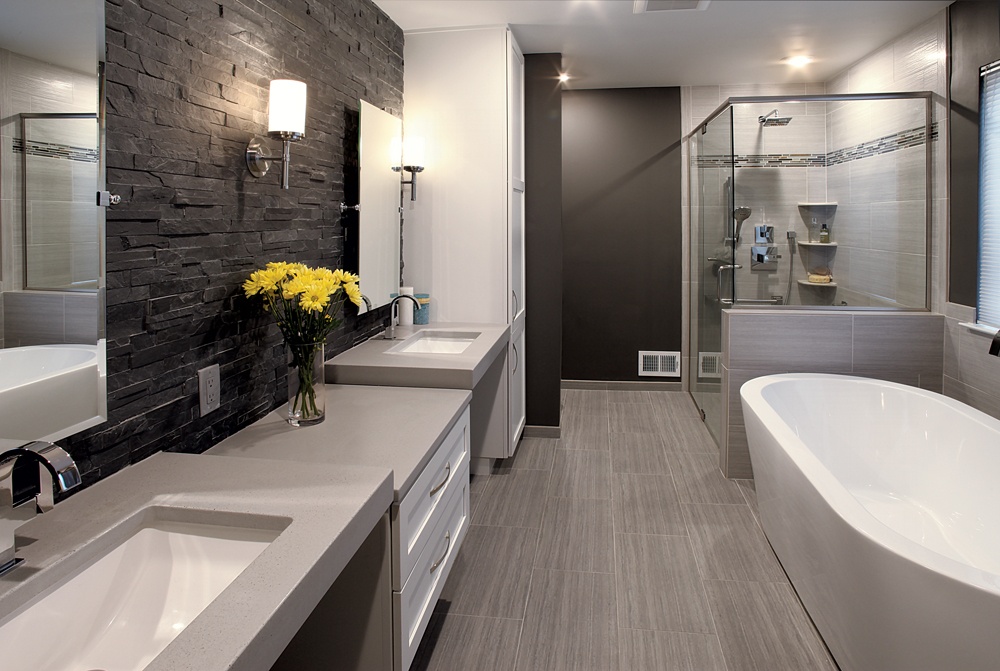 The vanity and sinks were placed at a height specific to the homeowner, Jim. He was actually home during the installation to ensure the vanity met his unique needs. Thanks to the design and installation, Jim is able to access the vanity faucet(s) and his toiletries all from his chair.
Along with the new fixtures, Christine and Jim worked with Kem to redesign the floorplan of their bathroom. The original toilet and shower were separated by a wall – which they knocked down along with removing the garden bathtub. This created additional space to enlarge the shower footprint and incorporate a stand-alone bathtub. The stand-alone bathtub was all about Christine. It was to be her solace, her sanctuary so to speak.
Utilizing the space in a bathroom is essential and can be tailored to the customer using cabinetry and storage solutions. That's where the full wall came in to add the pantry which allowed so much more additional storage space. The pantry has pull-out drawers to accommodate items like towels and toiletries, while allowing ease to access items in the back.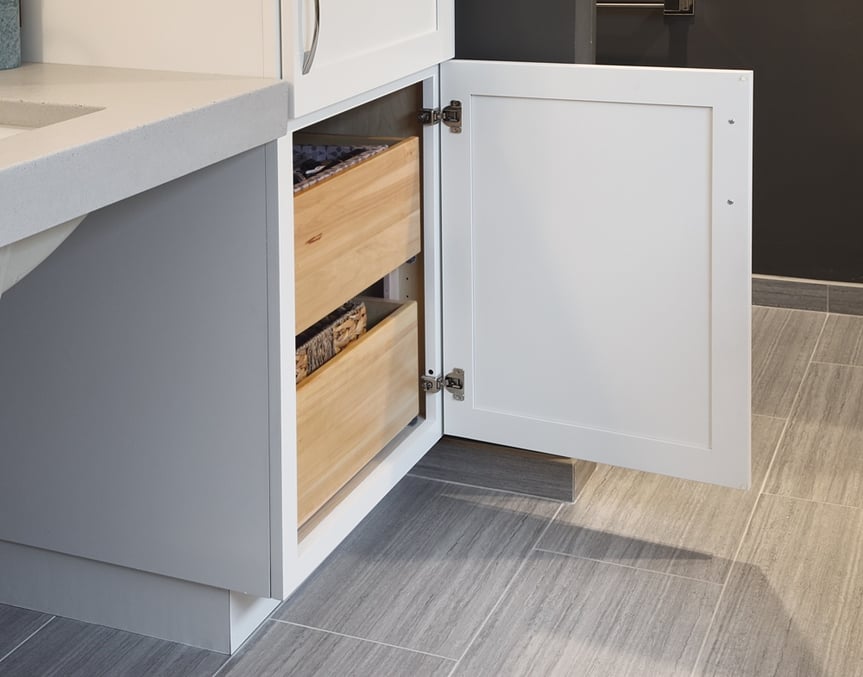 An interesting note about this project was Christine and Jim's search for a shower chair. A bench was ruled out as well as traditional shower chairs "As they were all so ugly" Christine said. They were trying to create this beautiful new space and didn't want it to have a hospital feel. Jim wanted a chair with wheels and one that he could adjust the height to adapt to his physical needs. After searching the internet for hours, Jim came up with the idea to use an office chair with wheels that also had the ability to raise and lower allowing for the perfect height for him. They found a translucent office chair with chrome features at a local home goods store that worked beautifully. Now, when Jim transfers into his "shower chair" he can use the grab bars along the shower walls to move himself around in order to have access to the water nozzle, soap holder, and the hand held shower hose. These were things Christine and Jim had to work through in creating an accessible space.
The project was completed the day before Thanksgiving. Christine said "When I saw it all done – it was like the big reveal on television. The HGTV picture was my original inspiration which gave me a vision of what our new space could potentially be. And now, it's our own and we love it every single day."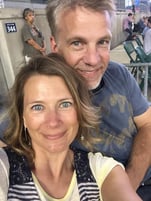 Christine and Jim Munson
For more inspiration on bath designs and remodels visit My Inspiration Collection or to speak to a KSI designer about your next project, visit KSIkitchens.com.
---

KSI Kitchen & Bath
KSI Kitchen & Bath is a leading home design and remodeling firm specializing in kitchen and bath design.