The simplest way to make homes feel ready for the fall season is to swap in seasonal pieces and color. It is the time to welcome the deep jewel tones - which provide a warm, luxurious feel and reflect the changing colors of nature. Here are a few ways to incorporate these bold hues into your home.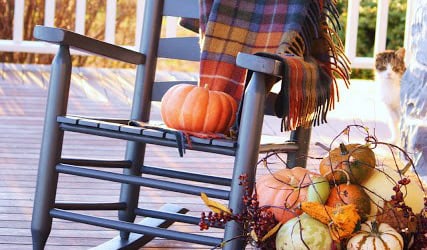 Add seasonal décor to your entryway. Rockers with fall plaid blankets, pumpkins and gourds in a variety of earth tones create a warm and inviting look. All that's missing is a spot for cider.


Add a splash of color to your home's façade. Doors are the first impression. Don't be afraid to try vibrant colors. In Michigan, think how beautiful this bold ruby door will contrast to the white snow!




Accentuate the island. The kitchen island is much like a great piece of furniture, so make it the focal point of your kitchen by adding a contrasting color.

We love the white cabinetry mixed with this sapphire island. It's completely unexpected.

Change up your seating. Replace the barstools at your island or kitchen table. If you're a DIY'er, reupholster them. These pumpkin stools add a little joie de vie to this space.

Change up your flooring. A fun way to update your space is with the flooring. A wonderful new product LVP – Luxury Vinyl Plywood comes in a variety of beautiful warm shades and is soft to walk or stand on for periods of time. It's slip resistant and less expensive than hard wood.

Power up your kitchen with a bold backsplash. The sapphire herring bone – a popular color and pattern right now, does more than just brighten this space, it adds an element of sophistication.
As the weather gets cooler, colors tend to be darker. Enter the season by incorporating rich and sophisticated jewel tones into your home.