Remodel of a 90s-Era Space Allows Client to Enjoy Staying Home Alone
Before our first meeting, Lori and Frank sent me their existing photos and said they were long overdue for an update. They built their home in 1996 and put a lot of work into their selections. They were incredibly on trend for the 90's, and their master bathroom certainly reflected that time. My kids watch Home Alone over and over during the holidays, and the forest-green-with-burgundy wallpaper and bright brass fixtures definitely reminded me of the McCallister's 1990's Chicago home. Lori and Frank updated several rooms in their house over the years, but held off on the master bathroom until their kids were off to college. It was finally the right time to say goodbye to the forest green toilet!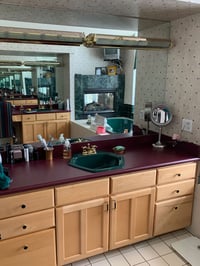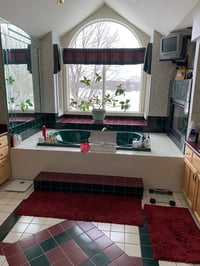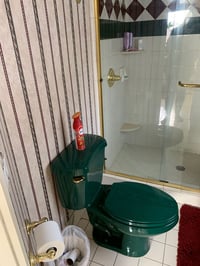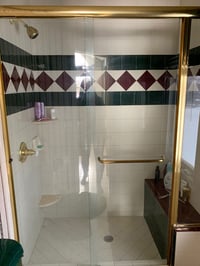 The experience from having such an on-trend bathroom that later turned dated led them to a neutral color scheme for the remodel. For some, neutral means safe and boring - but it definitely doesn't have to be. Warm neutrals show up in many tones and textures for lots of visual interest in this bathroom.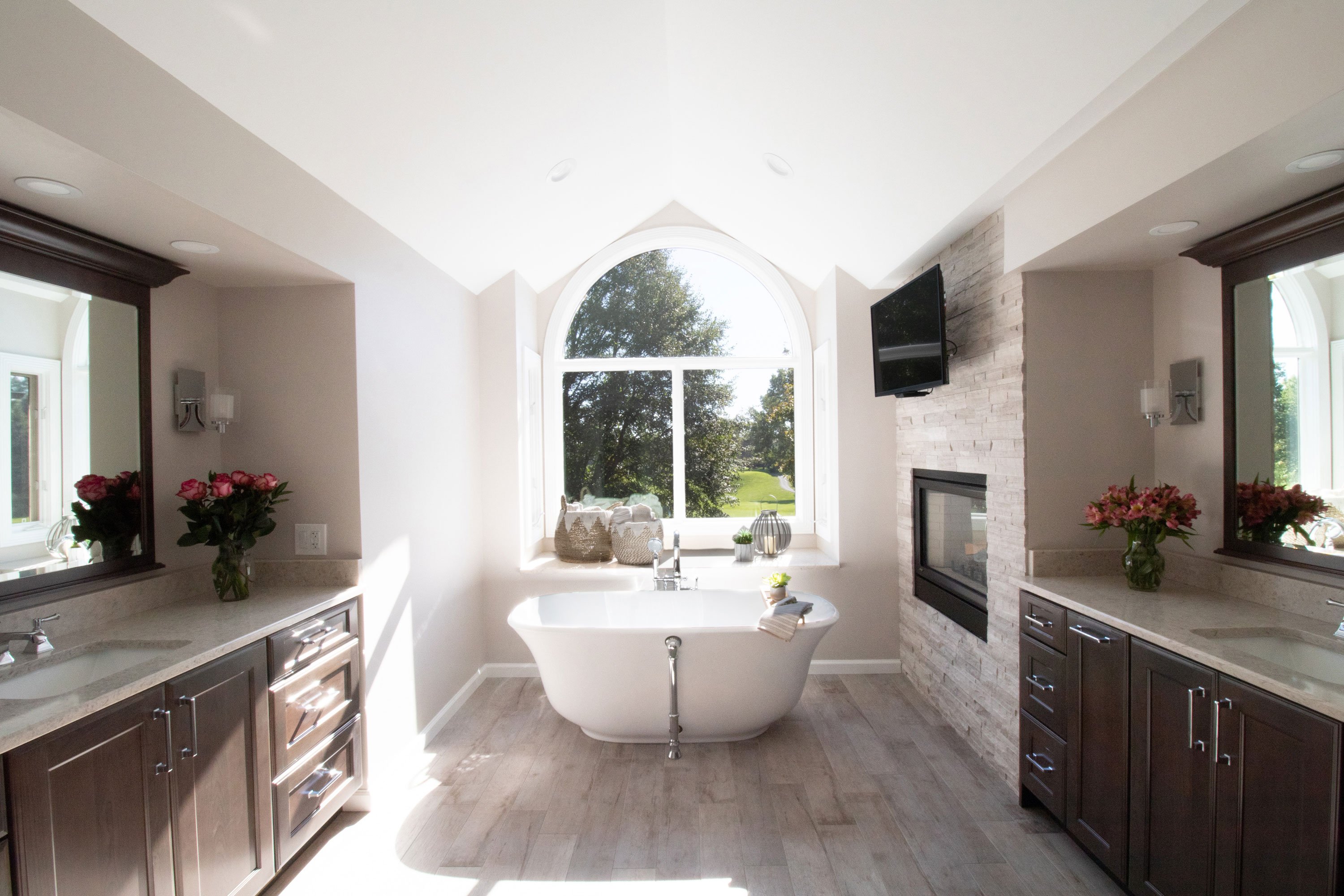 Our first selection was Merillat Masterpiece cherry cabinets in Cannon Grey. The rich, dark stain brought out the medium tones in Historic Bridge Banks Bridge woodgrain tile flooring and ledger stone on the fireplace.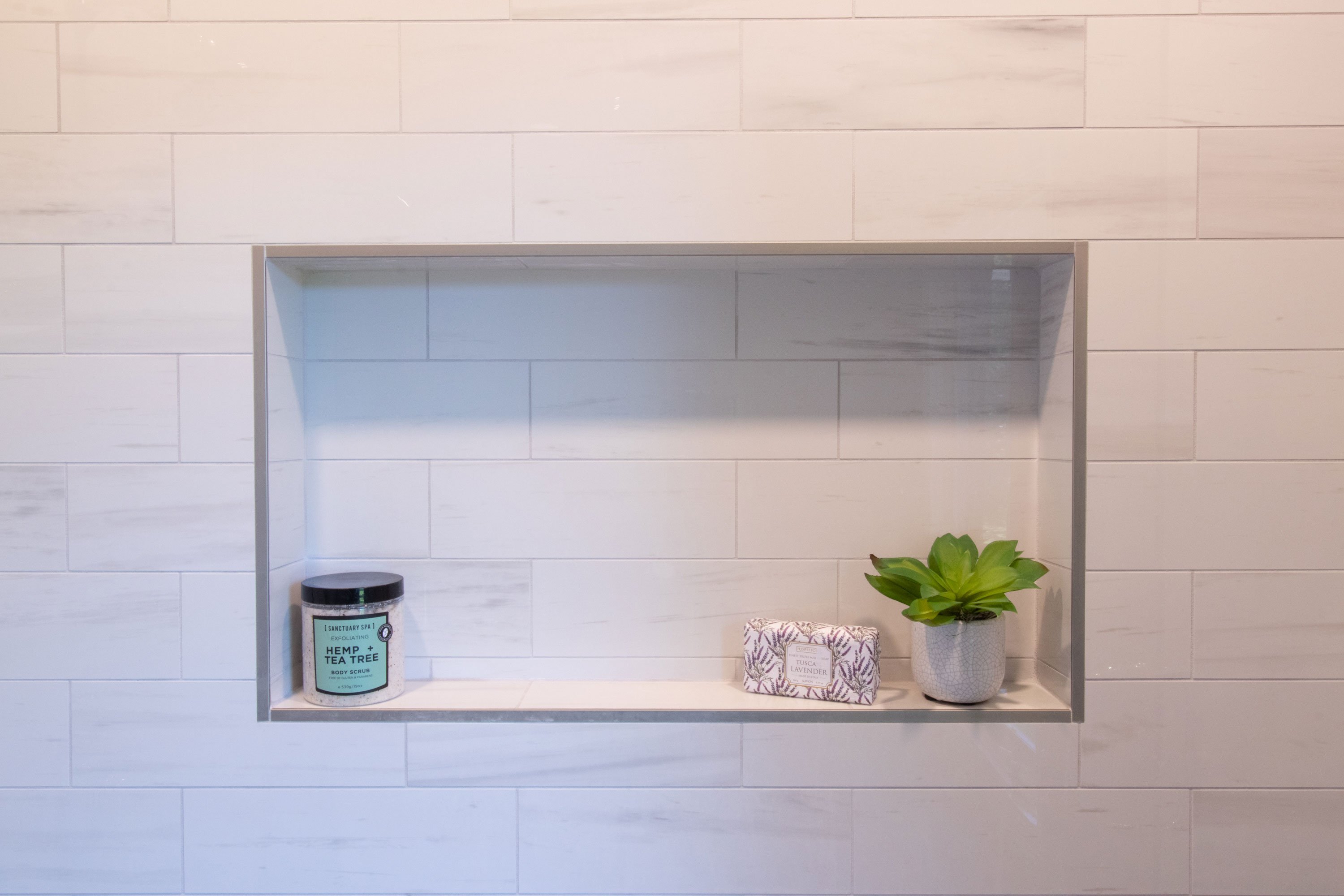 To brighten up the space, we incorporated light tones and bright whites in the plumbing fixtures and the Anatolia Mayfair Suave Bianco shower tile. The layers of texture from the glossy shower tile to the rough ledger stone also aid in breaking up the warm grays. Incorporating classic finishes like a bright white tub, toilet, and sink with bright chrome hardware help to make the space timeless.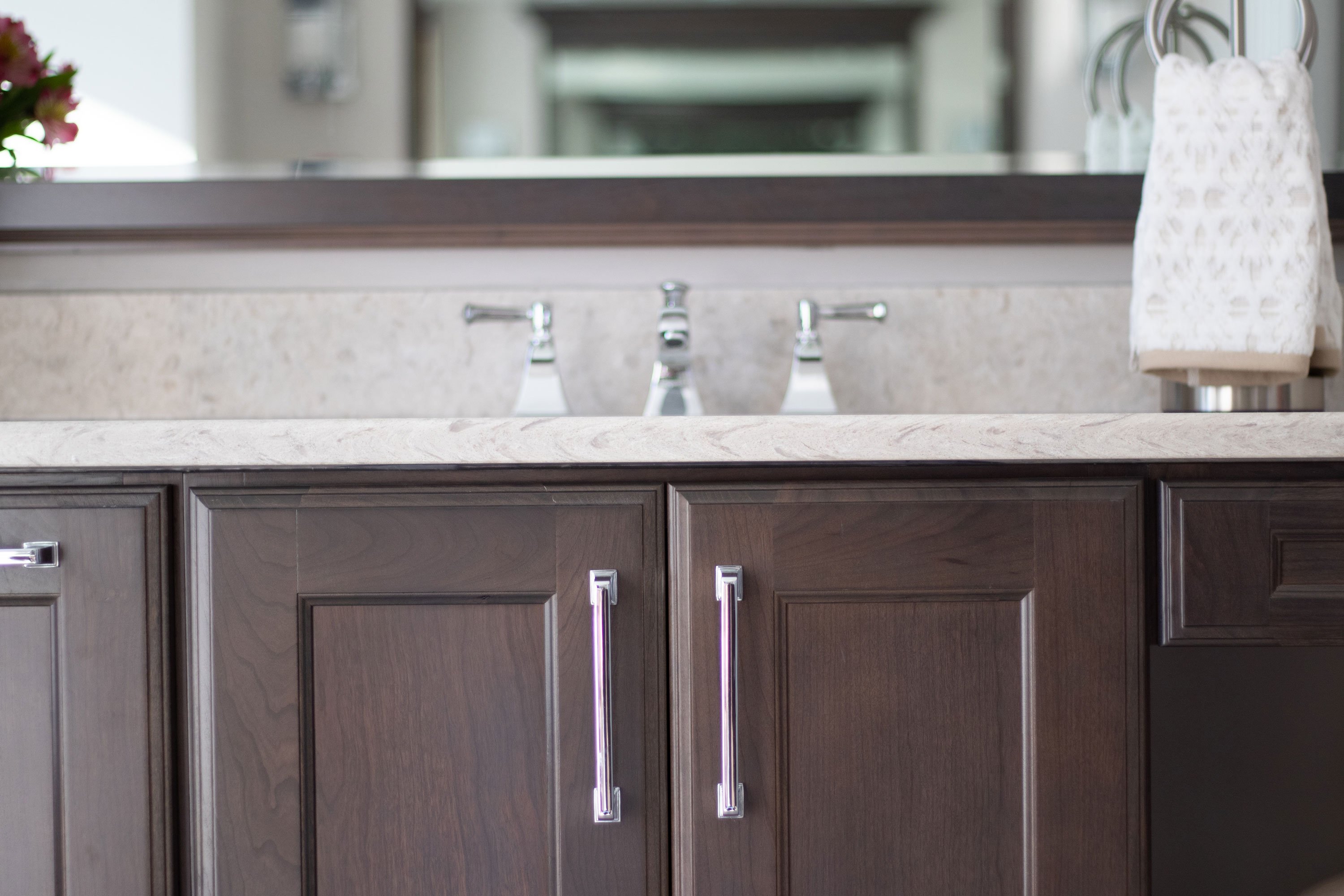 Transitional selections also help this bathroom stand the test of time. The subtly detailed edges of Merillat Masterpiece flat panel Rockwell Door are neither traditional nor contemporary. The Kohler Memoirs series plumbing fixtures and cabinet pulls have only a little bit of embellishment.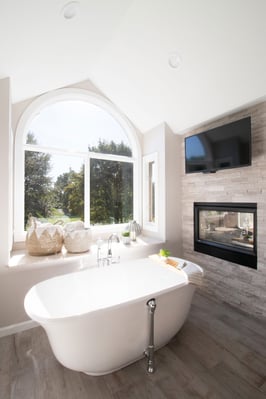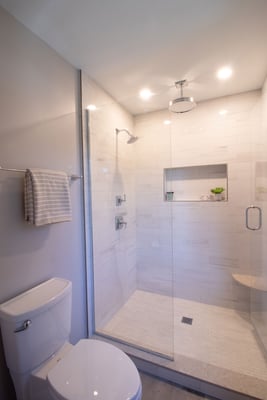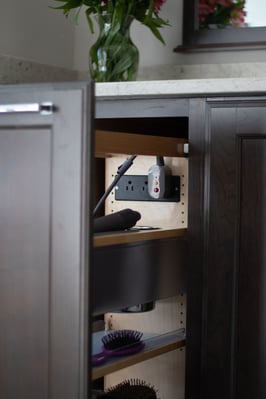 Wish list features we provided included an air jet tub centered in front of the huge windows adjacent to the fireplace, room for a stool to sit while applying make-up, and a rain shower head in the shower. Lori wanted a way to hide clutter on the countertops. We solved this by adding outlets inside of the drawers so items like hairdryers, curling irons, and razors could be hidden away. We also included a Bluetooth speaker in the shower area.
The result is a beautiful, timeless transformation that Lori and Frank will enjoy for many more years to come!
---

Krista Daily
Krista is a Designer at KSI Kitchen & Bath's Livonia Design Center.