8 Tips to Organize a Laundry Room
Are you spending a little more time at home right now? Typically, this is Spring cleaning time and why not take advantage of the next few weeks in your home for some reorganization. For some of you, the laundry room may rank as one of the most used spaces in your home competing with time spent in the kitchen.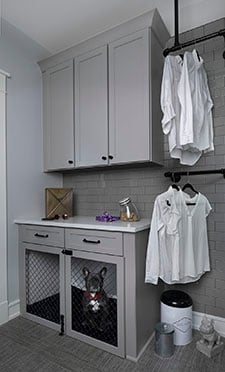 KSI Designer Brooke Schall received a Detroit Home Design Award for this laundry room using Dura Supreme in a custom color that is balanced by industrial piping for a sophisticated yet fun space. Brooke notes that "the homeowner has four children who play hockey and wanted a space to be functional for their busy life. She needed ample space to do laundry, sort and put away." After understanding how her client wanted to use a new laundry room, Brooke incorporated a combination of cabinetry, drawers, shelving and hanging rods delivering an organized room where everything has a place and there is a place for everything. It even has storage space for Stanley, the dog!
We asked Michele Gross, owner of All Sorted Out and Brooke Schall for their tips on designing a functional and organized laundry room. Learn how to create a system that keeps your family life running smoothly and efficiently.
8 Tips you can do today to organize your Laundry Room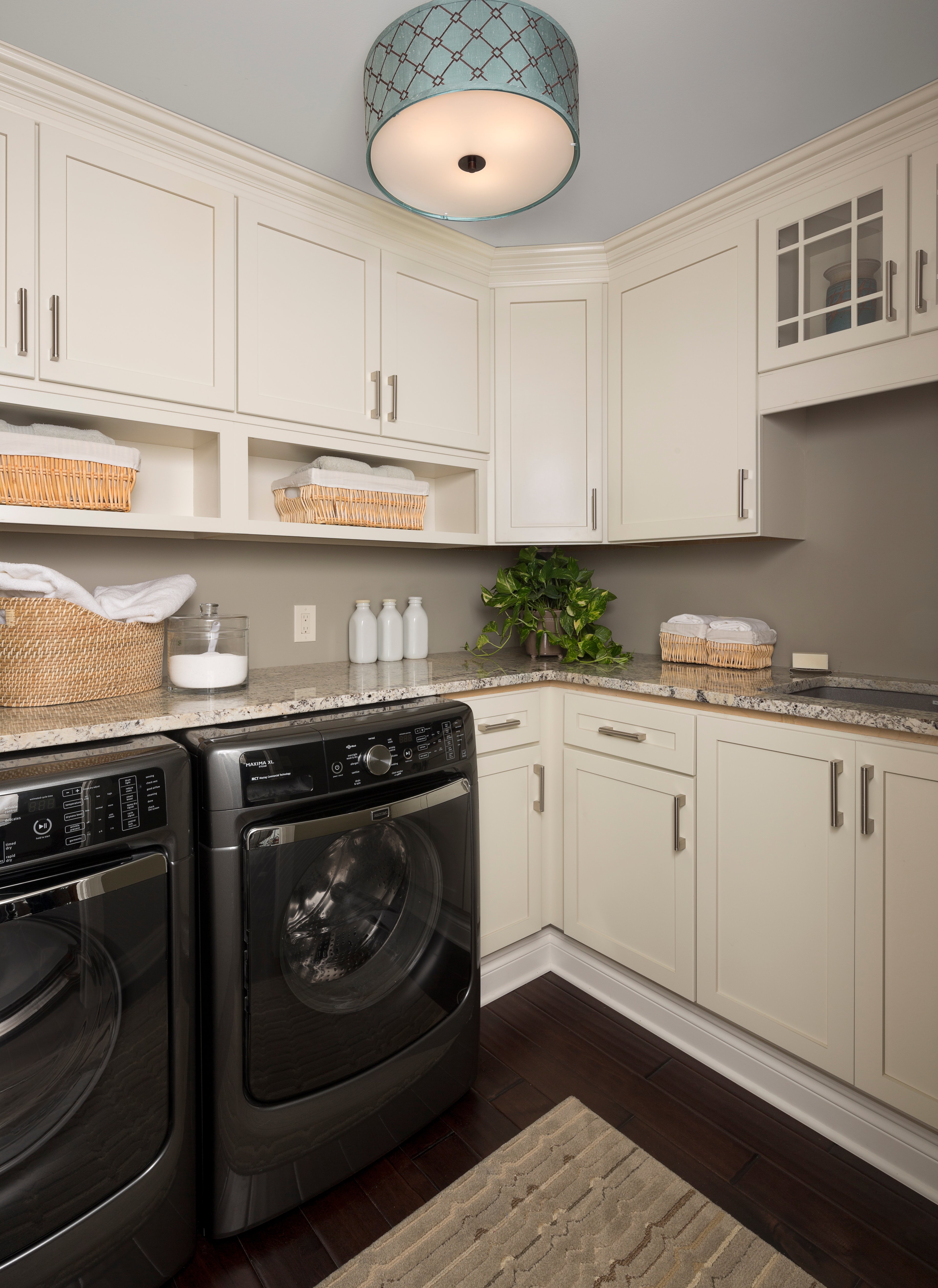 Add more storage space. The space over a washer and dryer is often underutilized. Adding storage here provides a better opportunity to maintain organization. Even a corner shelf is helpful that can be used to store detergent, dryer sheets, cleaning towels, disinfectant wipes.
Get the items out that don't belong. Tools, wrapping paper, grocery bags. If it doesn't fit with the activities that occur in this space – pull it out.
Add the items that do belong. Looking in the proverbial kitchen "junk drawer" will often reveal a range of lightbulbs, batteries, extension cords, flashlights, candles. Incorporating drawers in the laundry room provides space for these items.
Create a laundry basket system. Add cabinetry or a pantry for laundry baskets or built-in clothes hampers making it easier to keep everything organized without cluttered. Incorporating a name tag on baskets for each family member or a labeling system for dark or white laundry are simple ways to maintain order.
Make the spaces organized and functional. Drying racks and hanging rods can be incorporated into cabinetry eliminating clutter from countertops and a more open feel.
Decide where things go by how often they are used. Place most frequently used items on easy-to-reach shelving and infrequently items in hard-to-reach areas.
Your Style. Choose storage solutions and cabinetry that fit your style making it a space that you truly enjoy.
Trash can. Lint, dryer sheets, tags and used detergent containers need a space to go. Always incorporate a built-in trash bin making your laundry room simple and convenient.