Partnership Between Homeowner and Designer Results in Kitchen on Trend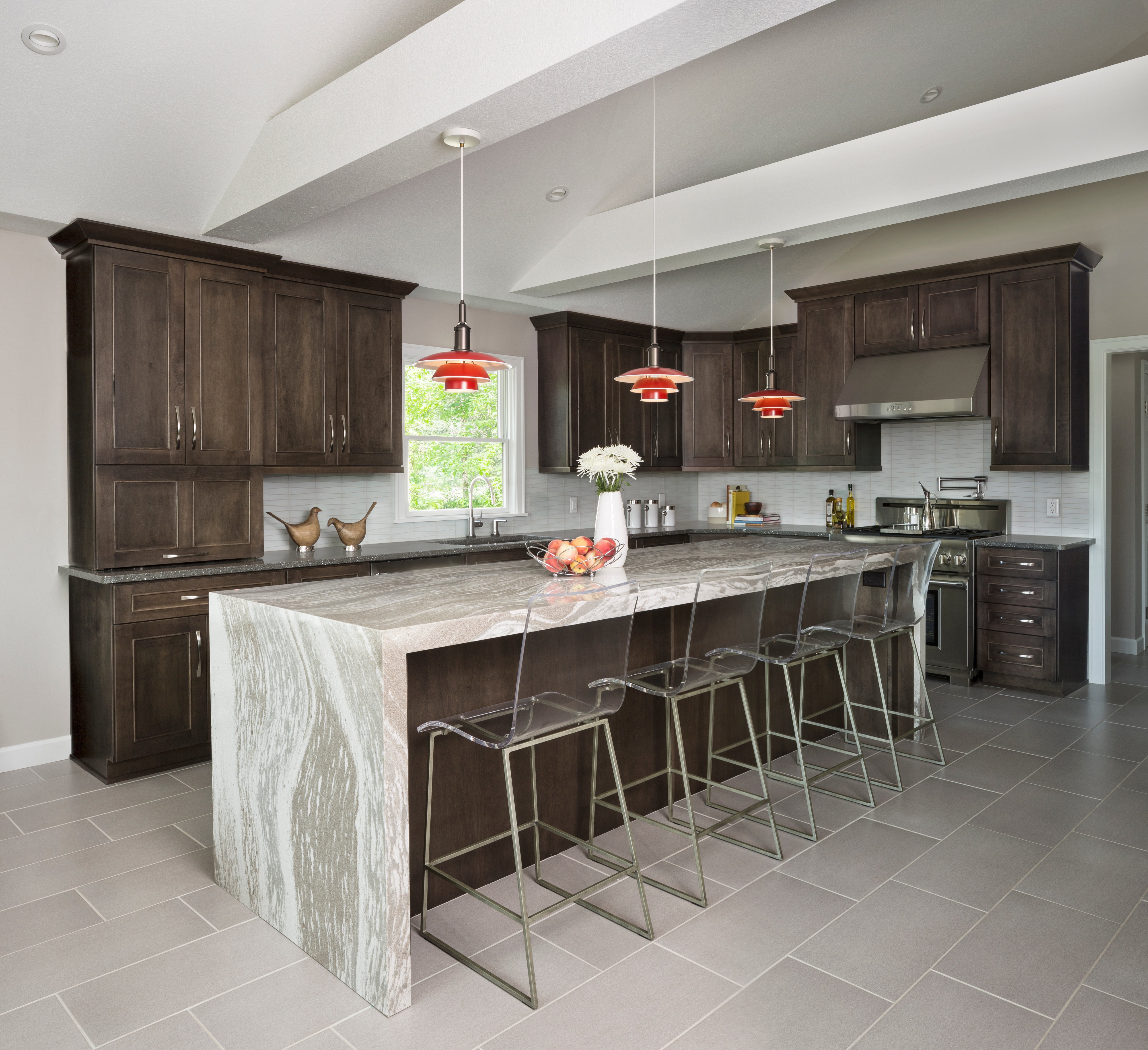 When two great designers come together - only good things can happen. Owner and Designer at Hawaiian Pools, Brenda Kerr, wanted to update the kitchen in her Maumee, Ohio home. With the help of KSI Designer, Lisa Huckabaa, the two created this breathtaking transitional kitchen.
The biggest challenge was to create a more open space for entertaining in the home. This was accomplished by reconfiguring the roof line and adding height. The contractor, Rodney Save of Save and Son's Construction, waited until the kitchen design was completed before positioning the ceiling beams. The beams were an integral part of the design, adding distinctive interest to the space.
The Cambria Oakmoor waterfall countertop breaks away from the expected horizontal countertops. The stone continues vertically down the sides of the island, creating a wonderful flow, giving the whole space a unified feeling. The Dura Supreme Cabinets in Maple with Poppy Seed stain create a stunning backdrop. The light fixtures add a pop of color.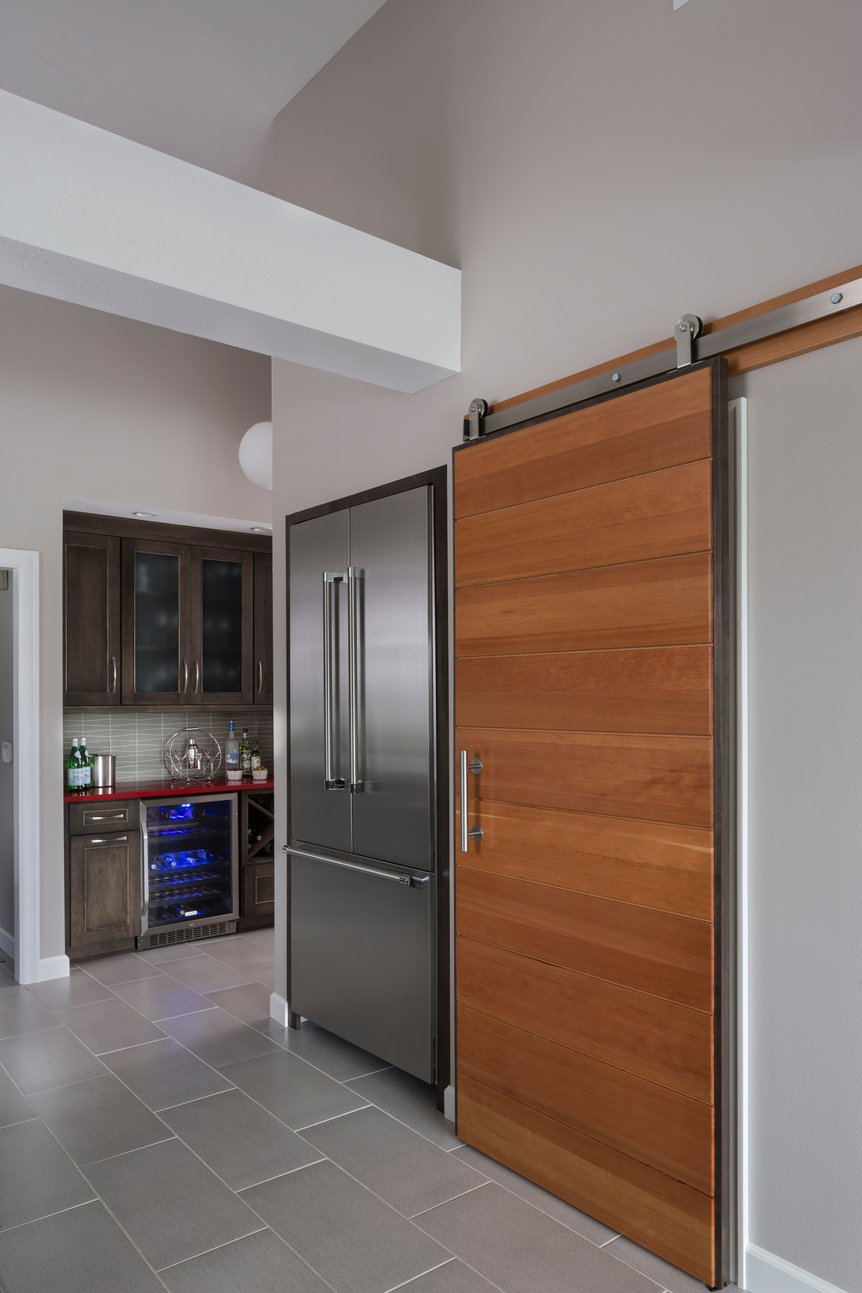 The kitchen has several finishing touches that demand attention such as the wood pantry door in lieu of a conventional door. By converting the closet into a walking pantry, the Kerrs have ample storage for smaller appliances, larger pots and dry goods. This additional pantry space and sliding door was customized onsite by contractor Rodney Save.
Creating a space that was not only beautiful but functional was paramount. Items like an appliance cabinet were added to store frequently used small appliances; the coffee machine, toaster and can opener. They're safely hidden away but easily accessible for daily use.
The pot filler faucets, common in restaurants, are becoming an increasingly popular feature. Shown here over stove, the homeowner no longer has to drag the pasta pot full of water from sink to stove, making this space much more functional and efficient.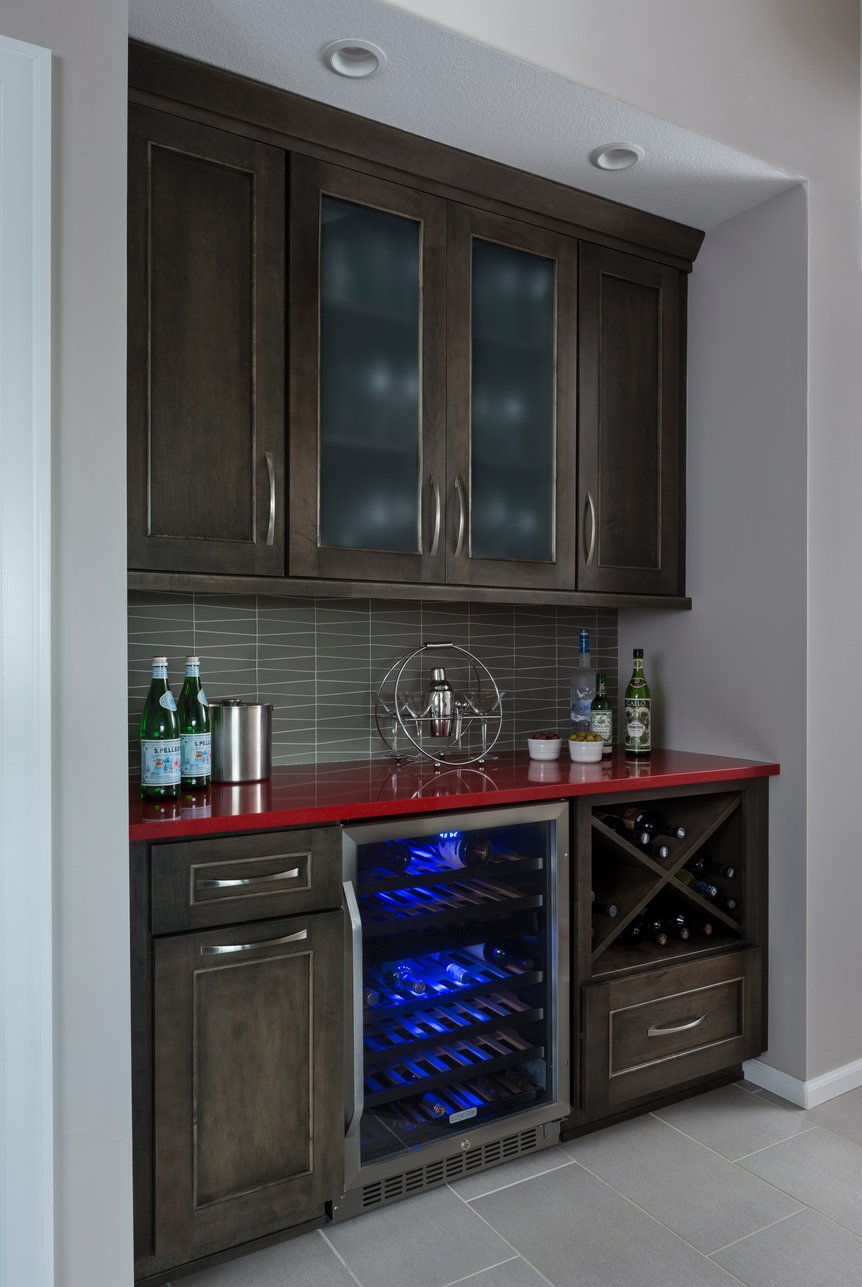 This kitchen's adjoining butler's pantry carries the same Dura Supreme Cabinets in Maple with Poppy Seed stain but boasts an eye catching Cambria Cardigan Red quartz Countertop. The space can be used as a gathering place for drinks or as an additional prep area for parties. The built in wine cooler and wine rack means everything you need is within easy reach.
The Kerr's ended up with the super kitchen of their dreams – a space they now love and enjoy with family and friends and will for years to come. And like so many remodel projects – this kitchen remodel seemed to morph into other areas of the home. Next week we'll share with you their Master Bathroom which is on trend with the spa bathrooms we're seeing more of today. This master bathroom will make you nostaglic of the luxury hotel spas.
In the meantime, for more Kitchen design ideas visit ksikitchens.com/gallery.