Laundry Room Upgraded for Style and Function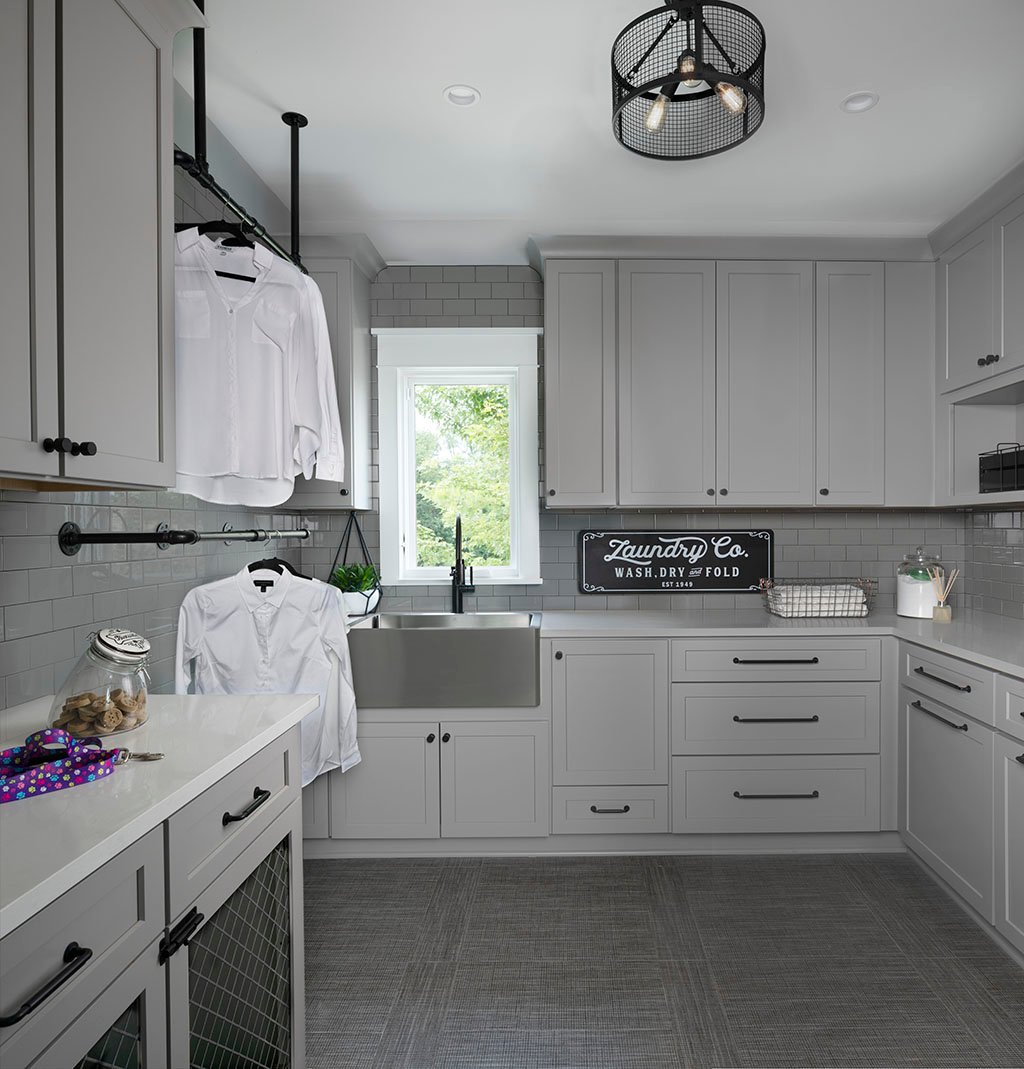 While the kitchen is the busiest and for obvious reasons the most popular space in the home - the laundry room is now getting its fair share of attention. It began as a space in the basement, then it relocated to a second floor closet where it was closer to bedrooms and baths – dirty clothes and linens. We've since upgraded to having a dedicated space, typically located on the first floor but found on the second floor as well, with room to function. Sorting laundry, washing, drying, folding and ironing are just a few of the tasks we're looking to make more efficient. Choosing a location that is handy is the key and depends on your lifestyle and home. Right off the kitchen seems to be the most popular space for the laundry room – where most people spend their time. The goal of course is to create a space that is both beautiful, functional and convenient. It's no longer to be hidden away and forgotten!
Style
White and gray continue to lead the way with a transitional style. The gray shaker cabinet's clean lines help make this space versatile and timeless. The gray subway tile's, another great classic, timeless feature, blends with the gray cabinetry creating a seamless transition. The backsplash color can either be an extension, as seen here or differentiate the cabinetry with the use of a contrasting color. Adding little touches like industrial piping for hanging clothes and Edison bulbs for overhead lighting, gives this laundry room a bit of a rustic, industrial feel. Add in the farmhouse sink and this laundry says farm, fun and class all at once!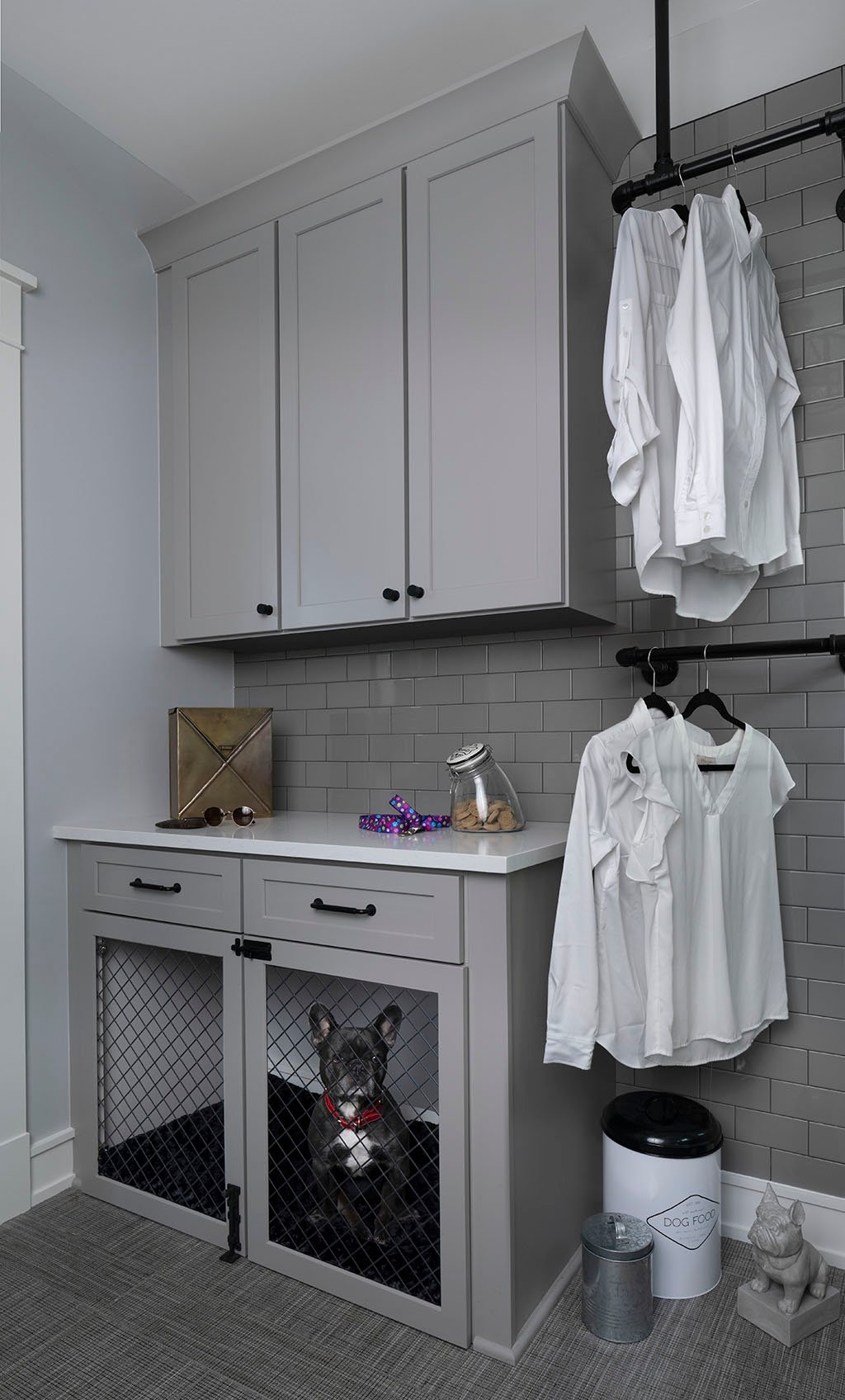 Fido needs a space to call his own as well! Actually, this little French Bulldogs name is Stanley and his built-in crate provides a safe, secure spot for Stanley while family is away. He suffered an injury that left him unable to walk independently so now the family can be away for periods of time with the confidence that he's comfy and safe. The dark metal mesh inserted into gray cabinetry ties in with the industrial pipe clothes rack. Other things to think about when creating a space for your pet; storage for leashes, treats, food. A dog washing/grooming station is another great option if space allows.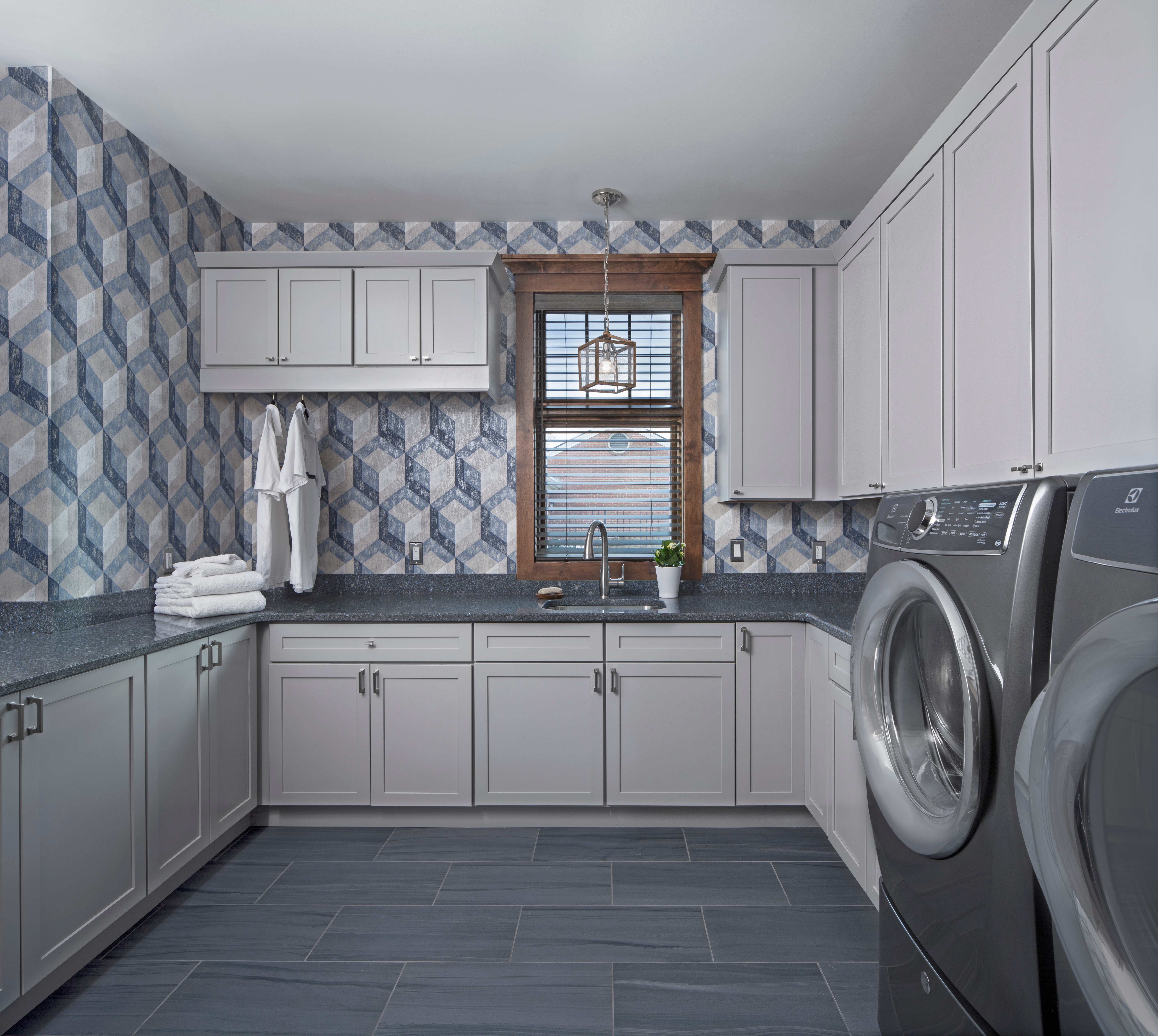 This laundry room provides plenty of counter space for sorting and folding clothes. Under counter hampers keep clothes sorted and ready for washing. The gray-blue counters complement the gray shaker cabinets with stainless steel handles and pulls to match the washer and dryer. Don't shy away from mixing your metals! The gold light fixture not only provides light but also makes for a terrific focal point.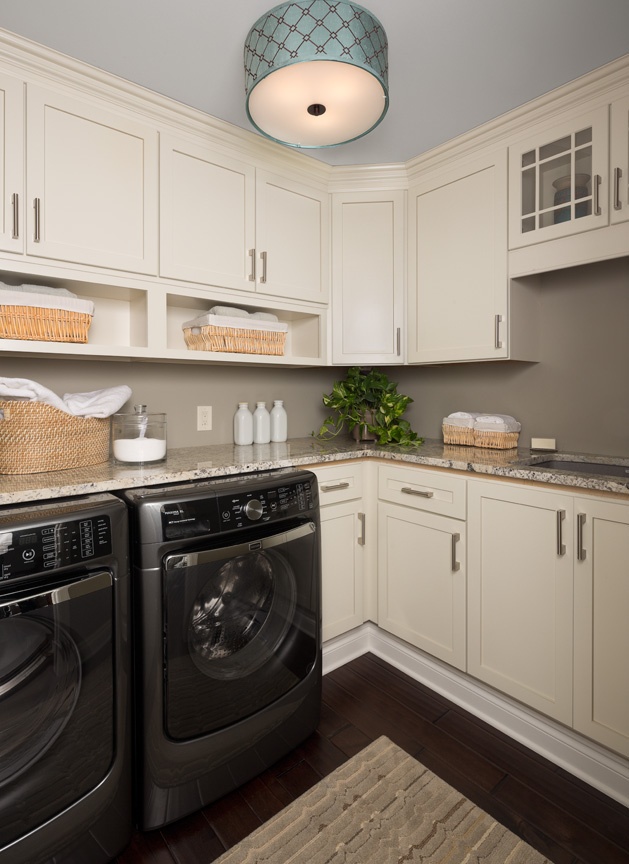 Amenities
The laundry room's priority will remain the washer and dryer. Thanks to innovation, these appliances now come in a wide variety of styles, shapes and colors; front loading, top loading, stackable, red, blue, stainless steel. You have options and some of them are "smart" which allows you the capability to operate them remotely via an app.
When desiging your laundry room, think about how you want to use the space. Convey your wish list to your designer so they can be sure to include all the storage and customization that works for you. Things to think about:
Laundry hampers – pull-out hamper base
Ironing Board
Mop, Broom, Vacuum storage
Cleaning supply storage
Space for hobbies; crafts, wrapping area, guns
Shelving and baskets for towels or supplies
Pet crate or grooming station
Sink
Drying Racks or Hang Dry Bars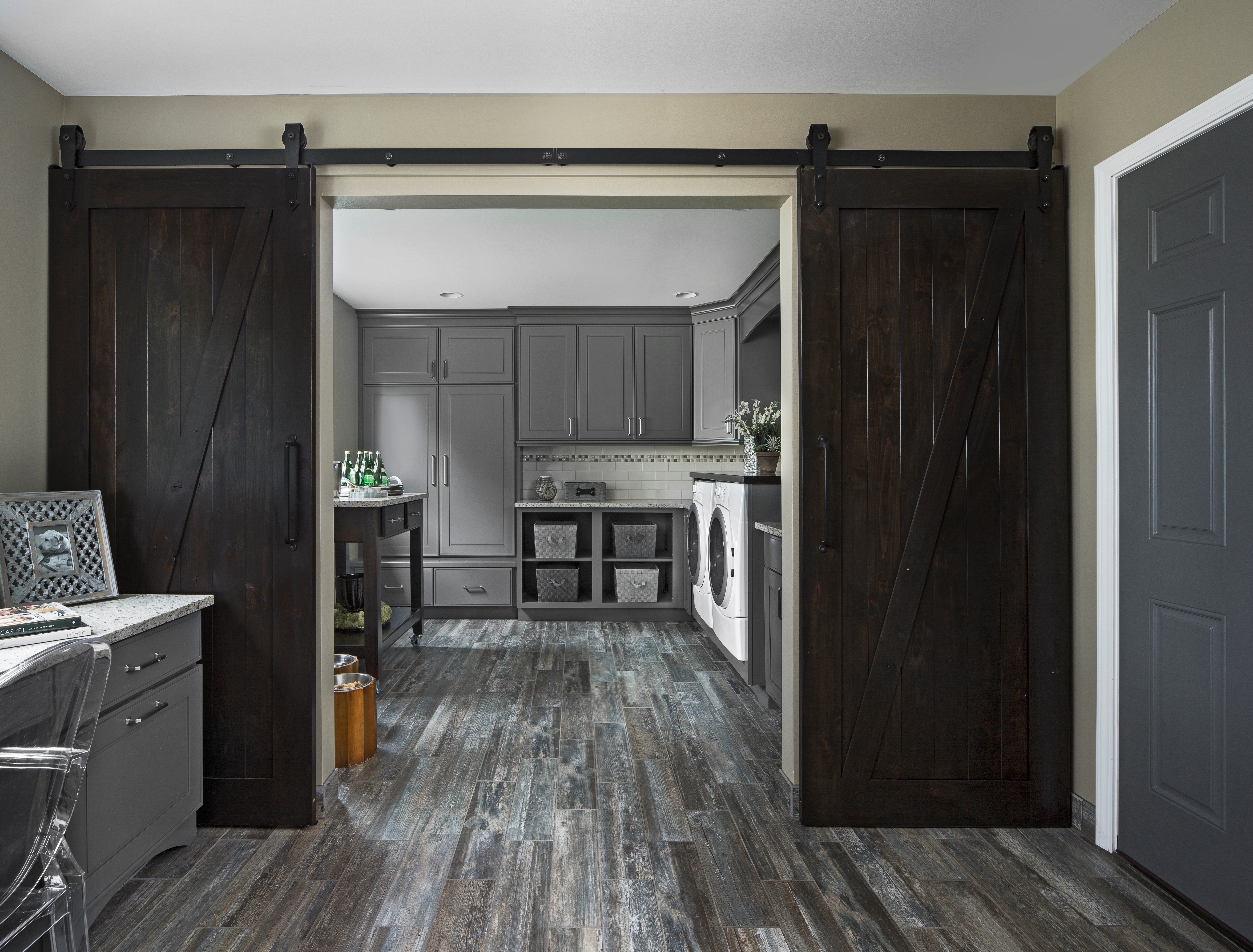 Multi-Purpose Functionality
The laundry room is often used as a multi-functional space. It can be the mudroom, secondary kitchen storage, craft room, pet grooming, wrapping – depending on the homeowner's hobbies and needs. As seen in the photo above, this beautiful gray laundry room has barn wood doors that warm up the space and opens up to a home office. If things get a little messy, you have the ease and beauty of simply closing the barn doors.
Start sketching out your plan for a refreshed space and select a designer that can help provide you with a laundry room that looks and functions according to your needs and desires.
For more design ideas visit KSIkitchens. com/gallery