KBIS 2019 – Trends, Technology and Innovations
The Kitchen and Bath Industry Show (KBIS) 2019 did not disappoint. They delivered on content, products and experts in the Kitchen and Bath Industry. Here's why1:
31,000 Attendees
600 Exhibitors
400 Press
80,000 Social Following
The booths, speaking events and sessions covered three halls plus an outdoor Salon by KBIS. So much to see and experience. We saw key trend-setting kitchen and bath products showcasing the latest finishes, colors, styles and technology.
While timeless white kitchens and baths are waning the trend to add more neutral and soft colors is growing.
Coastal Chic
Coastal chic, known for its soft soothing color palette, providing a sense of calm and serenity is coming back. We're going to see this quickly growing and far-reaching. We met with the Marsh Cabinet team and were privileged to a sneak peek at new product coming out in April. Unfortunately, I can't share any pictures but I think it's okay for me to say that if coastal design gets you revved up than stay tuned for the big reveal!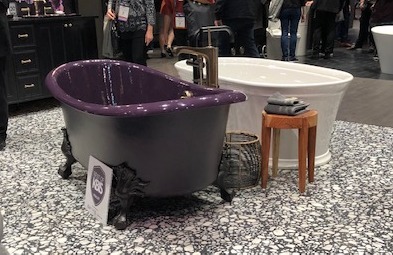 The Jewel Tones are the Story
Deep jewel tones will be dominating the scene this year. Navy blue, lavenders and plums, emerald greens, ruby red and yellows. Pick a space, kitchen or bath and weave the color into your cabinetry, counters, tiles, backsplash, fixtures… or stand-alone tub.

More Color
Put this color outside or inside your home and you'll definitely make a statement. This Livingston door by Masonite comes in solid core or hollow core and in a dozen brilliant shades to choose from.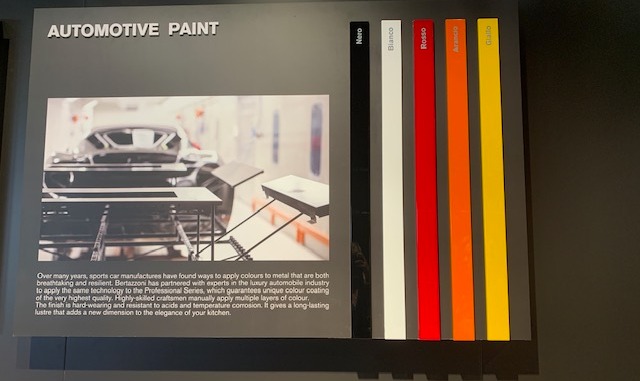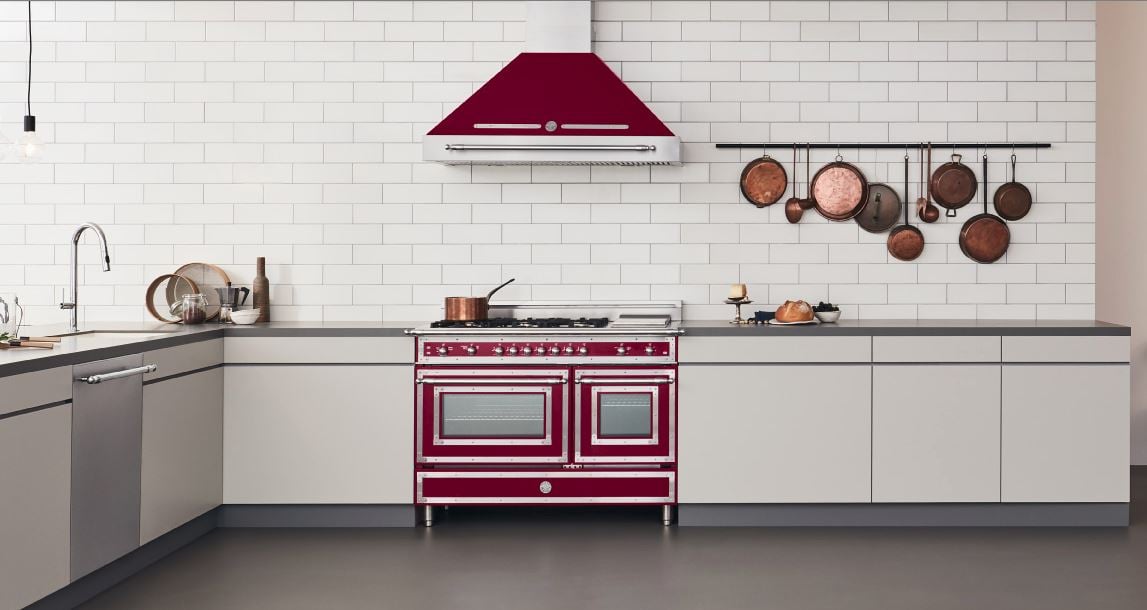 Source: https://us.bertazzoni.com/products/professional-series
Appliances
And while we're talking about color. How about adding a pop of color to your kitchen appliances? Bertazzoni has partnered with experts in the luxury automobile industry to learn techniques to applying color of the highest quality. According to their literature, it's resistant to acids and temperature corrosion. Looking to add elegance to your kitchen. Look no further. (Learn more)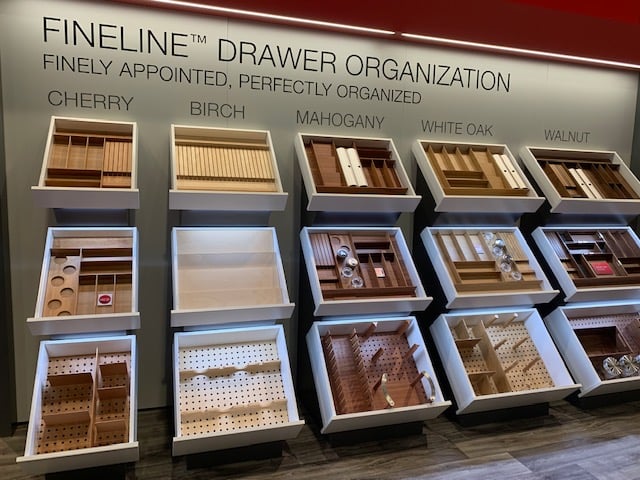 Storage Solutions
Storage solutions continue to be one of the most important updates for homeowners. The display at Häfele showcased drawer organization for frequently used items. Deep drawers with dividers and inserts for dishes and bowls. Trays for cutlery, utensils and spices. Available in different wood species. Functional and elegant.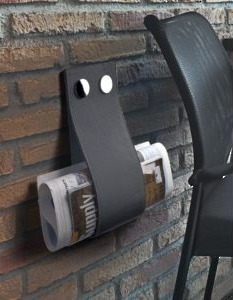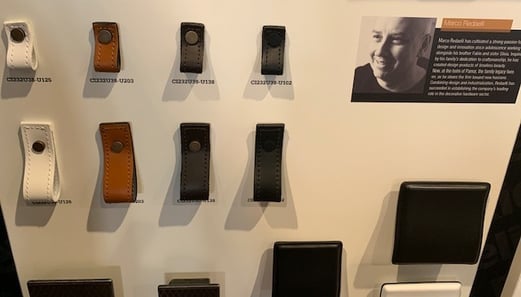 The beautiful contemporary leather magazine holder adds class and style to your home office or library.
Hardware Can Be Elegant
Hardware is the jewelry for your cabinetry. And if you're looking for luxury then we have a solution for you. The new Inspiration Collection by Richelieu boasts everything from contemporary clean lines in everything from silver, to bronze to on trend black and gold. If you're looking for bling, well Richelieu has not let you down. From single jeweled knobs that look like giant crystals to large black onyx appearance. Looking to add a "pop of color"? Richelieu has a line of amazing bold jewel tones to choose from.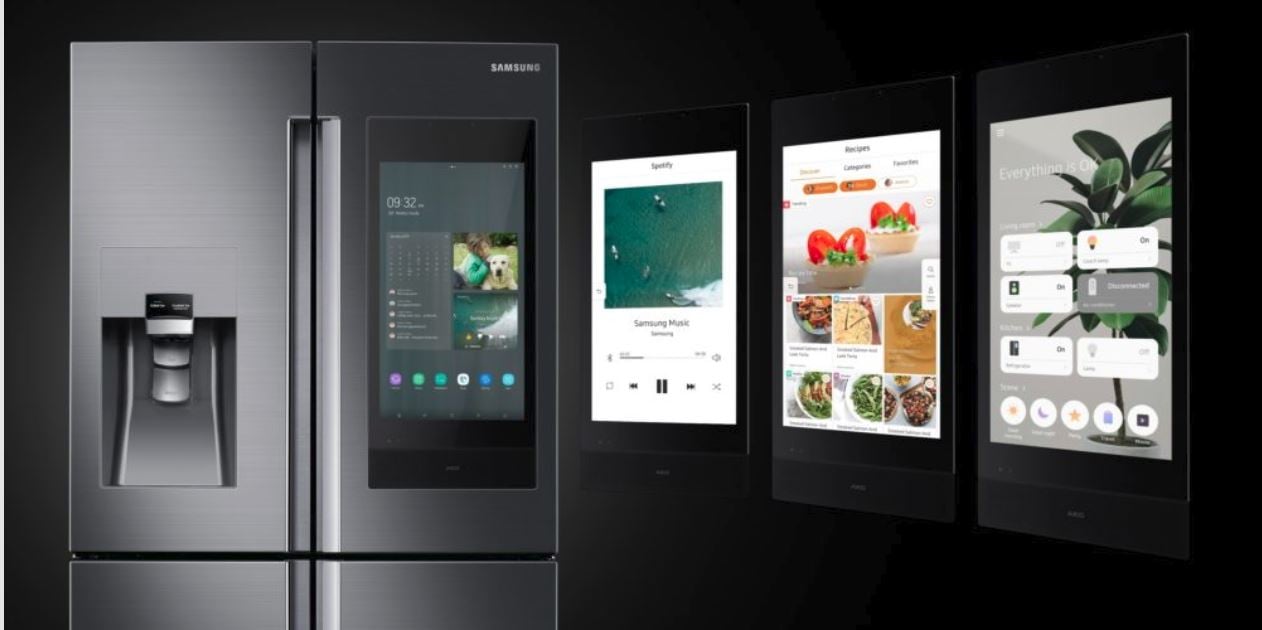 Source: https://news.samsung.com/us/samsung-family-hub-refrigerator-ces-2019/
Connected Living
Connected appliances as well as touch-to-open appliance doors are holding strong. Bosch has a wifi enabled coffee maker with a touch screen interface. Samsung unveiled its updated Family Board, a screen that family members can interact with – ask for weather updates, breaking news or pre-set the oven temperature by talking to the Family Hub. With the integration of SmartThings, other home devices can also be controlled from the refrigerator screen and by voice with Bixby (the equivalent of Alexa or Siri). From a healthy standpoint, the Family Hub has a Meal Planning feature which customizes recipes based on preferences you set as well as items in the fridge.
Dead Corners Come to Life
I saved the best for last. A quick video of a fun item because again, who doesn't love an organized functional kitchen? How great to be able to quickly access your Cuisinart or blender for your fruit smoothie in the morning. With a push of a button your small appliances quickly come to life and are revealed for your use in this handy Richelieu Danto Corner Cabinet System. Ergonomic and innovative.
There was so much to see and take in. The KSI team came back with a long "to-do" list full of innovative ideas and solutions to share with the rest of our team, homeowners and builders alike. Excited for 2019 to roll out some really innovative fun new tools from KSI. Stay tuned.
1 Data from KBIS website kbis.com/show/about-the-show