Everyone Deserves Exceptional Home Interiors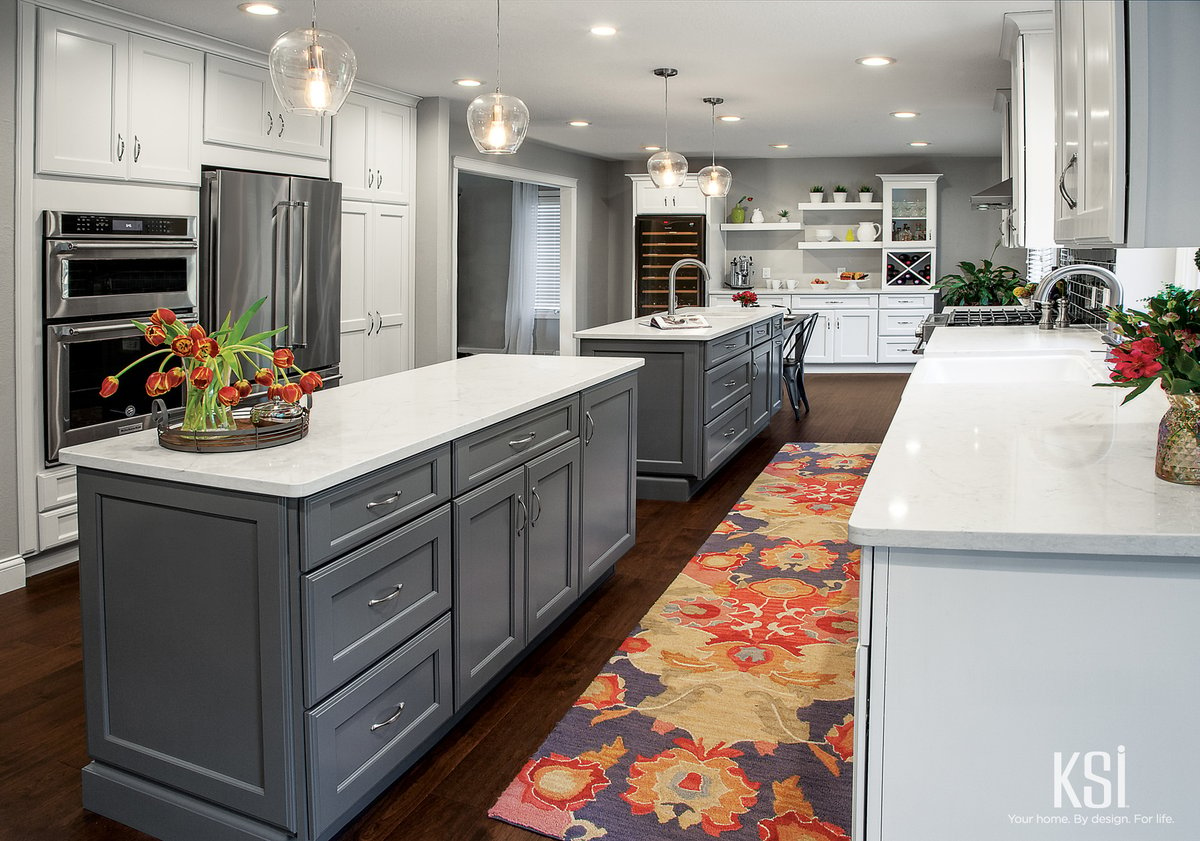 Exceptional home interiors are not just for design professionals. Guess what? People like you and me can have these exceptional spaces too!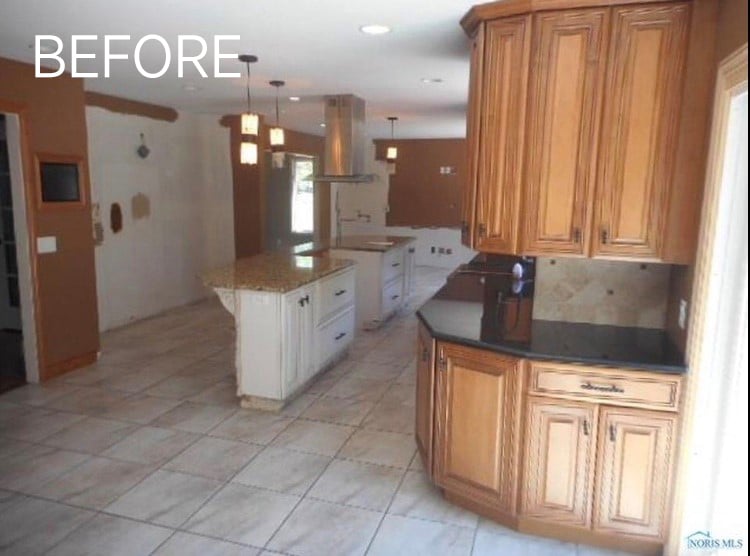 Eric and Amanda purchased a foreclosed home in Holland, Ohio. Instead of being inspired by the possibilities for their new home, the partially demolished kitchen created confusion for the homeowners. According to Amanda, "It was an abnormally large space – so big that it was overwhelming to try and determine what to do. We didn't know where to start. How do we tear it apart to create the new space?"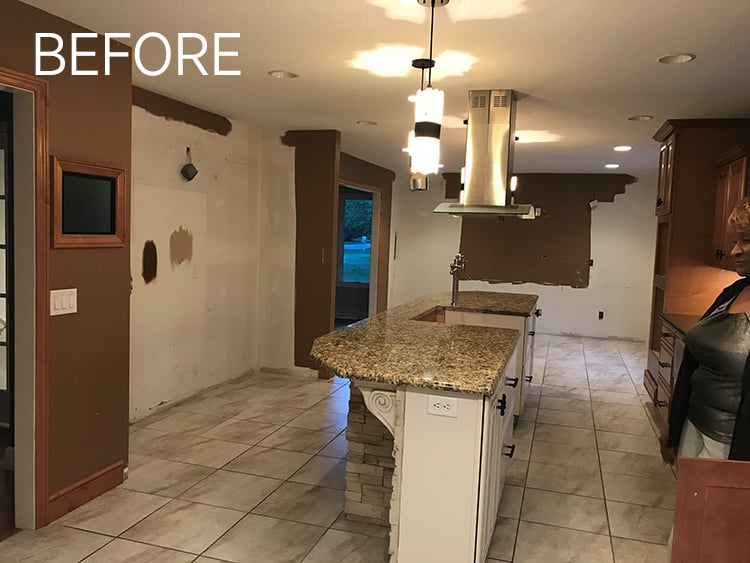 The long narrow kitchen originally had a 14-foot island with a range in the middle. "You literally had to walk seven feet around the island to get to the other side of the kitchen. The refrigerator was on one side and the oven was on the other. Not very functional for a new mom with a four-year old and a one-year-old in tow," shared KSI Designer, Lisa Huckabaa. Amanda was looking to maximize the functionality of the space without compromising the circulation. It was important to have a landing area for her children to eat and play while also providing space to entertain guests and prep meals. Lisa recommended a double island with incorporated table as a solution. Lisa said, "The big challenge was this long narrow kitchen. Breaking up the island provided access to the appliances and made it easier to navigate. We wanted to minimize the steps and make it more efficient." The double-island also created a long visual – open from one side to the other. We created two prep areas – one prep sink – so two cooks can work side-by-side comfortably without tripping over each other. However, the homeowners were initially hesitant about this concept. They had a hard time visualizing what Lisa had conceptualized.
"The 3D rendering was so helpful. Some people can't picture what the kitchen is going to look like, and the computer-generated image does that. It was phenomenal," said Amanda. "When Lisa first told us about the double-island I thought it was too much. Now, I can't imagine it any other way."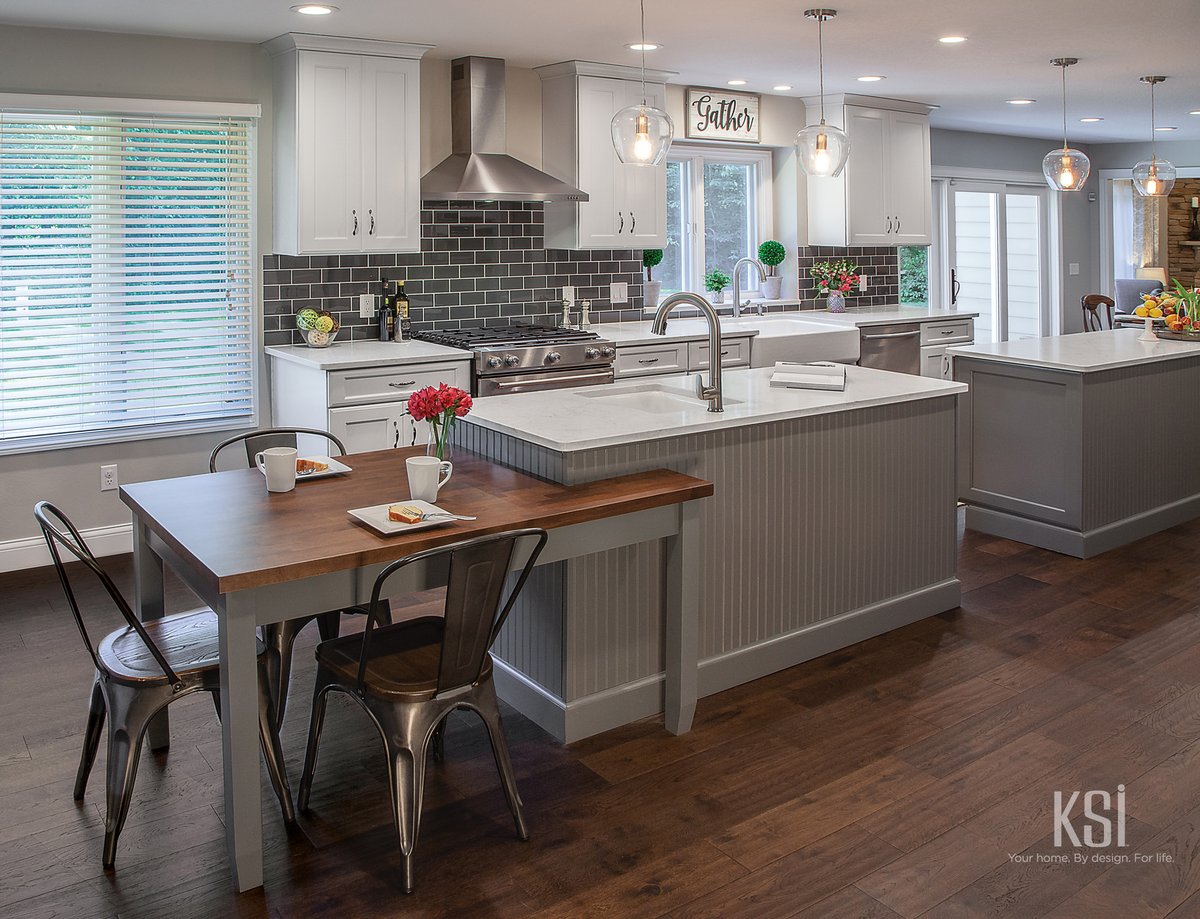 Lisa capitalized on the length of the overall space by fusing a complementary table with the kitchen island. The functional solution created interest by playing upon different planes. Beadboard paneling located along the back of the island further grounds the pieces adding texture.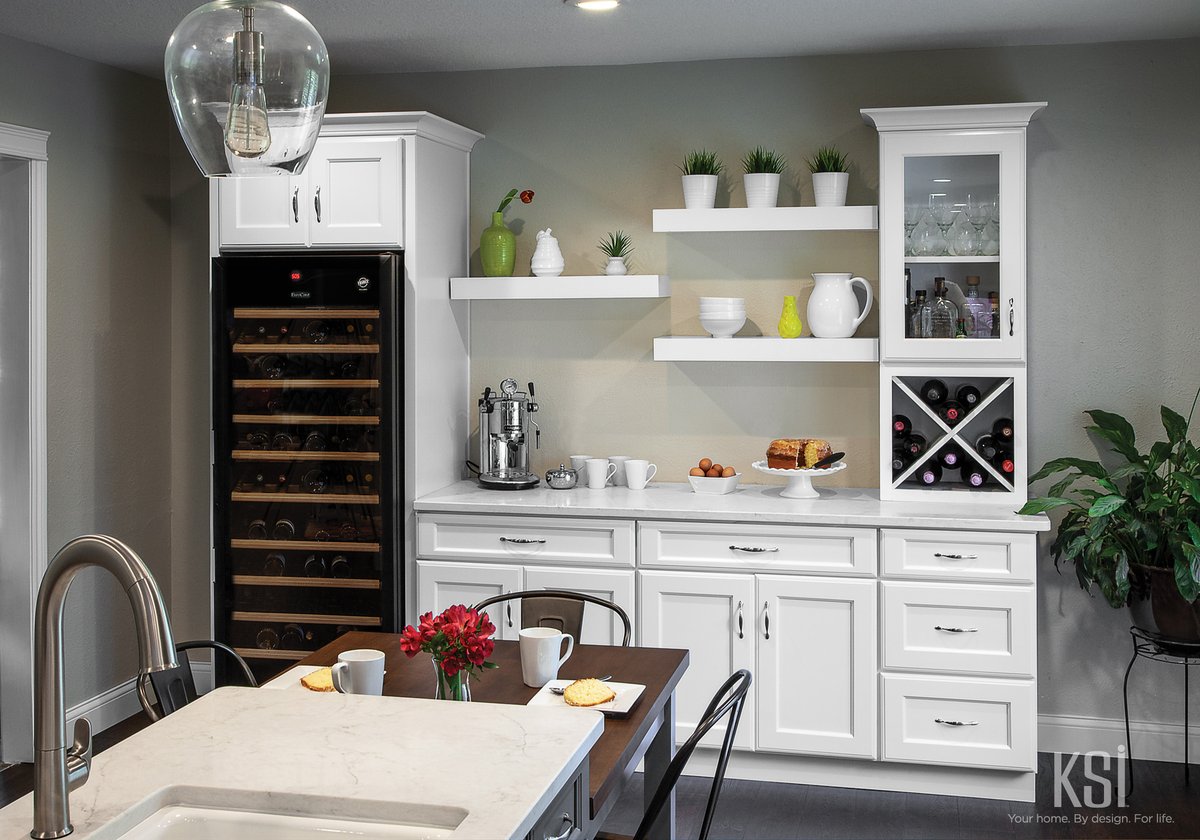 The homeowners love to entertain, owned a wine fridge, and were hoping Lisa could incorporate it into the design. A wine bar was tucked neatly into the end of the kitchen. The bar was designed intentionally around the wine fridge but doubles as a coffee bar or buffet for entertaining. Guests can enjoy a cocktail or espresso while host is preparing the meal.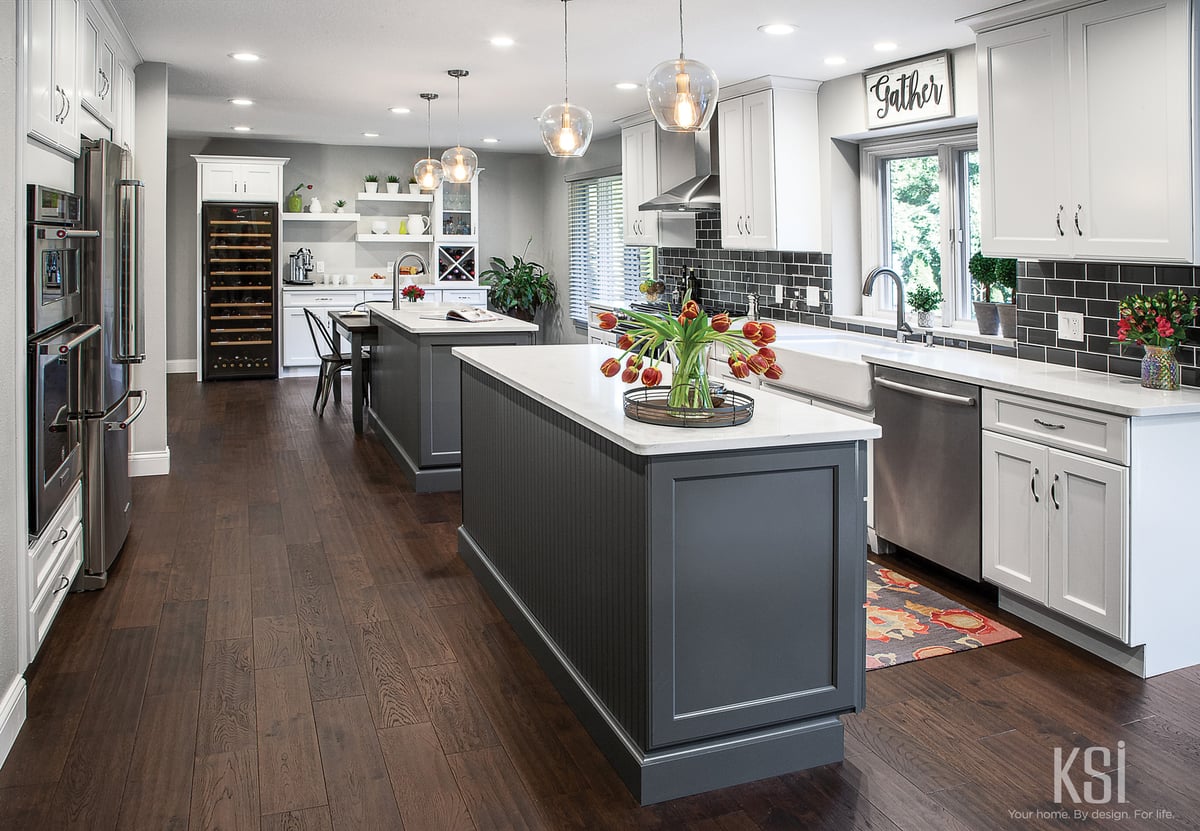 Amanda initially wanted an all white kitchen and Lisa recommended adding the gray island and the wood table adding interest and warm tones to the space. Dark gray, subway style, glass tiles tie in beautifully with the Merillat Classic Ralston gray cabinetry. Amanda shared, "We're really happy with the neutrals we chose. Even if the trends change, we feel like we can accessorize and update it that way."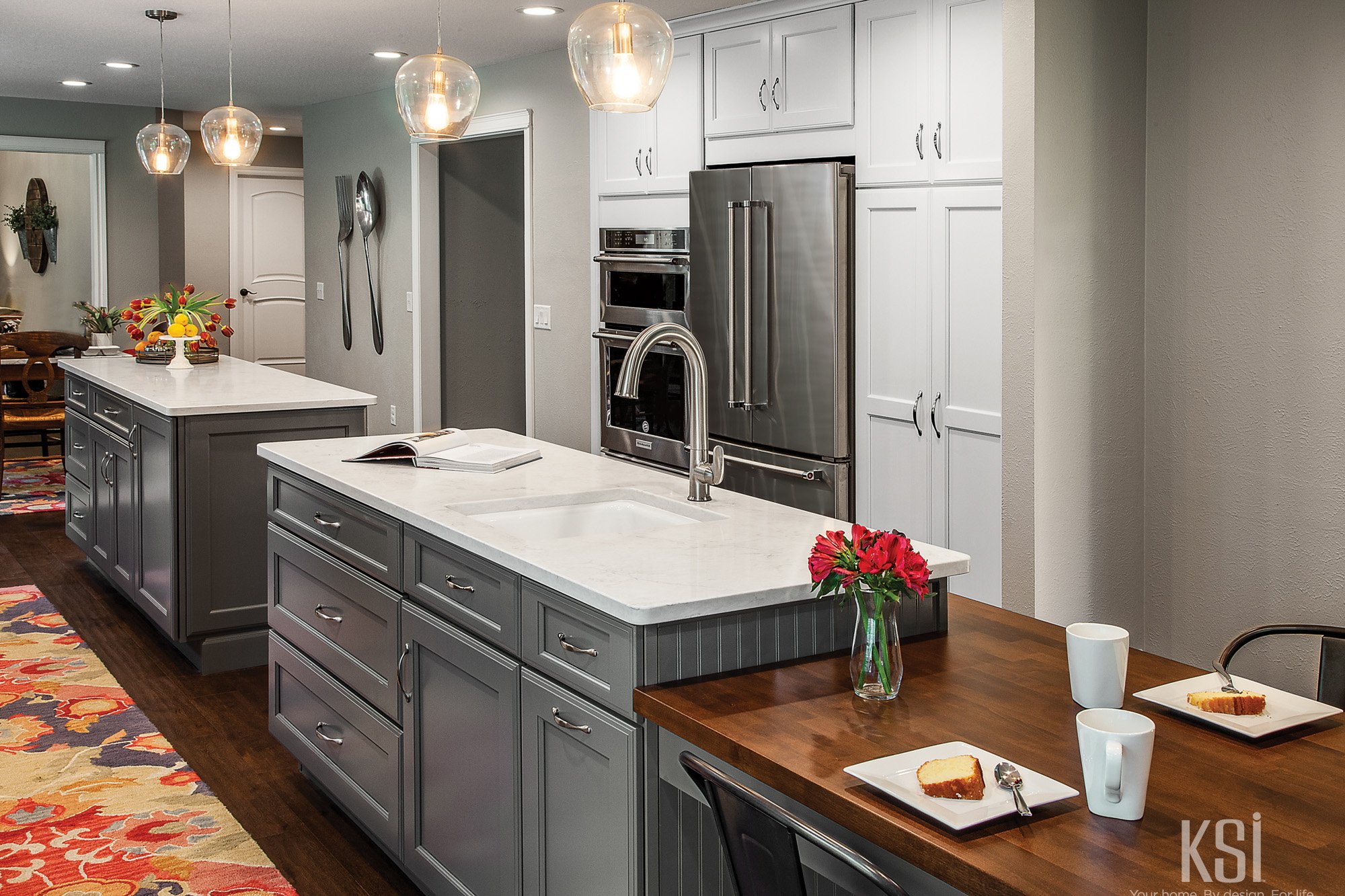 In the end, Amanda and her husband Steve have an exceptional home interior, Amanda said, "We're just really happy KSI listened to us. We needed to do it right. The kitchen is the heart of our home. There isn't one day where we say, 'Man, I wish we would have done something different.' We love it."