Bringing Out The Best in a Barndominium Kitchen
This summer travel season, we're especially inspired by the possibilities presented by the Barndominium - a unique style of home which has emerged as a popular "up north" family getaway concept over the last couple of years.
Barndominiums are the product of large barn kits which are converted into a living space. They tend to be affordable, low-maintenance, and energy efficient houses that typically include a large attached garage. For large families and outdoor enthusiasts, the allure of the barndominium is clear - it combines a cottage-like, open-concept living space with a large attached garage capable of accommodating all of your vacation toys!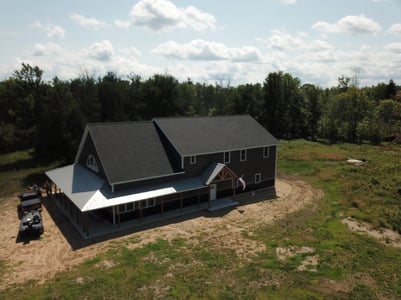 We recently had the pleasure of helping make one Byron Center client's barndominium dream a reality. The home sits on several acres of northern Michigan land in which the family enjoys hunting, fishing, and all the recreational activities that the great outdoors have to offer. Inside, their space features many staples of a barndominium build: a large open-concept living space, vaulted ceilings, a loft, and an oversized garage. The homeowners had already put a great deal of planning into designing their space, which they were building for their family to share as a recreational refuge to enjoy for years to come. We knew that creating an open concept kitchen that fit the characteristics of a barndominium was going to be an exciting functional and aesthetic challenge!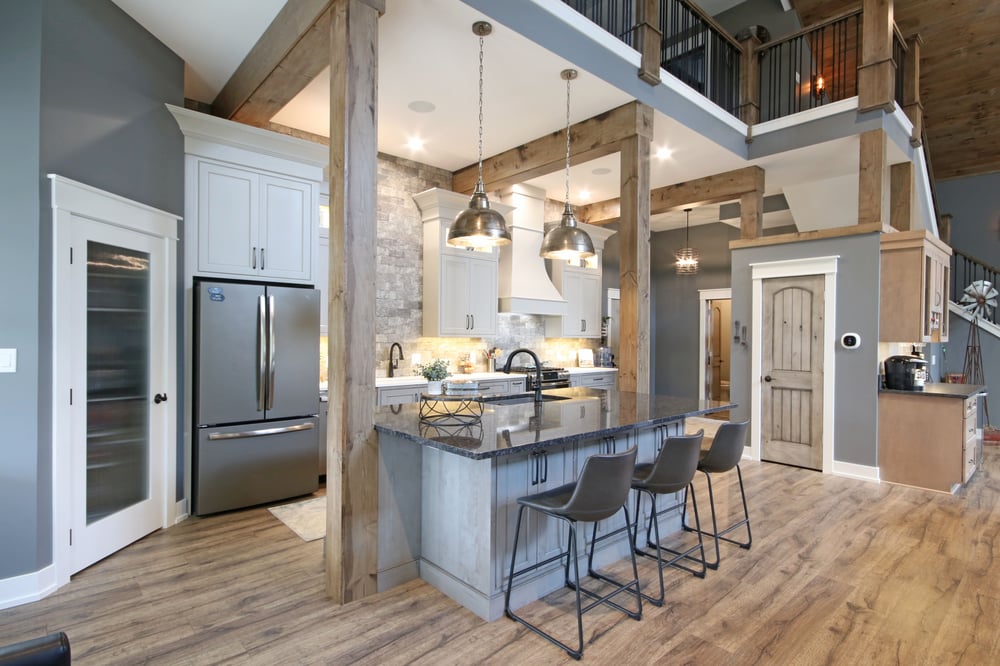 Although the space is a true open concept, thoughtful selections create a rustic chic design aesthetic which provides a sense of warmth and coziness. Utilizing both Mouser and Pioneer cabinetry opened up endless opportunities for door styles and finish options. By combining an inset door from Mouser and a knotty finish from Pioneer, we were able to achieve a rustic chic aesthetic. Incorporating wood, metal, stone, brick, and blue tones really tied in the "up north" feel while maintaining a level of classiness, which is exactly what the homeowner wanted to accomplish!
Let's take a look at all the great features we were able to pack into this kitchen: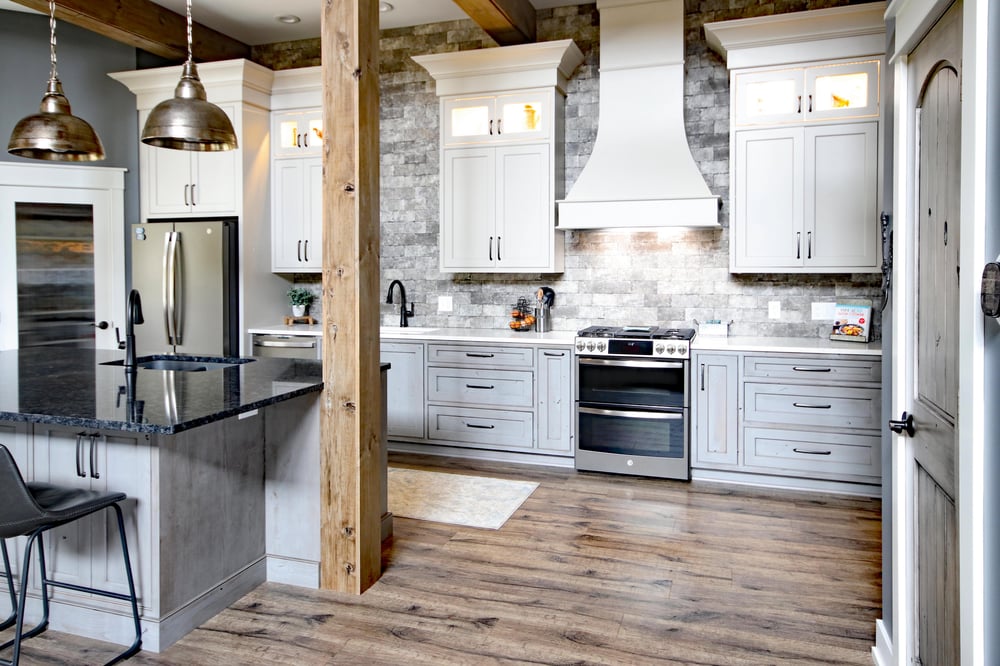 Space, Space, and more Space!
The homeowner never wanted to feel like there were "too many cooks in the kitchen"; so they incorporated additional room between the perimeter and island cabinets and added a second sink for prep and clean up.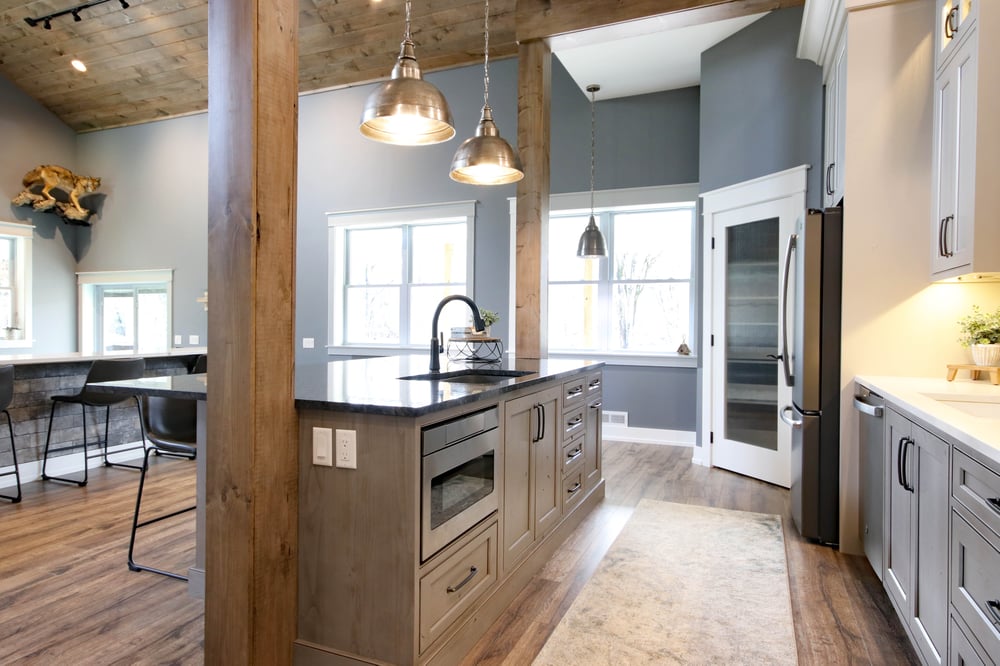 Thoughtful Organization
Despite having such a large space, the homeowners were clear about emphasizing organization with a focus on functionality. Our design provided pots & pans bases, drawer organizers, trash/recycle pullouts, spice pull outs, and an under-the-counter microwave to reduce clutter and makes the kitchen much more functional.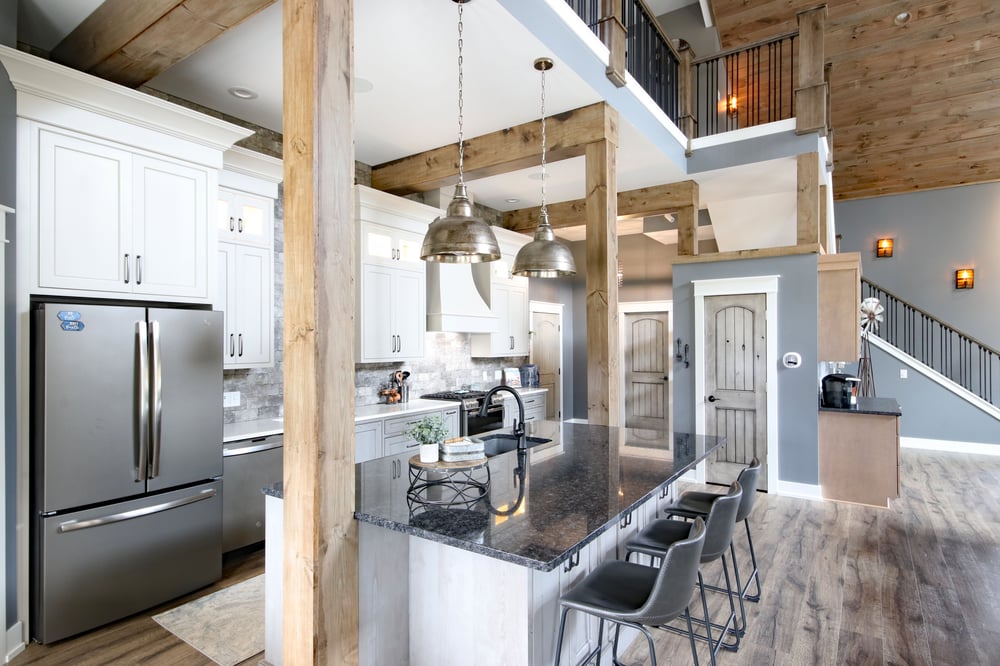 A Large Island with Ample Seating
For this client, creating a communal area in the kitchen was an absolute must. We designed a large island perfect for gathering and entertaining, while providing additional storage below for seasonal decor. Uniquely designed to fit within the loft supports with extra seating on each end, this island checks all the boxes!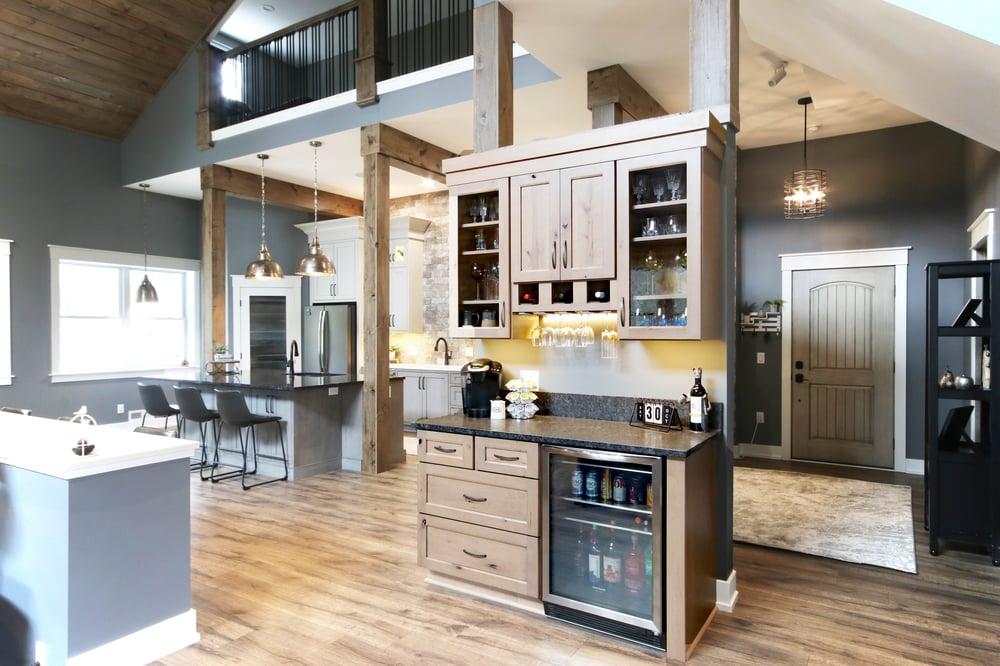 Bar and Multi-use Beverage Center
Adjacent to the kitchen and living space is a bar area designed for any time of day and stocked for any occasion. Whether you're looking for coffee to start the morning, a pop during the day, or a beer, cocktail, or margarita to end the night - this beverage center has it all!
A hightop bar area nestled between the island and the living space was another great addition. It's a great spot to enjoy a meal or snack and still be a part of everything going on in the living room. Believe it or not, this was wasn't in the initial plans, and quickly became a space the homeowners couldn't imagine not having!
Upping the Ambiance
In addition to glass doors in the upper cabinets, we added under cabinet lighting and in-ceiling speakers to increase the versatility of the space and allow the homeowners to adjust the mood for any occasion.
Needless to say, this project is a powerhouse showcase of the possibilities in an open floor plan barndominium build. The homeowners are thrilled with the end result and we couldn't be happier for them!
---

Troy Kooistra
Troy Kooistra is a Design and Sales Consultant on the KSI West Michigan Builder Sales Team.
---