When Jennifer and Scott approached me with a desire to blend art deco and industrial tastes in a remodeled kitchen, I was excited to to take on a project with such eclectic sensibilities!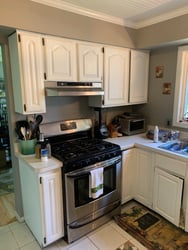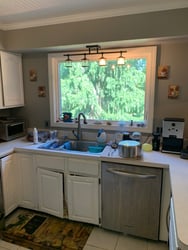 This couple moved into their home right after they got married - like immediately after. Jennifer's parents took down wallpaper for them when they were on their honeymoon! Since then, they have continued making improvements and now have two boys. One of the first things they told me was that their taste has changed over the years. Initially their tastes were really Art Deco, and they still have some fantastic Art Deco furniture in their dining room. Over time, they went for a more industrial aesthetic in their family room. Between these rooms lies the kitchen; with traditional white cabinets, soffits, and peninsula countertop, it felt fairly cramped and matched neither of the adjoining rooms' styles. Now it was finally time to remodel...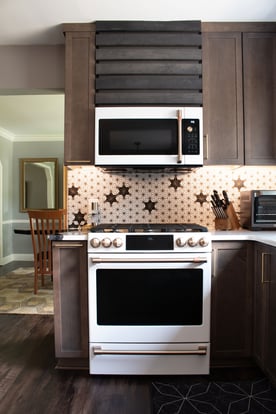 Jennifer and Scott wanted to combine their Art Deco and industrial aesthetics while leaning more Mid-Century Modern. Their eclectic taste provided unique parameters, and their inspiration pictures offered a great starting point to develop an exciting design for their kitchen.
We referenced Art Deco with the star pattern backsplash tile and metallic grout. This ties in with the Art Deco vibe in the dining room. Under-cabinet lighting creates drama and draws attention to the tile work.
The dark woods fit with the industrial color scheme in the living room. We used two different door styles from Merillat Masterpiece to achieve a complimentary look. The slab and thin shaker door mix ties in with their Mid-Century Modern taste. We topped it off with a tasteful mix of matte black and honey bronze metals between the hardware, lighting, and plumbing fixtures.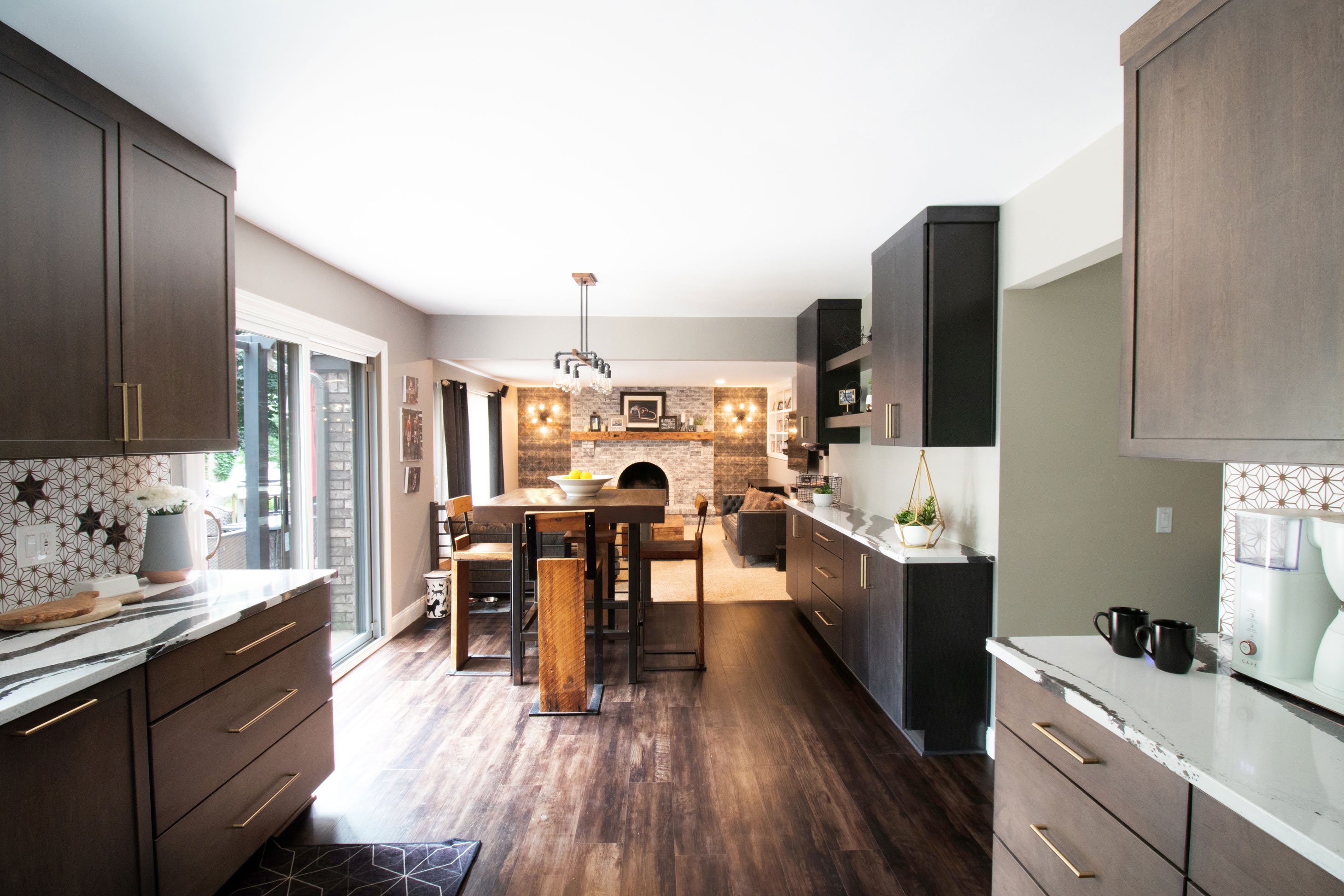 To improve functionality, we took out the soffits, removed the peninsula, and extended the countertop. This made a larger work space for Scott, who loves to cook, allowing more room for the family to access what they need when he is in the kitchen.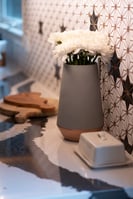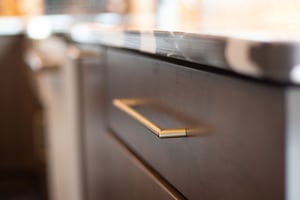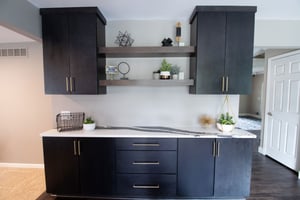 Beyond having a beautiful and functional space, the clients also wanted to make sure we could accommodate their seasonal decorations. We devised floating shelves to provide ample display space for Christmas and Halloween villages, with convenient plugs located discreetly above each shelf to make wires easily hidden.

Tying the clients' eclectic tastes together was an exciting design challenge. We were incredibly pleased with the end result!
Products used in this project:
Merillat Masterpiece Cabinetry

-Main Cabinets Levan Door Maple Molasses Suede Finish
-Accent Cabinets Fallon Door Maple Slate Suede Finish

Cambria Bentley Quartz Countertops
Hoshi Soli Backsplash Tile in White and Black
Blanco Cerrana Fireclay Sink
Kohler Crue Pull Down Faucet
Top Knobs Kinney Honey Bronze Pulls
Progress Lighting Spatial Light Fixtures
---

Krista Daily
Krista is a Designer at KSI Kitchen & Bath's Livonia Design Center.