Selecting kitchen cabinetry for your remodel project is an important decision. The choices in cabinetry can be overwhelming and intimidating since it impacts the overall aesthetic of the kitchen and your investment. When you walk into a kitchen, the cabinetry is the first thing people notice. The cabinetry may be the most significant influence to the space. The most difficult thing about designing your kitchen isn't finding a look you like, it's choosing just one. A popular trend to consider is a two-tone mix in cabinetry. A cabinetry combination creates interest and a statement for your kitchen.
Painted White Perimeter with Wood Island
Combining white painted cabinetry with a wood island delivers a dynamic appeal to a kitchen. Pairing a traditional wood with a transitional white painted door creates a warm, inviting space. The stacked molding and glass doors add the finishing touches to this gorgeous transitional kitchen.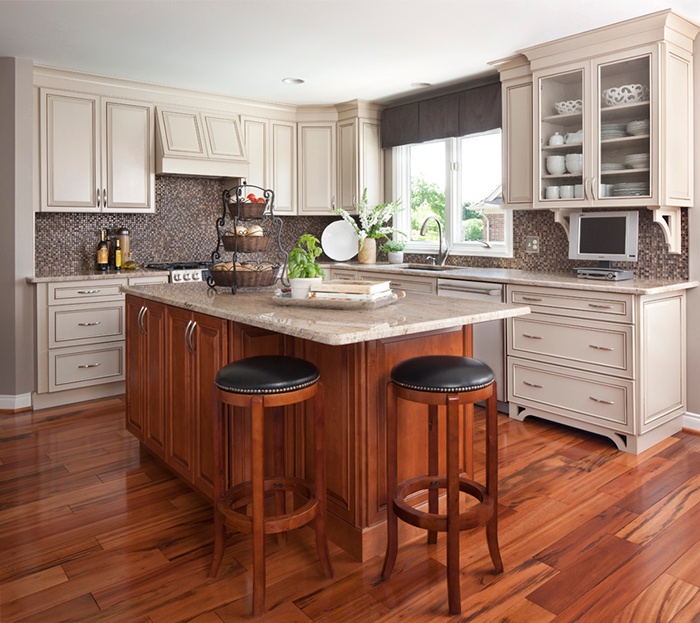 Dark Stain Perimeter and White Painted Island
Dark grays and blues are popular right now and they make a statement. Jim McVeigh, Designer at KSI, paired up a Graphite Rub with a Painted Classic White finish in Dura Cabinetry for a striking contrast in this kitchen. The combination of a dark and a neutral finish creates a kitchen arrangement that may easily extend into other rooms.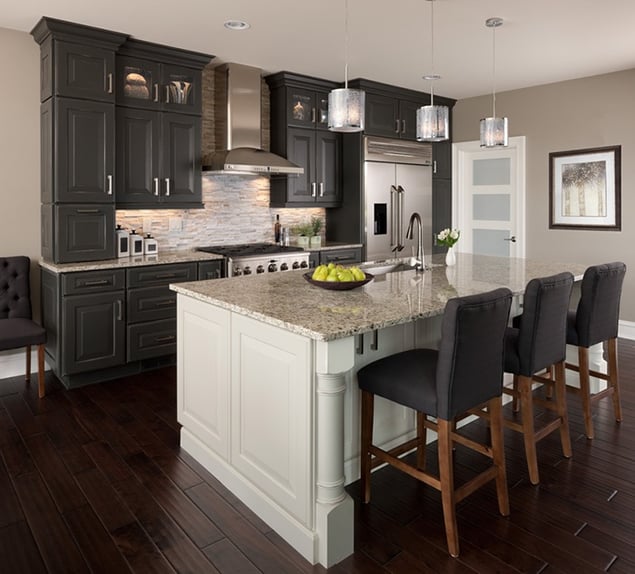 Neutrals
Mixing soft grays, greens, beiges and whites is increasing in popularity. By subtly blending neutral shades, the kitchens appear open, soft and elegant. Sandra Daubenmeyer, Designer at KSI, used the soft palette of Dura Supreme Cabinetry to create a comforting, inviting kitchen. The cabinetry perimeter is finished in Latte Brown and the island and hood in Tea Green Espresso. This variation in neutrals and the prominent pieces gives the space depth and sophistication.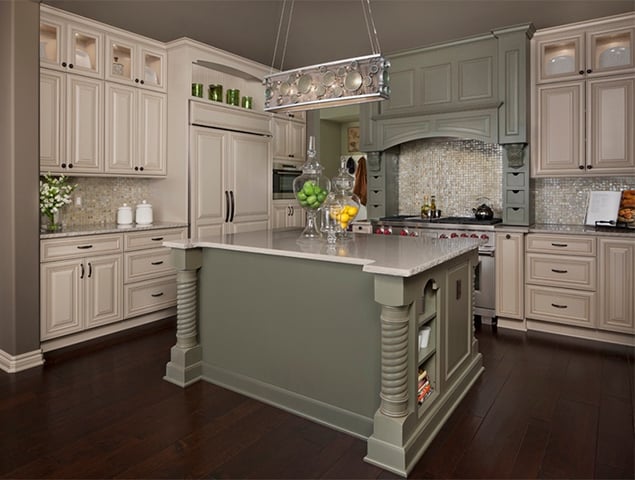 Wood and Pop of Color
If you are searching for something unique and bold, combine wood, lacquer and color. Gray can really enhance bright colors especially when a color is used in a dramatic way. The wood grain, subtle texture mixes extremely well with the warm, glossy tangerine. The simple backsplash is a gray tile that doesn't compete for attention. The kitchen is sleek and fun.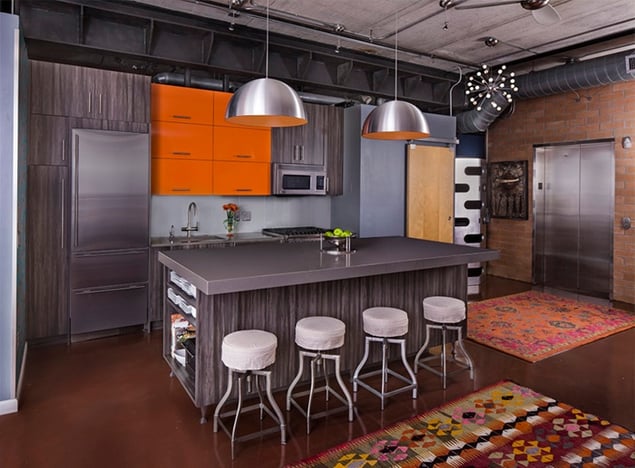 A two-toned style gives you the opportunity to create something truly inspiring and unique for your kitchen. By selecting two finishes, it breaks up the predictable and offers the opportunity for your guests to take notice.
---

KSI Kitchen & Bath
KSI Kitchen & Bath is a leading home design and remodeling firm specializing in kitchen and bath design.