This year, The Pantone Color Institute made an unusual announcement naming not one, but two colors of the year for 2021: "PANTONE 17-5104 Ultimate Gray + PANTONE 13-0647 Illuminating, two independent colors that highlight how different elements come together to support one another, best express the mood for Pantone Color of the Year 2021." per the announcement. The mix of Ultimate Gray and Illuminating resonates with themes of resilience and hope - a welcome tone of optimism this year.
Accenting Grays with a Pop of Color
We find that Pantone's announcement mirrors trends we've seen in kitchen and bath design. Classic gray remains a staple in the kitchen and bath. It can serve as the primary cabinetry as well as an accent to a classic white kitchen. Accenting gray with a bright color like Illuminating via artwork and décor provides a light and bright atmosphere that is welcoming, calming, and fun.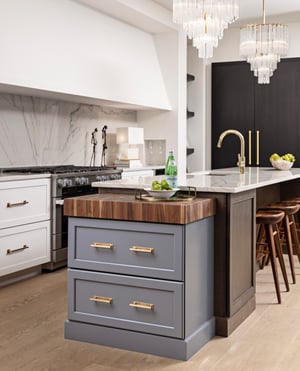 The theme of independent colors coming together to support one another resonated with Pantone's color experts this year. At KSI, we are seeing this trend play out through the mixing of colors with accent pieces as well as making the island or furniture piece a statement that is differentiated from the perimeter cabinetry. In our newly renovated Birmingham design center, we demonstrate how this mix of color and stain cabinetry as well as stone and wood countertops come together to create an attractive and cohesive environment.
Mixing Colors & Stains
By layering together a shaker door from Merillat Masterpiece in a white and stain with a blue accent piece and a wood countertop (see image at right), this display embodies Pantone's statement that a combination of colors plays well together.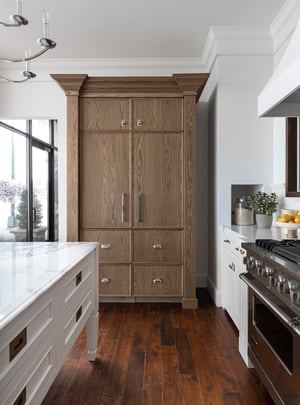 In the combination at left, the Birmingham design center mixes classic Dura Supreme inset cabinetry with a custom crafted larder in a light, subtle stain on plain sliced white oak. While the classic colors like white and gray will remain prevalent, mixing accents brings visual interest to a space that doesn't necessarily mean an increase in expense or complexity.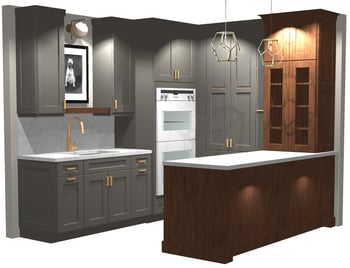 Our Macomb design center has embraced the mix of materials and colors in their soon-to-be installed display (illustration above) featuring Serenade frameless cabinetry. "The combination of walnut and Frappe (painted finish) shows off a mix of warm wood tones and darker neutral colors that are trending today," notes Macomb designer Brooke Dando, who collaborated on the development of the display. "While these are trending, we also view them as classic since walnut has been around forever and you can never go wrong with a neutral color!"
We're delighted to see the Pantone Institute recognize the importance of independent colors working together in 2021, a trend we see continuing in kitchen and bath design well into the future!
---

KSI Kitchen & Bath
KSI Kitchen & Bath is a leading home design and remodeling firm specializing in kitchen and bath design.