You know what they say- good things come in small packages, and that's especially true for powder rooms. Even if you're limited in space, your powder room or half-bath can leave a lasting impression on your home's design; because powder rooms are not "high task," you have more freedom to experiment with the design. Here's a look at three powder room ideas to make even a limited amount of space feel luxurious.
Bold Wallpaper and Colors
It may be a small space, but your powder room can still have a big impact. Incorporating bright or deep colors (such as the bright green in the half bathroom pictured in the slideshow above) add drama and excitement to a room that's typically overlooked. You can also use wallpaper with a bold, decorative pattern or oversized motifs for a memorable effect; decorative tiles would also work well to achieve this effect. This design tip even works if the rest of your house is neutral or more understated- let your creativity shine. If you're not ready to commit to an entire room of one color or standout pattern, test out your vision with an accent wall that can quickly become the focal point in the area.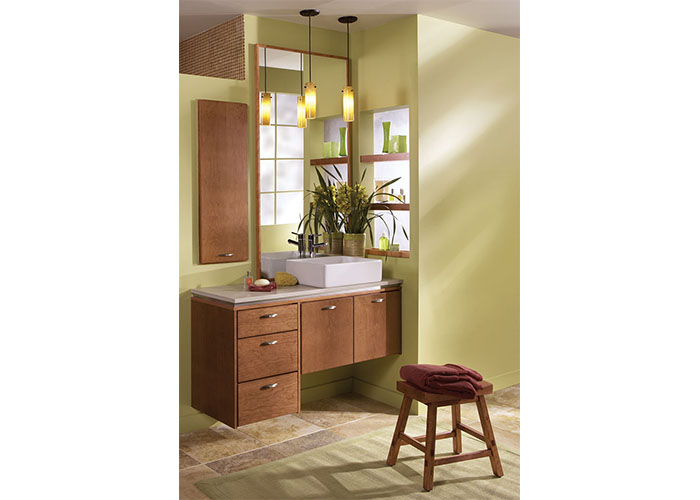 Use Mirrors to Create the Illusion of Space
Placed strategically, mirrors can make a small space look larger by given the illusion of depth and reflecting light to make a room brighter. In the picture below, two mirrors placed side-by-side make the bathroom seem larger; the light grey color of the walls also enhances this effect. The third picture also features a large mirror with lighting sconces placed directly over it to further brighten the area and make it seem bigger.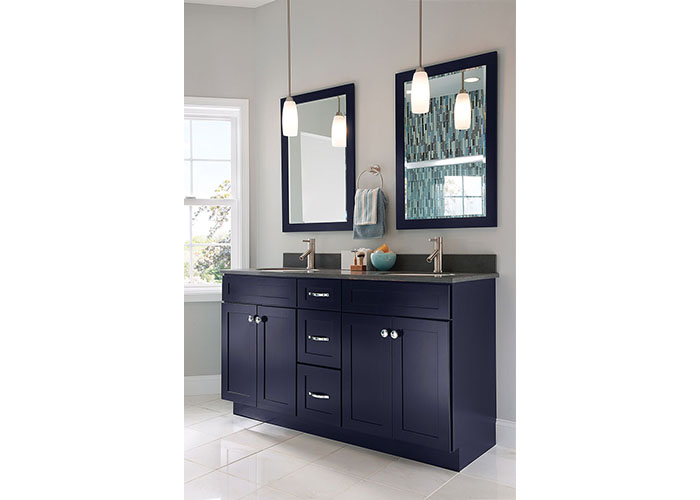 Show off Your Smart Storage
Since your half bathroom isn't overflowing with space, be strategic with the storage that you do have. Again, since the powder room is low task and guests will probably only need to wash their hands and brush their teeth; therefore, you shouldn't need very much storage, and to add in lots of cabinets or unnecessary towel racks may overwhelm the space.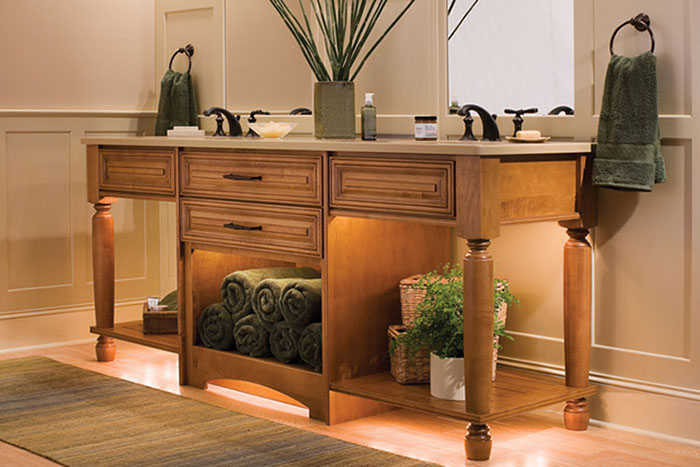 For example, consider the picture above, which features Dura Supreme Cabinetry's Designer Bath Cabinetry with the Venice door style in Maple wood with a Ginger/Coffee Glaze finish. The light color of the wood and the glaze keeps the space airy, as does the open storage for the towels, plants, and baskets. The drawers can tuck away anything that you don't want displayed, providing an open look and feel.
Similarly, the Crestwood Bath Cabinetry with Slab drawer front in Cherry with a Mocha finish in the picture below (also from Dura Supreme Cabinetry) lets the homeowner display towels, soaps, and lotions beautifully while the one drawer keeps the powder room design minimalistic and free from clutter.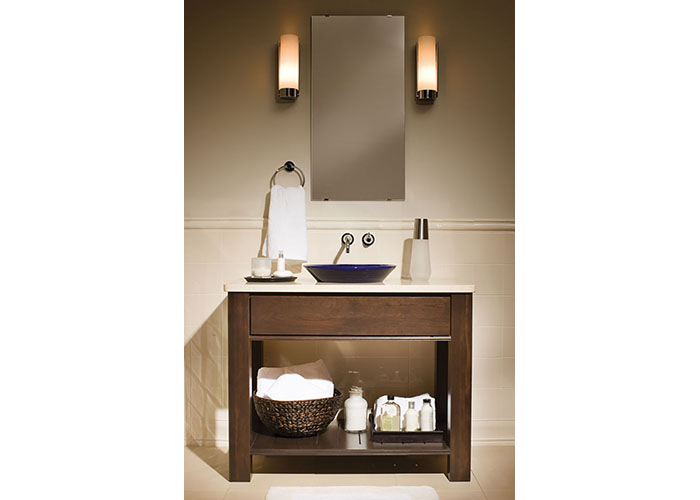 Just because your half-bath is a small space doesn't mean you have to keep your powder room design plain and simple. With these powder room design ideas and the help of a KSI designer, your powder room can have a memorable impact on your guests and be a highlight in your home design.
---

Lori Mounts
Lori Mounts is a professional designer with 15 years of experience servicing the Livonia, MI area. She specializes in delivering best-in-class design concepts to homeowners by blending style and function.