Part two in a two part series on kitchen and bath design challenges and trends.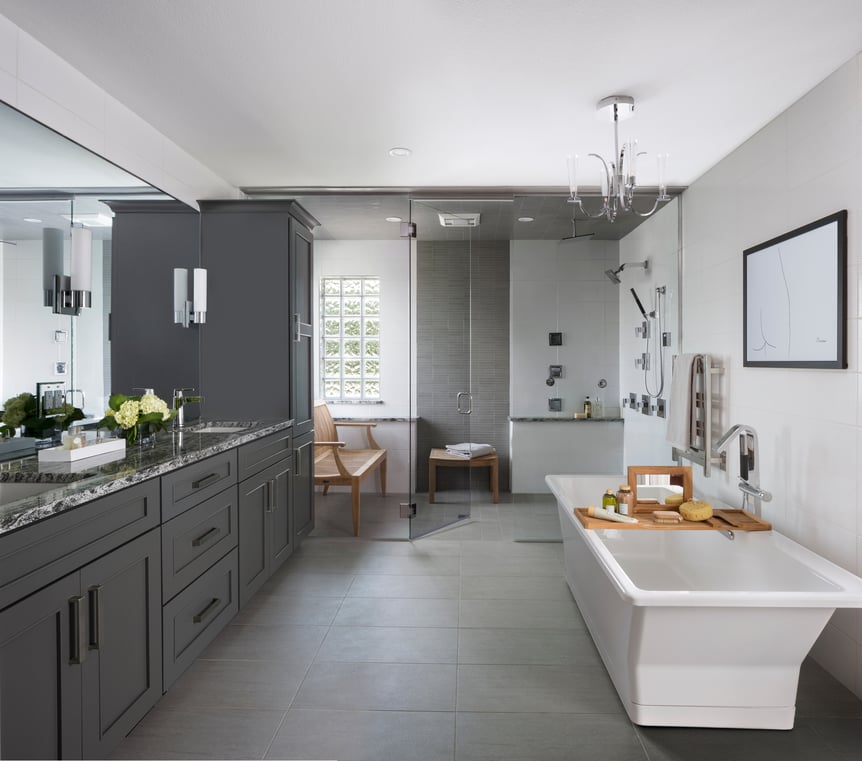 Last week we looked at the amazing transformation of a kitchen in Maumee, Ohio. This week we look at another transformation that is equally awe-inspiring in the same home!
Owner and Designer at Hawaiian Pools, Brenda Kerr, began this process wanting to update her kitchen and gain some space for entertaining. Like many homeowners Kerr wanted to simply update her master bathroom after living in her home for many years. This started as a basic 10' x 12' bathroom remodel but she decided to up the ante, and create a spa style bathroom. The crew removed the original walk-in closet and linen closet to make room for the larger, master bathroom. A middle bedroom was converted to the master closet.
On trend today…some people choose to forgo the jetted tub and invest the space into the shower or replace with a freestanding tub, as shown here with a waterfall faucet. Large showers with multiple shower heads, rain bars, body sprays and steam are now the five-star hotel feel we're all seeking. In the Kerr remodel, a curb less shower with glass doors creates continuity and keeps the shower stall from chopping up the space. The natural textures like the wood bench and stool breathe life into this space. Speaking of natural, we all prefer natural light to our space but it can prove tricky when trying to maintain privacy in a space like a master bathroom. Designers chose glass block windows that let in all the beautiful natural light while maintaining much desired privacy.
The continuous gray and white tile from floor to ceiling makes the room look bigger and creates a seamless line of vision. It draws the eye to the beautiful spa like design and feel of this space.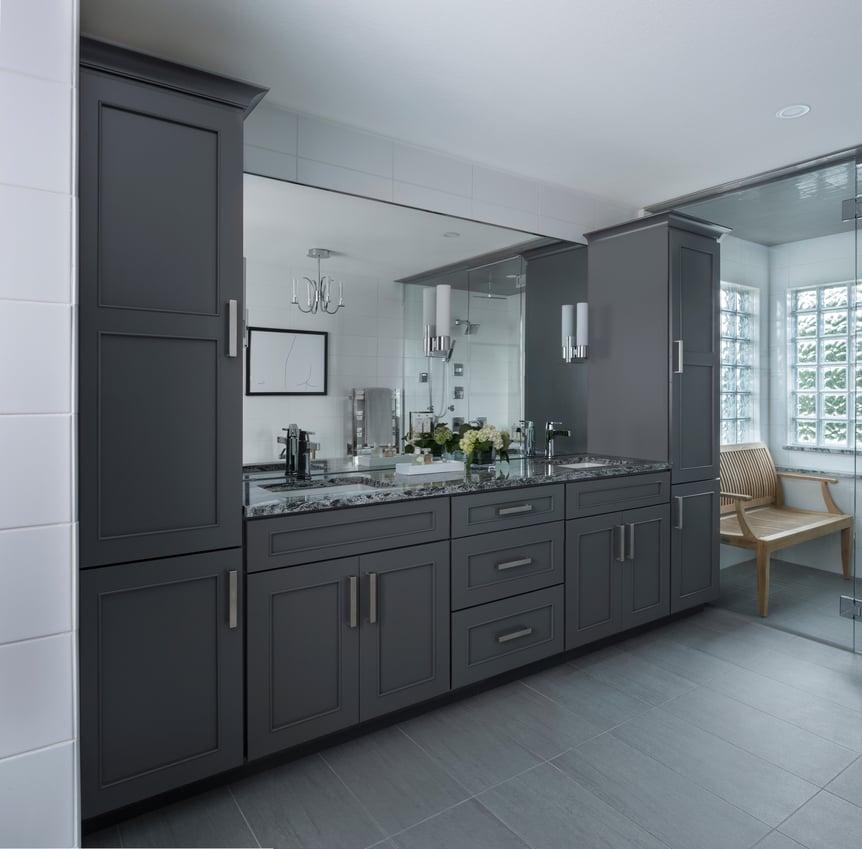 Choosing cabinetry and The Dura Supreme cabinets in Storm Grey Paint are a striking contrast to the crisp white wall tile. A crystal chandelier adds a touch of elegance to the incredible space.
At the end of the day, this homeowner enjoys their new spa bathroom, worthy of the title "Super Bath" to relax and unwind after a hectic day.
For more bathroom design ideas and inspiration visit our design gallery https://www.ksikitchens.com/gallery/bathroom/ or stop by one of our seven design locations throughout southeastern Michigan and Ohio.
---

KSI Kitchen & Bath
KSI Kitchen & Bath is a leading home design and remodeling firm specializing in kitchen and bath design.