Balancing Contemporary and Timeless Design with Full Access Cabinetry
We're excited to showcase the versatility of full access cabinetry with two new displays at our Macomb Design Center. Sometimes called "frameless cabinetry," the frameless moniker doesn't do this cabinet construction style any justice by suggesting it is in any way less than framed cabinetry. So why full access? Full access cabinetry can offer functional and aesthetic advantages over traditional framed cabinetry. It offers about 10% more internal space by removing the framing on the face of the cabinet. It allows for easy access with no frame lip at the bottom, helping to avoid nicks from dishes or glassware. It also arguably creates a cleaner, tighter look and fit.
Full access cabinetry - usually synonymous with modern and contemporary design - can also be incorporated into kitchen and bath design in fun, functional, and timeless ways. To demonstrate the possibilities, we recently installed two new displays at our Macomb Design Center:
Full Access Kitchen Display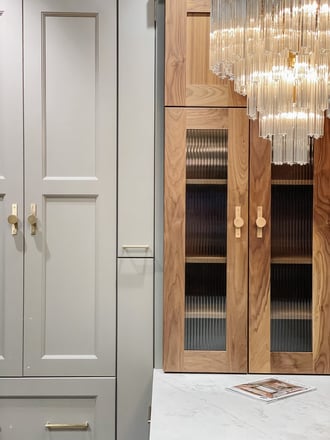 Our inspiration for this new kitchen display was full access cabinetry that balances contemporary design with a timeless mix of materials. Gorgeous natural walnut and warm gray painted cabinetry combined with a neutral quartz countertop provide family durability with a mix of brass and metal tones. Our designers are happy to show clients how mixing colors, stains, hardware, and lighting makes a design like this pop.
Speaking of lighting, this display really showcases how lighting, when incorporated into the design, can play a big role in the finished product. For this display, it's definitely the icing on the cake! We focused on three lighting elements – oversized pendants at the peninsula, statement scones above the sink and under counter lighting in the cabinetry. I absolutely love the oversized glass pendants. They give a feeling of elegance and opulence while also bringing in a touch of mid-century modern or even art deco. I decided to take the shape of the crystals and add it to the glass in the walnut counter upper, where I chose a complimentary large reeded glass.
This display also demonstrates how you can do exciting things in a tight space. Not every kitchen remodel has room for an island. This display showcases how peninsula kitchens can still feel warm, inviting and updated in the hands of our designers with the right products.
Full Access Coffee Bar Display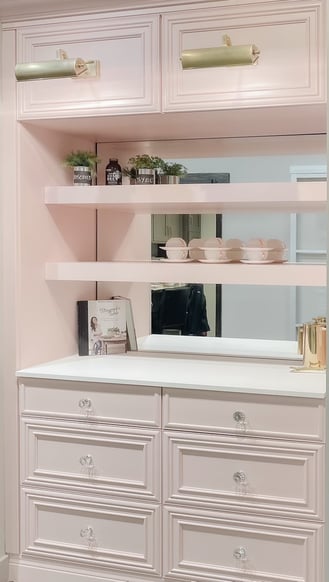 A pop of color tastefully done can add an unexpected visual statement to any home. Our take on it was as a bar area, but it can easily translate to a powder room or bathroom vanity. Our new blush coffee bar has been an absolute jaw-dropper since it's been finished! There are additional pieces planned for this area, but for now we're keeping it simple, glitzy, and glam. A contemporary 3/4" porcelain countertop plays off a more traditional door style with a fun pop of crystal hardware, brass sconces and mirrored backsplash that really put a bow on the entire display. Here again, mixing of materials creates visual interest without compromising on the everyday use aspect of the cabinetry.
Staying on top of Design Trends
KSI's designers are lifelong students of interior design. We stay in touch with design trends by following local and national design publications, our design peers, and manufacturers in the industry. We also maintain memberships and participate in continuing education opportunities with local and national associations like NKBA and ASID to bring the latest design trends and concepts to our clients.
These new full access displays are a great example of these efforts. When guests visit our design center, they allow our designers to demonstrate the construction difference and benefits of full access cabinetry. They also show that full access doesn't always mean modern or contemporary; you really can use traditional or transitional stylings with full access construction.

--

The new full access displays at KSI's Macomb Design Center feature cabinetry by Serenade Cabinetry and Design Craft Cabinets. Our Brighton Design Center has also recently installed a Serenade full access kitchen display. Explore full access cabinetry at your local KSI design center!
---

Brooke Dando
Brooke Dando is a Designer and Assistant Manager of KSI's Macomb Design Center.
---