This month I'm excited to share a kitchen and bath remodel of a lovely home that sits on a beautiful all sports lake in Michigan. The entire rear of the home faces the lake providing breathtaking views from every angle. Naturally, when redesigning the kitchen, the homeowner, contractor, Ken Hall of Hall Construction and KSI designer, Lloyd Endsley, wanted to maintain the integrity of the space and the views to enjoy while cooking and entertaining. They also wanted to update the look and improve the functionality.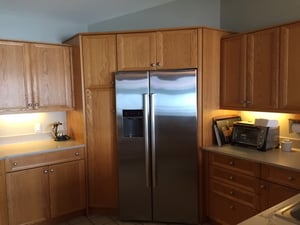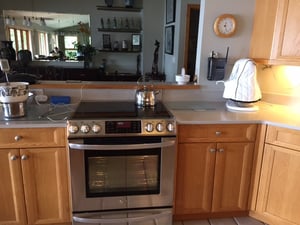 BEFORE: Kitchen with Oak recessed cabinetry, refrigerator off-center.
Challenges:
The beauty and uniqueness of this space with all its angles is also what makes it challenging to design. In this kitchen there are four angled corners to deal with. The homeowner wanted a range with hood but the existing wall was open above the range.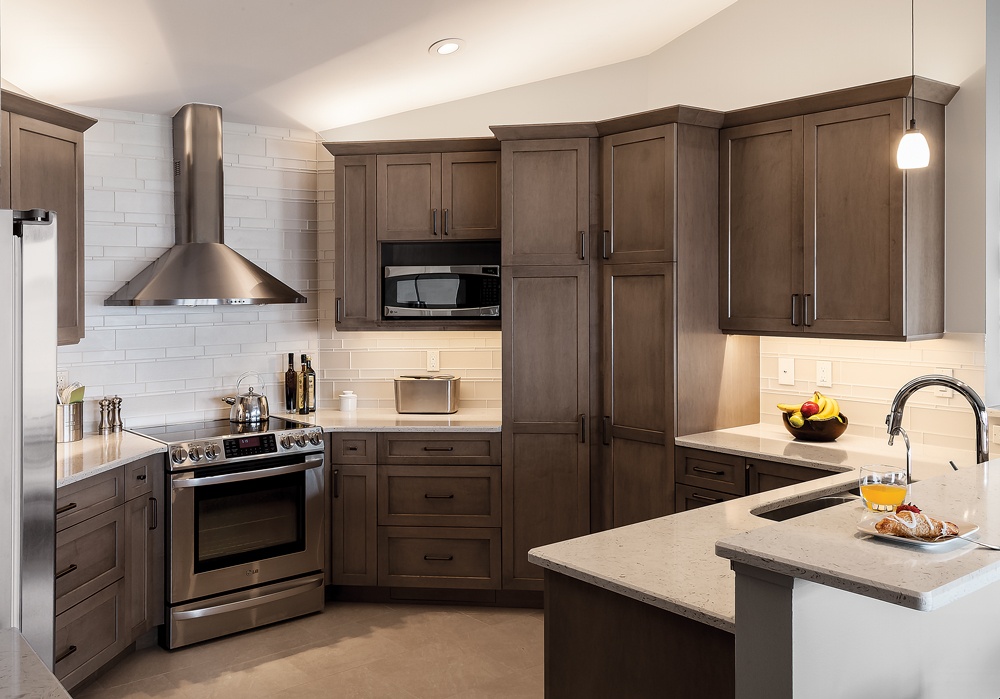 KSI designer Lloyd added a full height wall and placed the refrigerator here while the range was moved to the center of the kitchen where the range and hood now become the focal point.
The homeowner wanted to keep the bamboo flooring in adjoining dining room but wanted to change the kitchen tile and color palette. Lloyd recommended the Dura Supreme Hudson cabinet in cashew. The gray tones with golden undertones of maple wood with the cashew stain enhance the natural character and grain of the wood species.
Storage Solutions
The homeowner was very concerned about storage. The goal was to make sure that the layout and types of products improved the functionality of the family's space. Lloyd spent time with the homeowner going through each cabinet and drawer to learn how the homeowner utilized the space so he could incorporate smart storage solutions for her. From pullouts on either side of range to tray dividers and roll-outs for ease of use and access.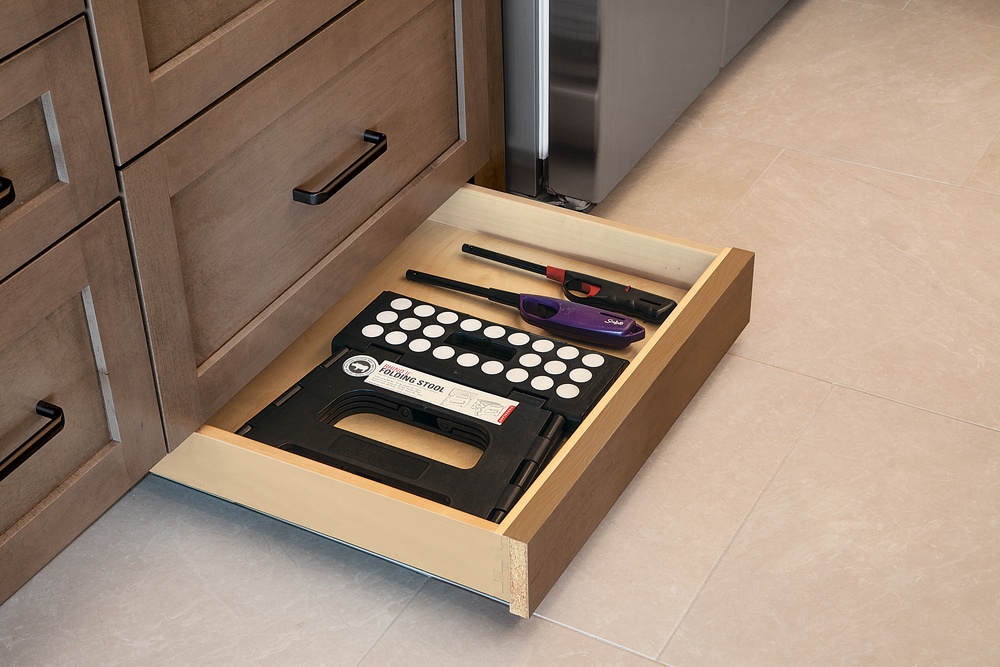 ABOVE: Toe space drawer was chosen to add additional storage in an area that is typically not used. The drawer opens with touch latch – so by simply touching with your toe the drawer pops open where homeowner stores a folding step stool.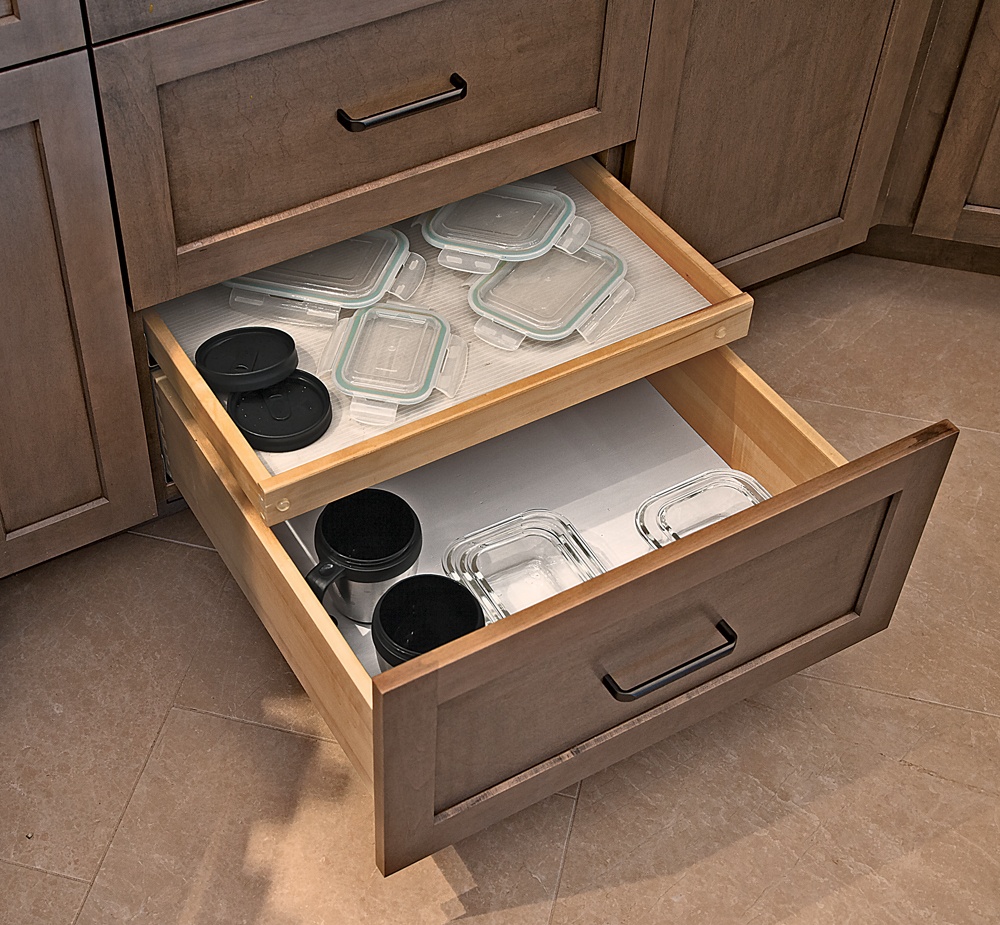 ABOVE: Shallow tray above drawer holds lids and the matching bases go in drawer below.

The refrigerator and pantry were originally on the east wall. In order to gain the storage they desired, and avoid having a giant pantry, the designer wanted to split up the pantry thereby maintaining the integrity of the design. Endsley said, "The original design was too heavy and I wanted to soften it up - break up the giant wall." Now, items are organized and easy to access.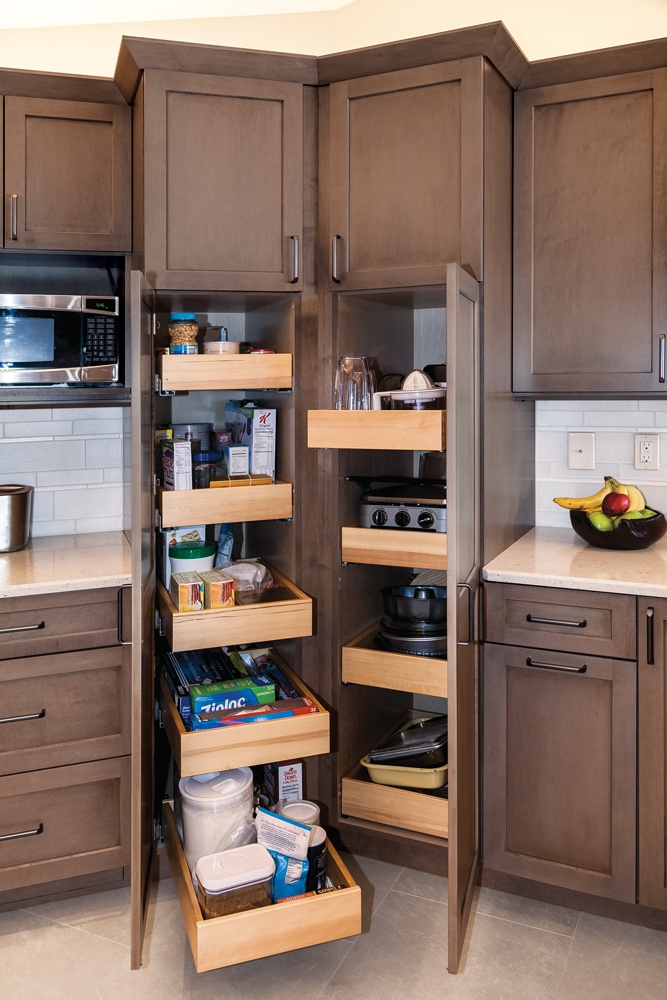 "I knew that I wanted to add pantry storage – they fell into place in this location – it balanced the height of the refrigerator on the other side," said Endsley. The pantries are hinged opposite each other so that you can access both pantries at the same time.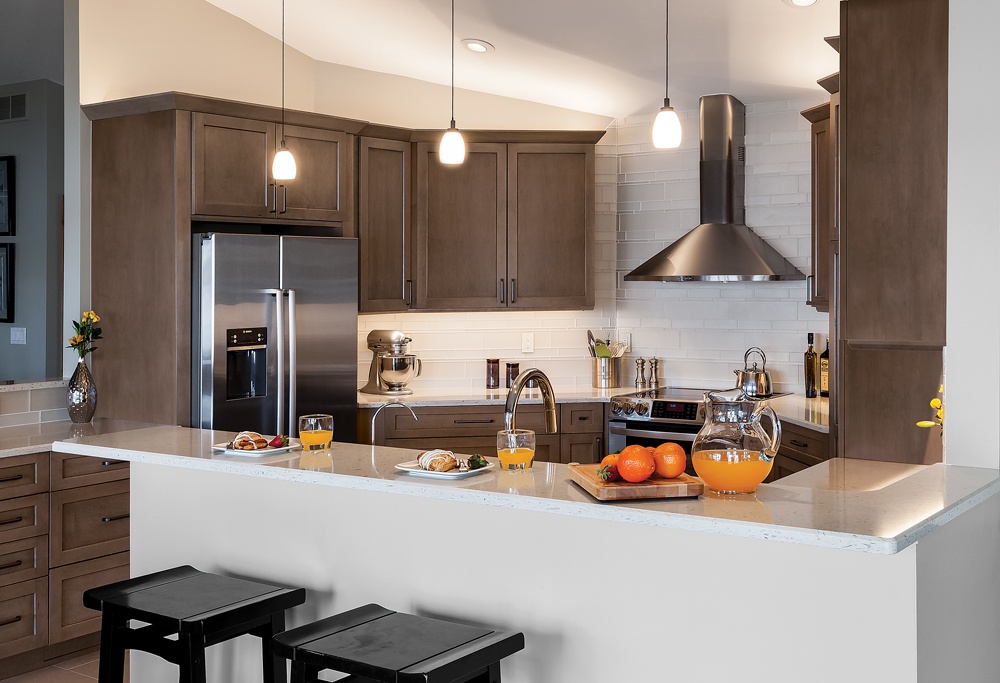 If you would like more information about KSI Kitchen & Bath or would like to view more gallery images of kitchen spaces, you can visit them at www.ksikitchens.com