Peering Inside the Pantry: From Functional Origins to Kitchen Staple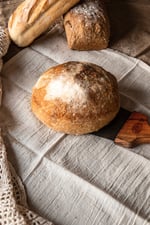 The origin of the word comes from the Old French term paneterie, which roots from the word pain – the French word for bread.
During the Middle Ages, households used a dedicated room to store bread. The pantler was the designated, hired individual or family member responsible for all the goods (bread) being stored. (Fair warning, I am a self-confessed bread enthusiast and should not be entrusted with this task!)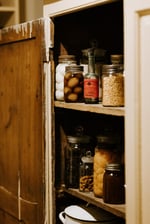 The pantry was often located on the north side of the house, where cooler temps supported freshness away from the summer heat. Often designed with a window and plenty of load-bearing shelving, food storage was an integral design element of the early pantry. Proper air circulation and extending the shelf life of the family's eggs, butter, pastries, bread, and home, canned goods was vital.
When the term Butler's Pantry was introduced, it was typically outfitted with a locking door as this was where the household silver, china and linens were stored. Some even included a bed and desk area, as the Butler worked and slept there.
The invention of the Hoosier Cabinet in the late 1800's condensed the storage of a separate room to a single piece of furniture. Marketed to "save steps", this offered the "lady of the house" a closer, more convenient location within mere steps from the sink and oven.
The 1950's brought about better refrigeration and the introduction of the breakfast nook. The desire for a bigger kitchen with less open shelving for storage gained in popularity, and the pantry began to fade.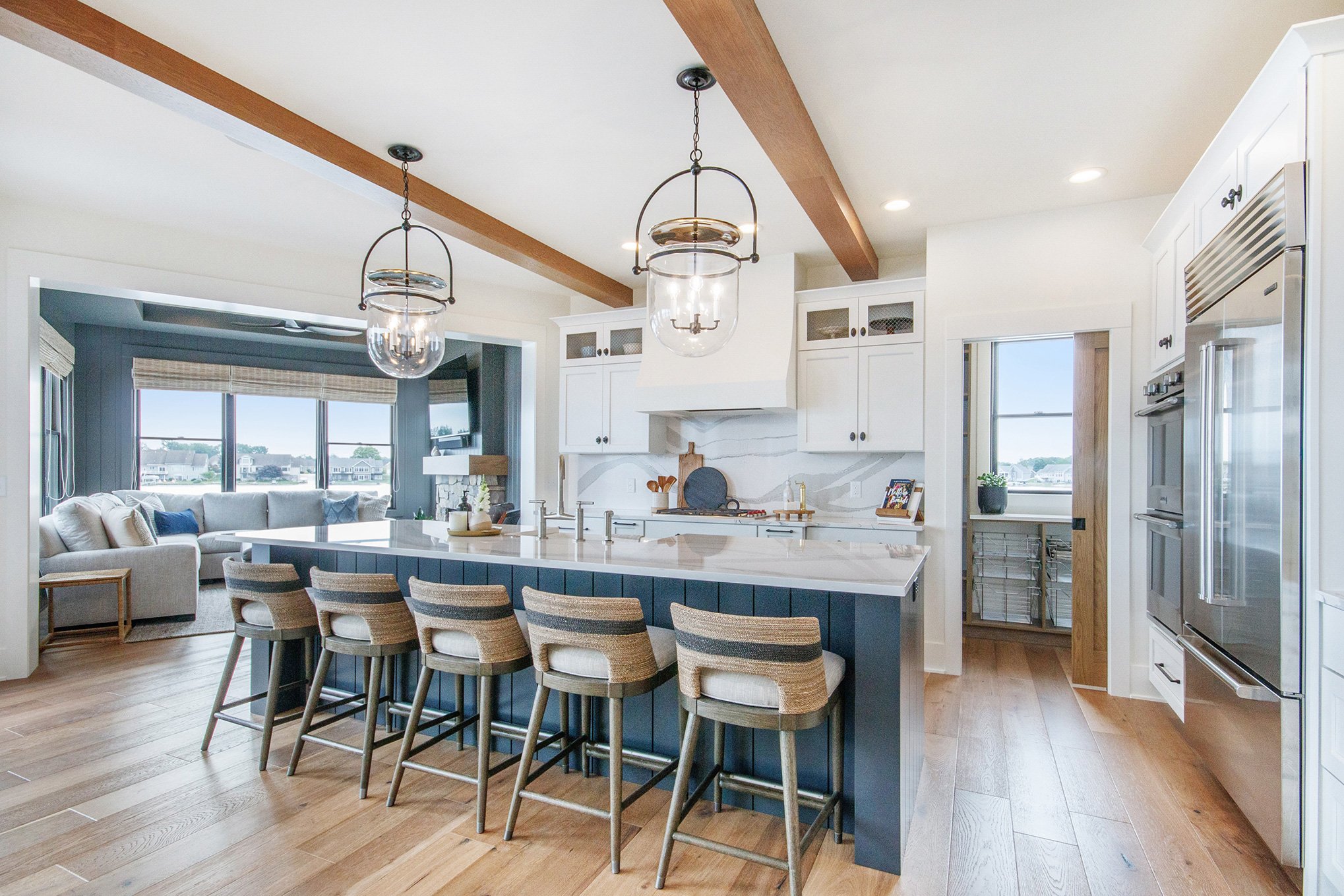 Today the pantry is back and continues to evolve! This little room with a big heart is now getting attention equal to its soul sister, the kitchen. Pretty details, effective storage, and workstation space are in vogue. Pantries are wide and varied in their design and function.
The walk-in pantry offers today's creative designer a playground of inspiration and flexibility. Homeowners today are seeking an uncluttered kitchen. A second fridge and sink can be helpful during pantry meal prep - especially when guests linger in the kitchen. The microwave, coffee maker, toaster, blender, and mixers often now call the pantry home.
Pantry doors can be a fun accessory. They vary greatly and can give a dramatic shot in the arm to the overall kitchen design. A glass door will provide a muted feel; a refurbished, vintage screen door lends itself to the popular farmhouse vibe and promotes good air flow. If the homeowner wishes for the pantry to be unseen, space-saving hidden doors and pocket doors allow the "prep mess" to be concealed.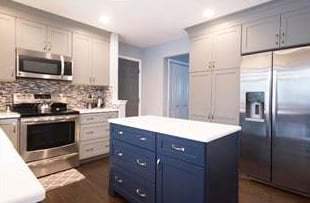 Understandably, not every house offers the space to include a walk-in pantry. In those cases, deciding where items will be stored during the consultation phase allows your designer to help you select the perfect pantry cabinet. These can include pullout trays, spice racks, room for tall oil bottles, and extra room for heirloom cookbooks and those little-used seasonal items living in some "high altitude" cabinets.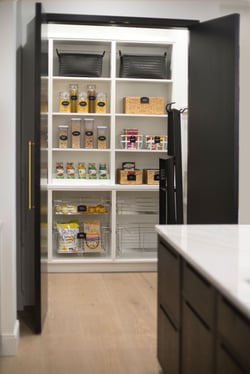 Whether you have pantry cabinets or a walk-in pantry, having a well-organized space is both functional and inspiring. Isn't it more fun to cook when all of your ingredients are beautifully displayed in front of you? A well-organized pantry and kitchen make it easier to both cook and entertain!
No crouching down to reach in the back of a base cabinet for dry goods. Having baskets for things like baking goods and snacks that kids can grab keeps things efficient, and offers a sense of independence for the little ones.
Both walk-in pantries and pantry cabinets provide a sacred space that harkens back to days gone by, while offering so much more than simply a dedicated space to store the bread. The pantry reaches back in time and offers its contents with an outstretched hand, blessing the kitchen, guest and cook!
Photo credits
Top/featured kitchen image: Mouser cabinets – Amity inset door in Rock Garden color. Designed by Julie Kersjes at Starlite Kitchens
Middle kitchen: Pioneer shaker cabinets shown. Perimeter in Polar; island in Bracing Blue. Designed by Ruth Westra at Starlite Kitchens for Ledger Builders
Bottom kitchen: Pioneer Shaker cabinets in maple, painted gray. Remodel by Jenny Seabert, Paula Allison, and Jeremy Post at Starlite Kitchens
Pantry close-up at bottom: Pantry organization inspiration on display at our Birmingham Design Center, courtesy of Neat Method Detroit
---

L.K. Felder
L.K. Felder is a writer and the Director of First Impressions at Starlite Kitchens in Byron Center, MI.
---