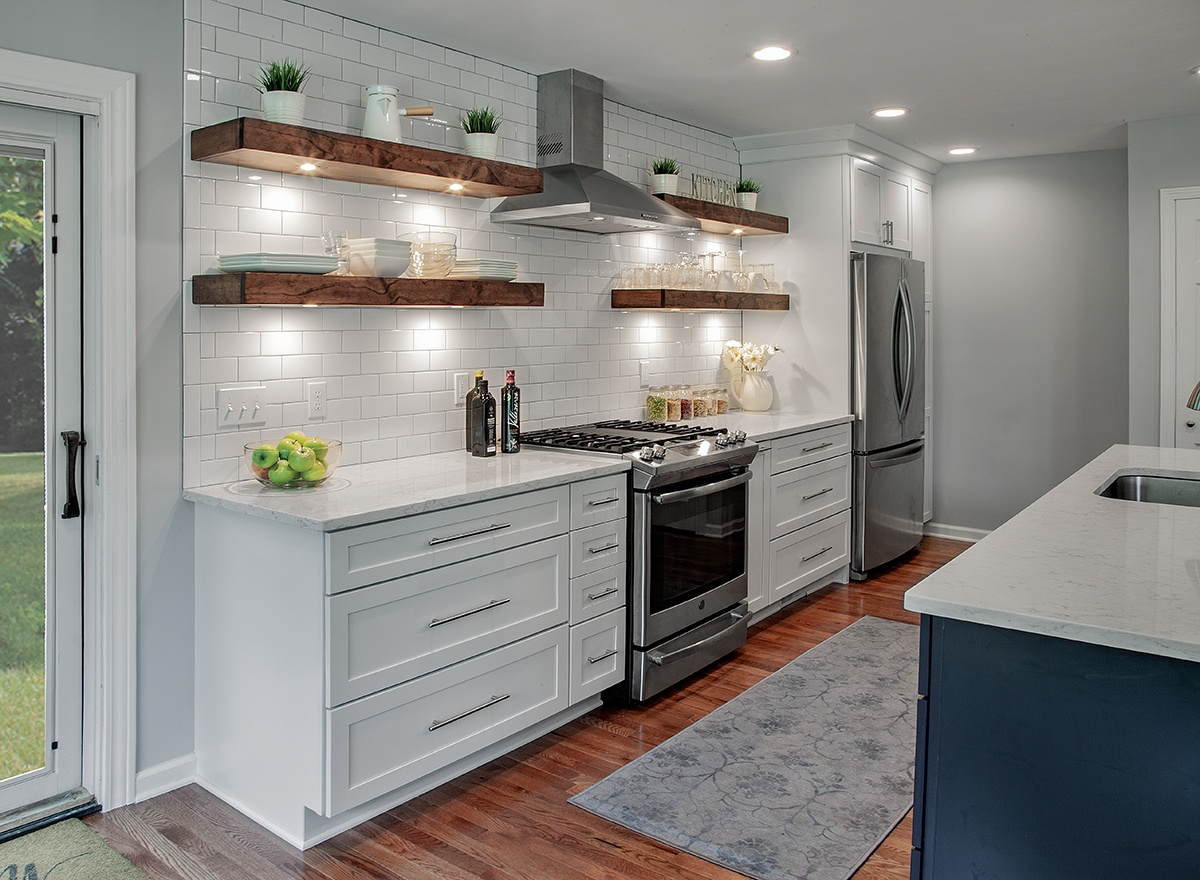 With any home remodeling project we get so excited at the onset. We delve into Pinterest, Houzz, HGTV for our inspiration. Pretty early on, as we try and narrow down our vision for the new space it can become overwhelming. What cabinetry line? The trending shaker style or a contemporary flat? Single or two-tone cabinets? And then there's, hardware, accessories, storage options, appliances….you see where we're going. That's where working with a home design and remodeling firm can be life changing. They work with you to ensure your new design will reflect your style, and the way your family lives while removing a lot of the stress and anxiety that can come with a remodel when done alone or without professional guidance.
When the Thompsons moved to Dexter, Michigan from a one-bedroom bungalow in New York they knew they wanted to update the old and outdated 1995 kitchen. They had a vision and outlined a sketch of what they wanted – and brought it to their first appointment with KSI Designer Lindsey Griner. Mrs. Thompson shared, "We knew what we wanted ­─ we just needed Lindsey to help us find it!"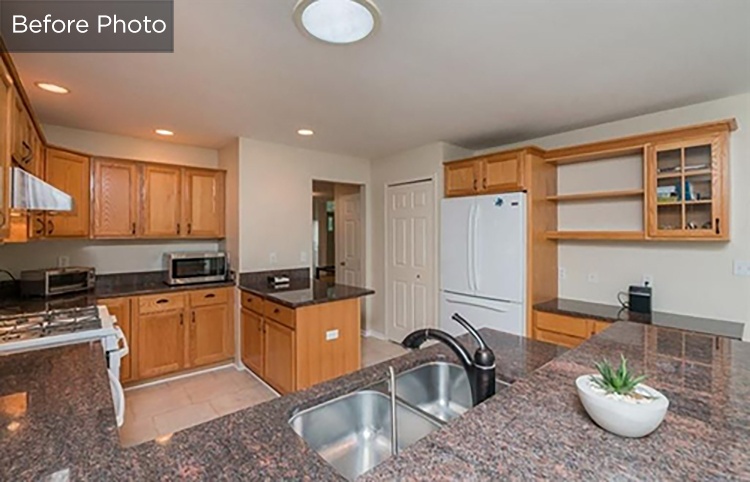 The wall on right side of kitchen was removed and architectural column was added for support opening up the space and adding lots of natural light.
Challenges
"There was a huge wall that created this incredibly dark space but because it was a load bearing wall our contractor Matt Sayers was able remove it and add an architectural column/pillar for needed support." said Mrs. Thompson. Because they are minimalists and enjoy a very simplistic space, they did not want a lot of clutter on counters. Secondly, due to budget, they had determined early on to keep the amount of cabinetry to a minimum.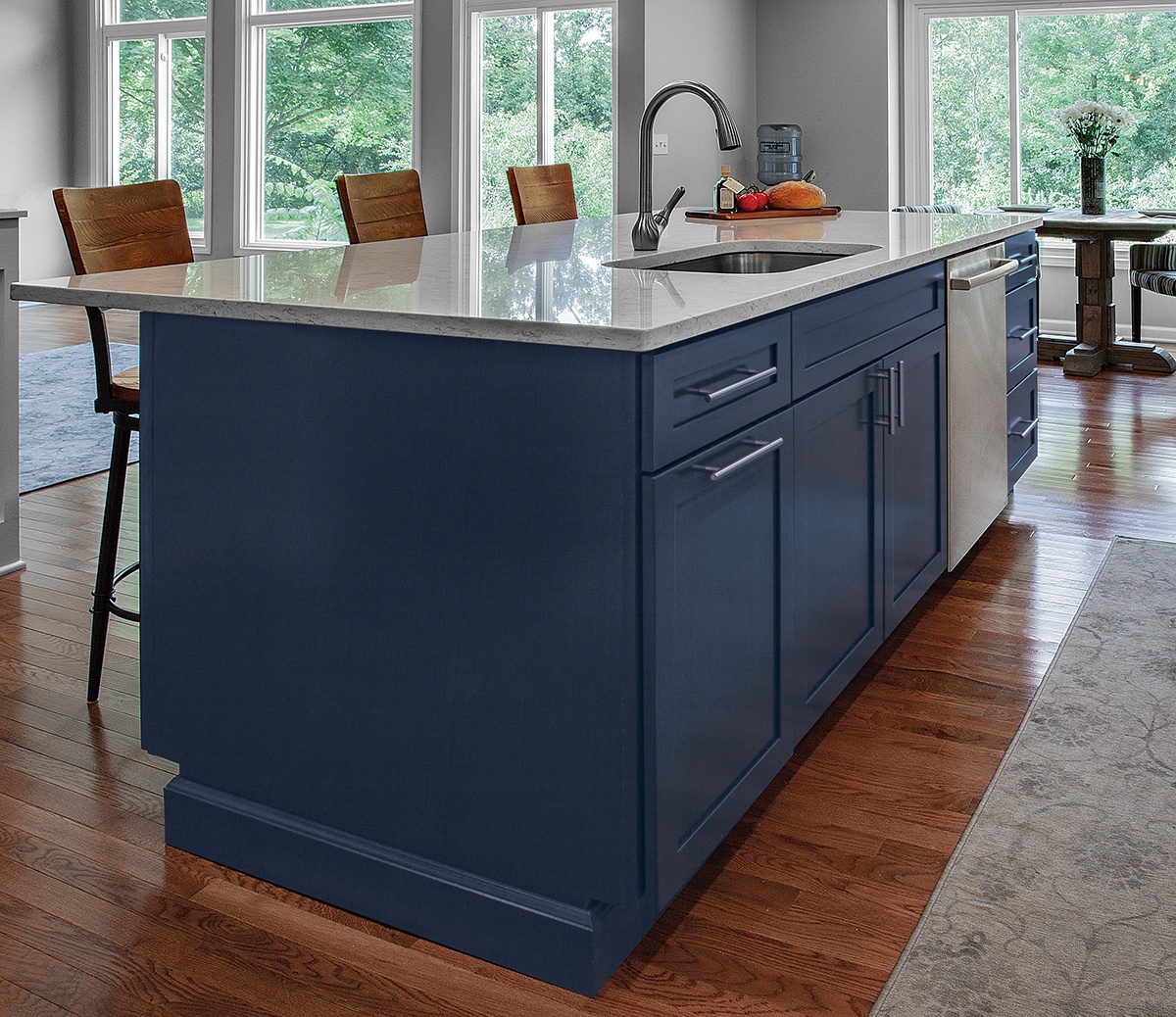 Solutions
Lindsey listened to the Thompson's needs and wants while making recommendations that fit within those desires. She also wanted to design a kitchen that fit with how this family will live and function in the space.
First things first! They decided to tear down the room darkening wall and add a pillar to provide needed support. It immediately opened up the space and brought in a lot of natural light from the windows. The home backs up to woods and the row of windows invites in the natural beauty and sunlight from all that green space.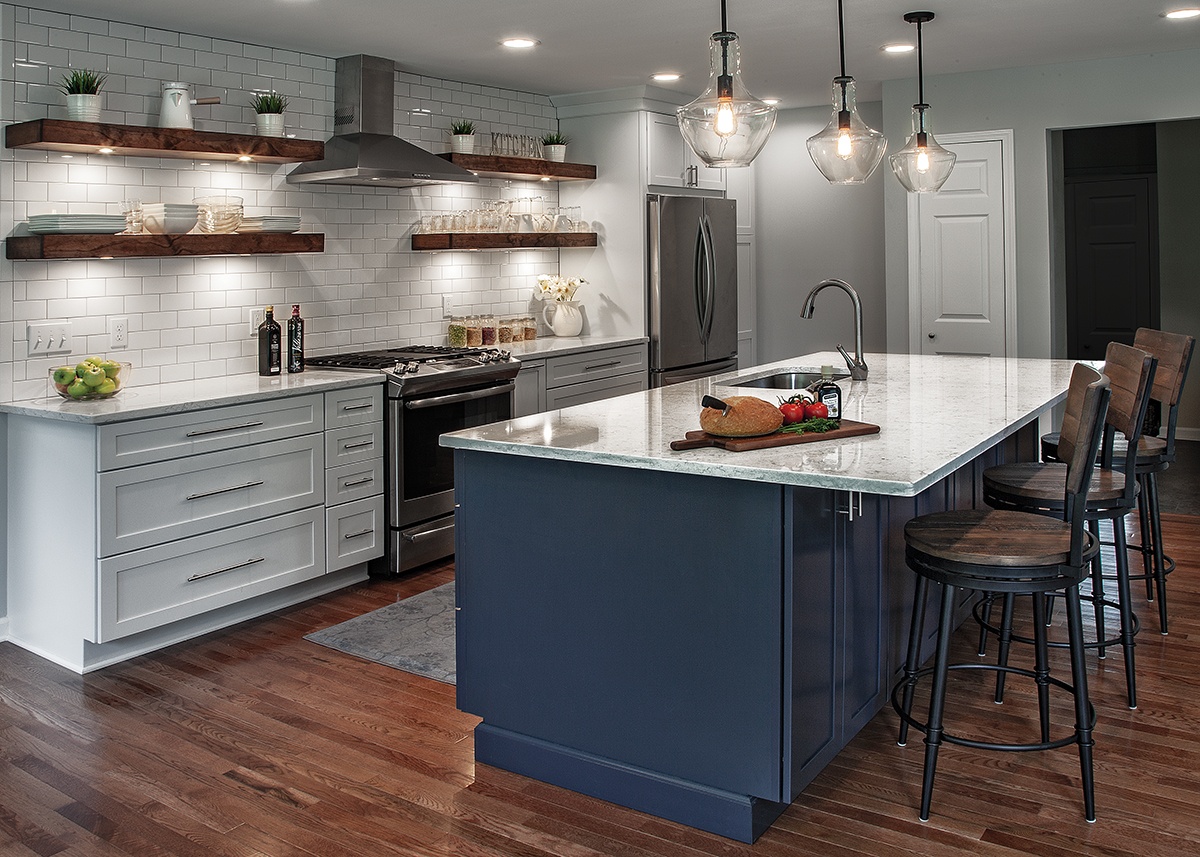 Floating shelves were made by the homeowner which created a natural warm element and contrast to the maple cabinetry with dove white finish on the perimeter. The shelves also added functionality by providing a beautiful way to display the dishes and glasses and were a terrific solution to their minimalist desires and budget constraints for cabinetry. If you're not handy like the Thompsons, no worries, most cabinet lines provide floating shelf options.
Lighting was added underneath the floating shelves providing a brighter work space for; reading cookbooks, tablet, reading the mail, etc. For those DIY'ers this is an easy accessory to add if you need more under cabinet or under shelve lighting. Surface mount technology (SMT) LEDs are small, lightweight and draw relatively little power. They also added recessed lighting and pendant lights which adds uniformity to the space.
They relocated the refrigerator to the opposite side of the kitchen, near the range. By doing so, they stayed true to their minimalist vision while also maximizing their use of space. The countertop separating the two appliances is visually pleasing while also functional: offering a terrific landing area for groceries or food prep zone.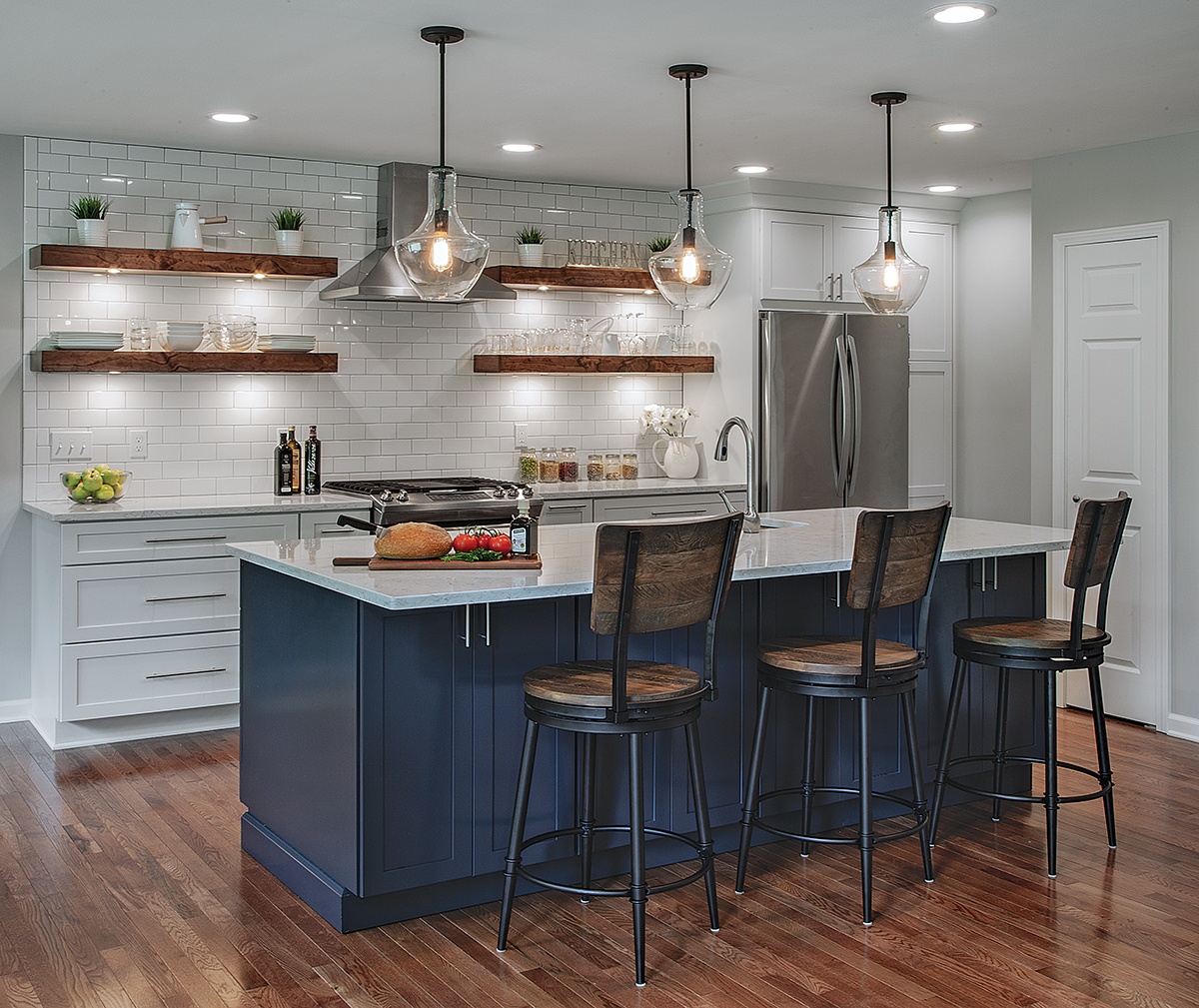 They turned an unused closet, which was accessed from the opposite side, into a pantry (door on right is entry to pantry) which provides the additional storage space lost through minimum cabinetry. Now they have space to store (and hide, remember they didn't want items on counters) the small appliances; toaster, coffeemaker, Cuisinart®, mixer as well as food.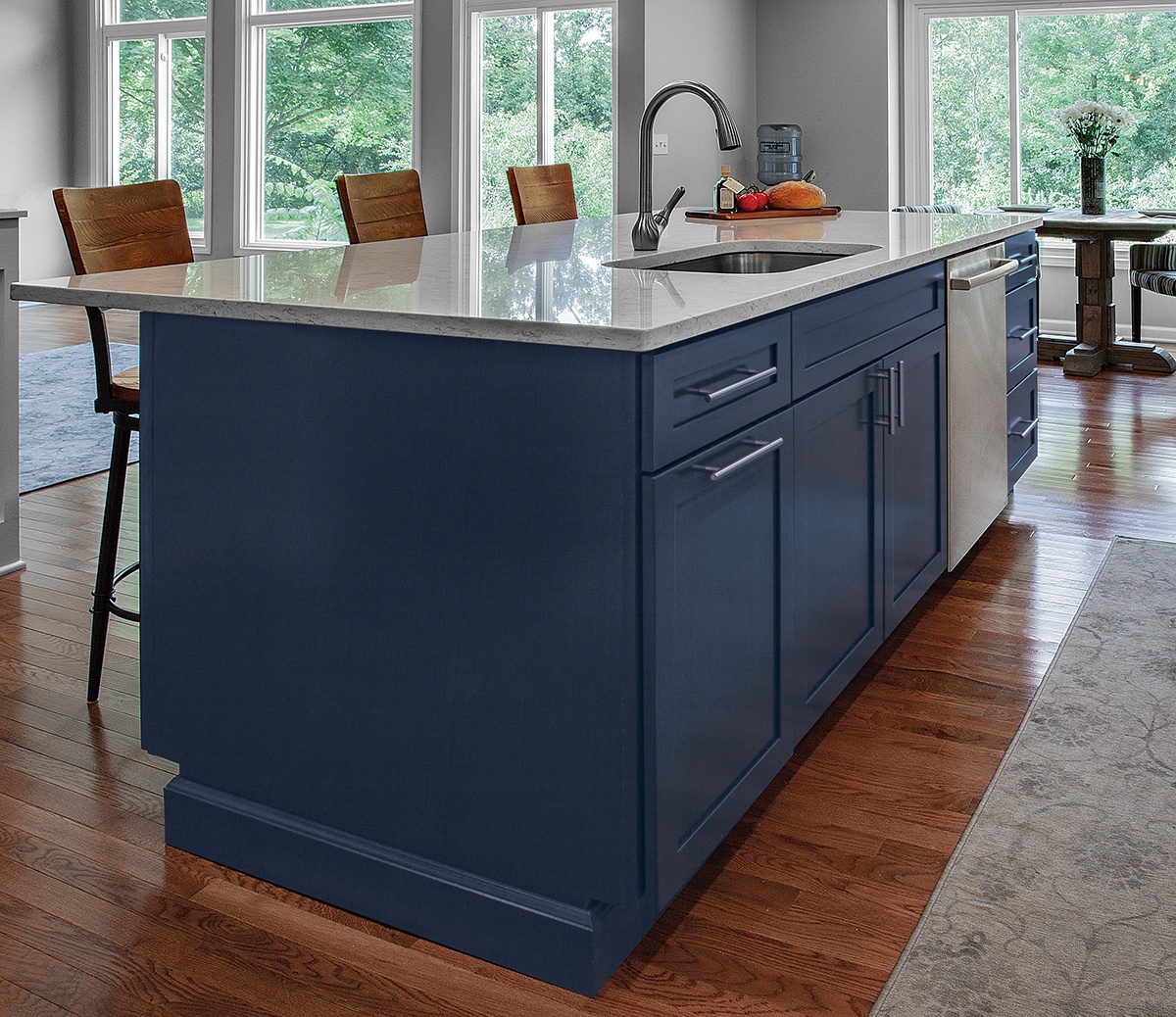 Additional storage space was also created within the navy island that adds richness alongside all the natural wood elements. 12" cabinets on the back of island provide storage while 24" standard base cabinets were used on front for waste bin, under sink access and drawers.
So many options available to fit any style and budget! Do yourself a favor and find a qualified designer to help you discover your style, needs and preferences for your next project.
For more inspiration on your next home remodeling project visit: KSI Gallery
To schedule an appointment with a designer, click here.
Find a Design Center near you!
---

KSI Kitchen & Bath
KSI Kitchen & Bath is a leading home design and remodeling firm specializing in kitchen and bath design.