Kicking the Tires on Cooktops for the Modern Kitchen
What's Under The Hood... Typically, these words are immediately followed by something like "a 5.0-liter V-8, producing 460 horsepower and 420 lb.-ft. of torque". The type of conversation you might overhear in parking lots across Michigan in the summertime, where events like the Woodward Dream Cruise and the 28th St Metro Cruise attract everyone from hot rodders to the casual auto enthusiast. This post, however, refers to an entirely different kind of hood, as we take a look at the different styles of cooktops available for the modern kitchen!
From base models to fully loaded, cooktops are available with a wide range of features including griddles, grills, downdraft ventilation, hot surface indicators, and ADA complaint designs. For the purposes of this post, we'll be focusing specifically on the biggest point of differentiation in cooktops: heating technology. Gas, electric, and induction cooktop surfaces are the most common ranges sold today. Each type has different advantages to consider based on your cooking needs. Buckle up as we take a closer look at each one below...
Gas Cooktops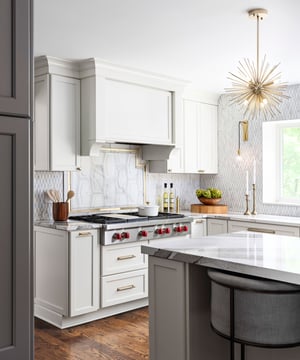 First, we will examine the gas stovetop. Powered by either natural gas or liquid propane, gas offers immediate heat with swift, direct temperature control. Burner grates are typically made of robust cast iron. Some models offer larger, professionally-inspired continuous grates, which make it easier to move heavy pots and pans between burners without much lifting. Owners of a gas stove generally enjoy a faster heat delivery and more precise heat control than electric ranges.
The purchase price and installation of a gas stove may be more expensive than electric stoves due to the gas line hookup. However, the operating cost over time will be lower than electric. Some aspects of gas stoves that may make them less appealing to homeowners include child safety concerns (if the knobs are in reach of little fingers), concerns with gas leaks or odors, and inconvenient cleanups working around those pesky grates. Finally, while gas stoves are generally admired for their high heat output, that can quickly raise the temperature in a small kitchen.
Electric Cooktops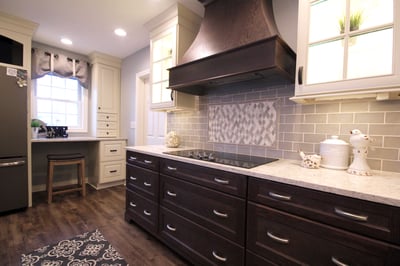 Let's test drive the electric cooktop next. Electric ranges have many advantages: they can accommodate larger pots and pans. The cook and the kitchen remain cool when this stove is performing, as electric ranges have more efficient heat transfer than gas. Cooking temperatures are more consistent. Your water will boil faster and some report the heat easier to control, especially at low, chocolate-melting temps. Higher-end models offer a separate "stay warm burner" which is helpful in keeping food warm until everything is ready. With a smooth glass surface, cleanup is quick and simple.
There are some downsides to electric cooktops; the glass cooktop can be easily damaged by dropping something on the surface or by accidentally scratching it, and electric ranges cost more to operate than their gas counterparts.
Induction Cooktops
Finally, let's take a look at induction stove tops. Induction heat can launch your cook time from zero to hot in no time! The power and precision of induction technology comes from an electromagnetic field below the glass cooktop surface that transfers an electric current directly to the magnetic cookware, causing it to heat up. A clear winner on energy efficiency, the induction process only heats up the cookware, not the air around it!
Induction tops win the top safety pick for a variety of reasons. The absence of an open flame eliminates the chances of catching items on fire. Automatic shut off when cookware is removed ends the risk of accidentally leaving it on. And finally, the cooktop stays cool while the pan and contents stay hot - a feature unique to induction technology.
While induction cooking has many advantages, there are some additional considerations to factor into your cooktop decision:
Purchasing an induction cook top may require a drive to the store to expand your cookware collection to include "induction-compatible" pans. To check your current pots, simply hold a magnet close to the bottom. If it sticks strongly, it will perform on an induction burner.
Induction cook tops have a steeper learning curve than traditional stovetops. Using the proper size cookware is a must. Proper placement is important - squarely in the center of the heating element - for it to be properly activated. The pot cannot be too small, off-center, or wobbly, so flat-bottomed pots and pans work best. It can take some time getting used to the heating element shutting off when the pan is removed; most induction cooktops have a lock setting, which allows you to freely shake your pan around for food distribution while cooking.
Finally, an important safety caution: persons with a pacemaker or similar medical device should exercise caution when using or standing near an induction unit while it is in operation.  
Cooktop Considerations when Remodeling
Gas, electric, and induction cooktops each have advantages. If you are remodeling a kitchen, another factor to consider is the cost of doing something different than what is already installed in the space. Replacing a gas range with electric or induction will require capping off the existing gas line as well as the likely need for electrical work to run a dedicated 50 amp 240-volt service to the range; likewise, replacing electric/induction with gas will require running a gas line. Either scenario will result in additional cost for your remodeling project.
There's definitely a fork in the road when it come to selecting the cooktop for your dream kitchen. Whichever route you take, remember: the fun can be in the journey... eat well and drive safe!
Photo Credits
---

L.K. Felder
L.K. Felder is a writer and the Director of First Impressions at Starlite Kitchens in Byron Center, MI.