Granite still remains one of the top three choices for kitchen and bath countertops according to Consumer Reports, ( July 12, 2017 ). Quartz is first, Granite second and Soapstone, Limestone and Marble come up third as Consumer Reports best choices for countertop.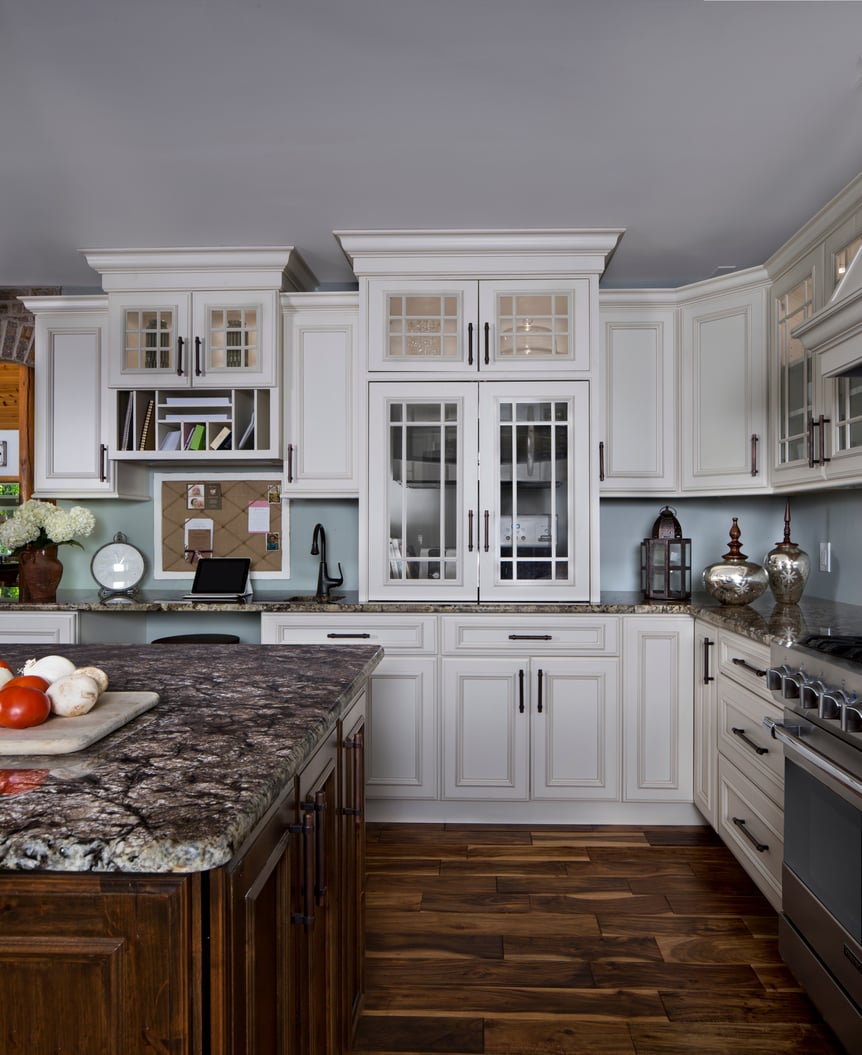 Some things to think about if you've chosen granite.
Because granite is a natural material, each piece is going to be unique. This makes it a great choice for those of us that would like a one-of-a-kind look. It can make it more challenging in making your selection – if you've seen a granite countertop you liked on Pinterest or Houzz and want to duplicate in your space. At ANA Granite, in Michigan, Karen White recommends you, "Come in with an open mind. It's a natural product so we can find something similar to what you've seen but it won't be an exact match."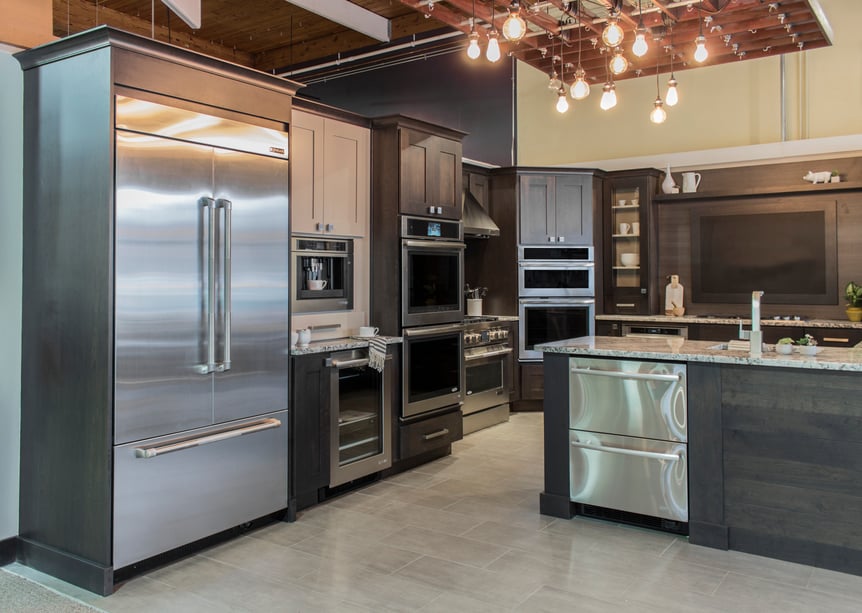 The first step in making a granite countertop selection.
The colors of the veins within the granite offer styling cues that compliment a kitchen or bathroom design. This veining adds texture and interest to the space. Your designer will recommend and guide you towards palettes and veining that compliment your finishes. Brown, honey and gold tones pair well with warm wood tones. The cool grey and blue veins pair nicely with more contemporary accents like nickel or stainless fixtures. Once you have narrowed your selections, visit a granite supplier your kitchen and bath designer has recommended.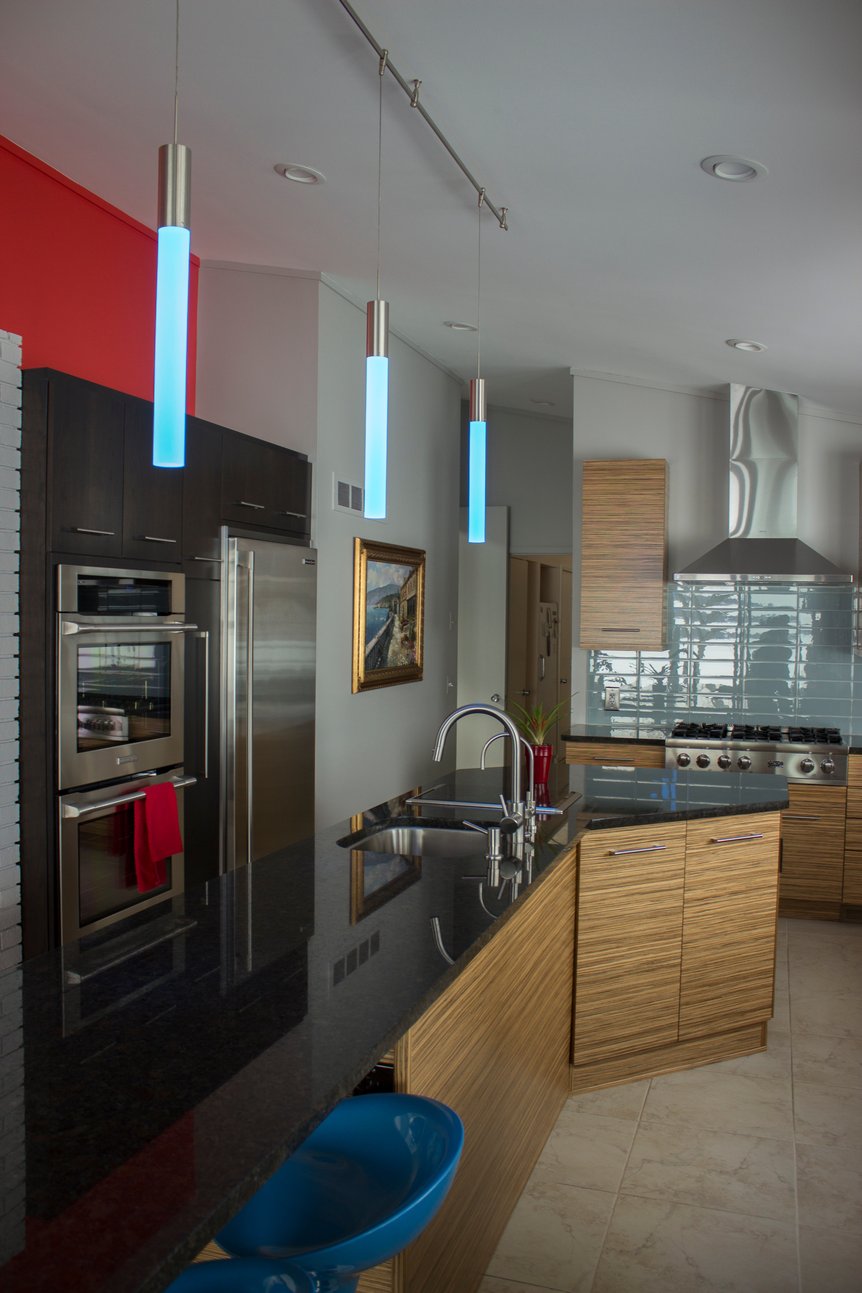 KSI Kitchen designed by April Parker
When you visit the granite supplier
James Armstrong from ANA Granite recommends bringing a sample from your; cabinet doors, flooring, tile backsplash and/or paint chip. He says, "We provide granite samples for you to take home but it is better to bring in your cabinet doors samples, etc. for matching, and helps narrow down the number of samples you'll need to take home while simplifying the system."
KSI Kitchen designed by Wes Boggs, Transitional Kitchen
Armstrong went on to recommend choosing your granite top selection first and then your tile backsplash. There is a much larger selection of tiles making it easy to select one to match your granite.
Once you get to the granite store, you'll be able to view a variety of slabs. They'll tag your preference and hold it for you (for approximately 14-days).
You'll be given granite samples to take home with you. This is just as important as taking samples of doors, etc. to the granite store for matching. You'll discover that the granite is going to look different based on the lighting in your home. You need to think about what will be surrounding the stone – surrounding colors, will all have an impact on the colors you see in the granite.
Once your granite selection is finalized,
and a purchase order is issued, the granite supplier will come to your home to measure and create a template. They'll take the template back to the granite supplier where they will draw on the slab, right in front of you. This way you can pick the portion of the slab you like. Some portions may have more or less veining. The granite supplier will explain seams, etc. at this time as well.
The last step is for the granite countertop to be installed and now you can begin enjoying this wonderful new feature in your kitchen or bath.
Compared to most granites, these stones can be slightly more porous. They require regular sealing to prevent staining. Granulite has the same hardness as other granites, around 6 on Mohs hardness scale.
Granulites are an excellent choice for a durable, trouble-free stone that won't break the bank. They have just enough movement and personality to be interesting, but their light, even coloration allows them to play well with other colors or patterns.
For more information or design ideas, visit KSIkitchens.com.
Next month we'll talk about what you can expect from Quartz.
---

KSI Kitchen & Bath
KSI Kitchen & Bath is a leading home design and remodeling firm specializing in kitchen and bath design.