In home design, laundry rooms are becoming more functional spaces with eye-catching, appealing designs that go beyond basic utility. Busy families need a laundry room space for more than just laundry- they need storage space for backpacks, sports gear, and school items.
Instead of having a laundry room that's limited to the washer, dryer, sink, and a shelf above the appliances to store detergent bottles, current laundry room design blends the necessary appliances with beautiful cabinetry for extra storage and a clean look. Here are a few laundry room ideas to spark your inspiration if you are considering a laundry-room lift: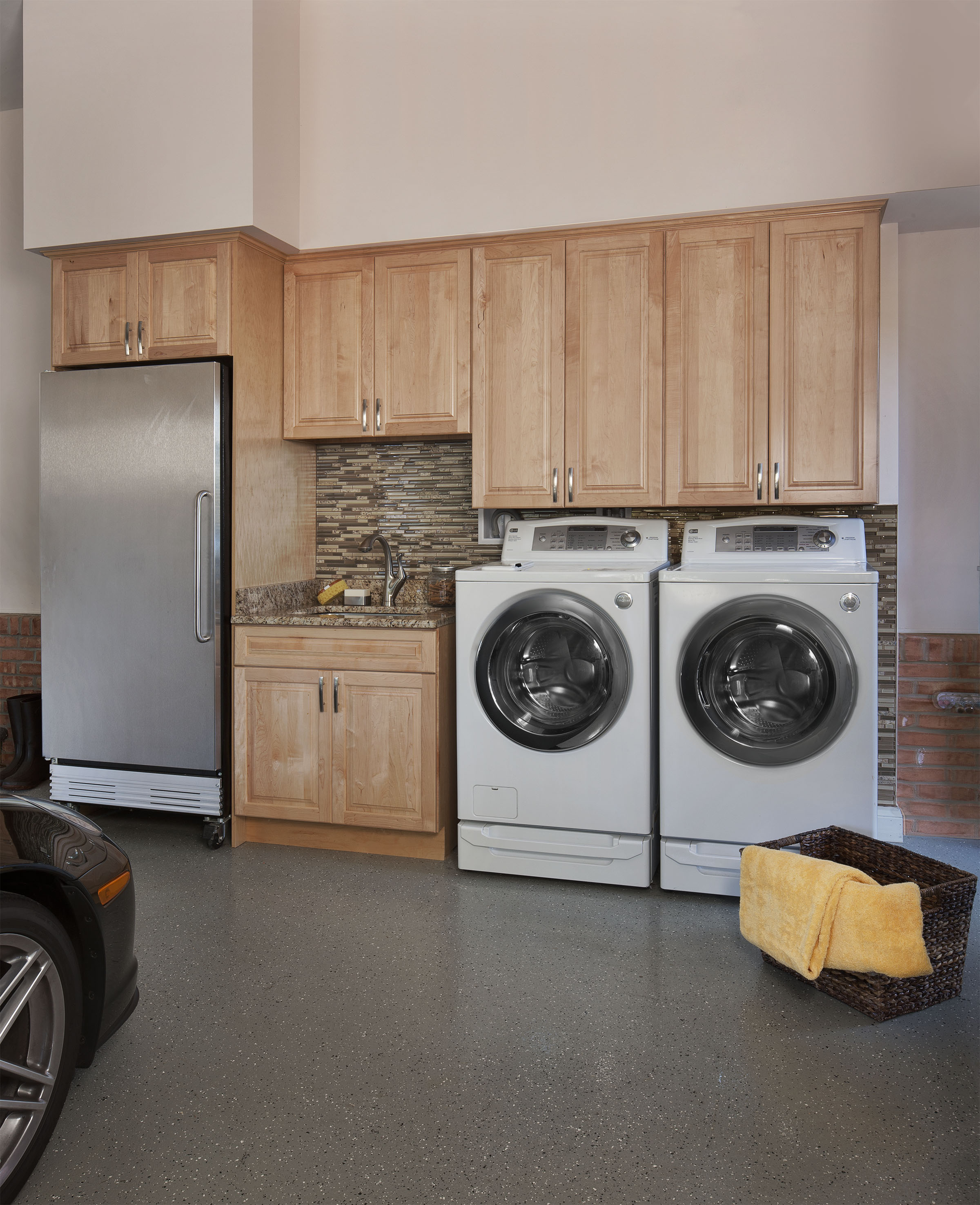 Conceal Your Dirty Laundry
Homeowners are looking for new ideas to make the most of their home's square footage by considering nooks, back entryways, closets, or other rooms to place their washer and dryer units. By incorporating your washer and dryer into a multipurpose room, such as a mudroom or garage, you may conceal your dirty laundry.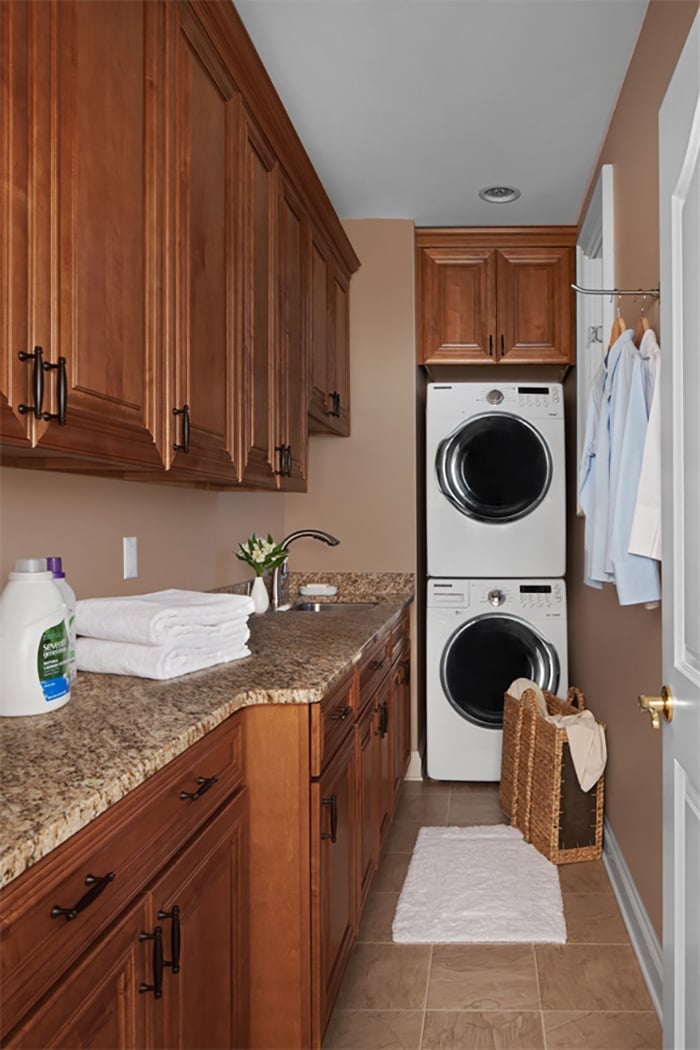 Space Planning and Function
Consider the space you are planning to use for your washer and dryer. Many people choose the stackable washer and dryer units because they do not have the floor space for a side-by-side set. In order to use a stackable washer and dryer, you must be able to bend over to remove clothing from the washer and reach overhead to place them in the dryer. Depending on your range of mobility, this may be easier than reaching into a top-loading washer and bending to place clothes into a dryer. The less space you consume for the appliances, the more space you have for other storage.
If you have front-loading laundry machines, you can make them look built in by putting a countertop on top of the machines and deeper cabinetry above the laundry machine units, such as the laundry room in the third photo in the below. This way, you get extra counter space for folding, sorting, removing stains, and more, without sacrificing another area of your laundry room space.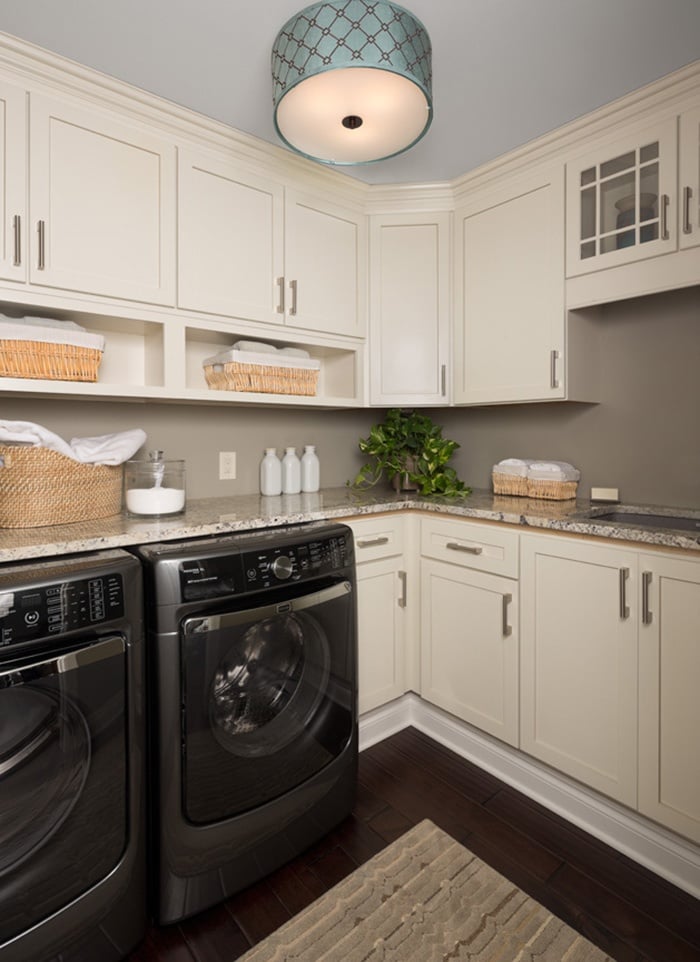 Opt for Closed Cabinets Over Open Shelving
While open shelving is convenient, closed cabinets will give your laundry room a more polished look while allowing you to hide all the laundry room items that you wouldn't want on display. Shelves may look clean and pretty when they're freshly installed and empty, but they'll quickly get cluttered and will become stained with soap and detergent. Instead, install closed cabinets to store your laundry room items behind closed doors and keep unattractive laundry supplies out of sight, as seen in the last picture below.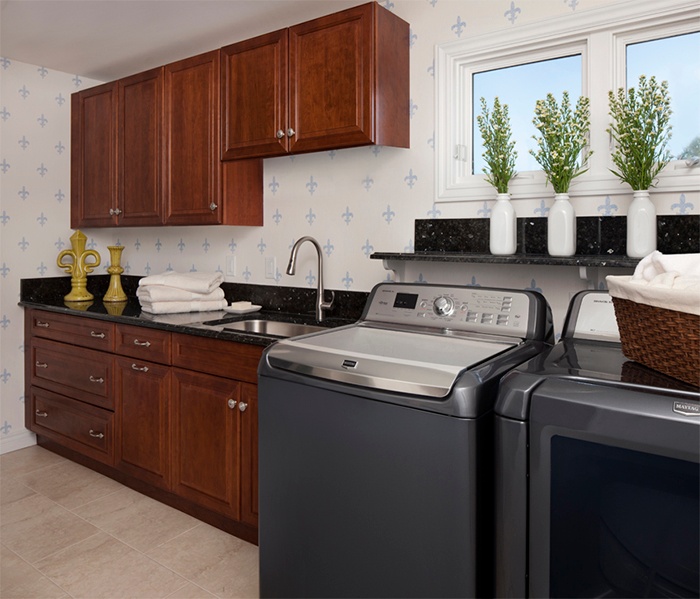 Above all, your laundry room storage should make it easier for you to take care of your family. For more ideas on how to transform your laundry room space and incorporate smart storage, call KSI today to speak with one of our talented designers!
---

Alda Opfer, CKD, CAPS
Alda Opfer-CKD, CAPS is a professional designer with over 25 years of experience servicing the Brighton, MI area. She specializes in delivering best-in-class design concepts to homeowners by blending style and function.