In many homes, the kitchen can become cluttered with shoes, book bags, dog leashes – you name it. We all tend to drag, drop, and dump all sorts of stuff just inside the doorway or to the nearest kitchen countertop.
Well, as Benjamin Franklin once wisely said, "a place for everything and everything in its place." We couldn't agree more. At KSI, we love to create spaces for systematic storage that tidies any room right up. There's no place more ideally suited for storage solutions than the entryway to kitchen. That said, let's talk mudrooms.
What is a mudroom?
The purpose of a mudroom is to serve as a transition point for coming in or out of the house. Typically located near a door, a mudroom is intended to store footwear and outerwear. More often than not, however, it also houses pet supplies, backpacks, computer bags, sports gear, and a variety of other items we want to quickly grab when we come or go.
But, my house doesn't have a mudroom…
If your floor plan doesn't include square footage for a mudroom, there are plenty of options to incorporate one. It's very easy to convert a closet or pantry, utilize an existing wall in the laundry room or kitchen, renovate an attached porch, or even build a small addition. Garages and walk-out basements are also excellent locations for a mudroom.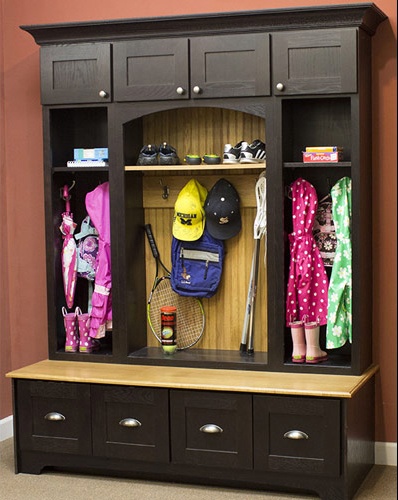 Designing a mudroom to fit your life
When designing a mudroom, consider how your family will use the space. Children do better with open areas because they are more likely to hang their book bag or sweatshirt on a hook than to open a closet and reach up to put it on a hanger. Consider low-hanging hooks and cubbies so children or physically-challenged adults can easily hang their coats, store equipment, or kick off shoes. Before you get started on bringing your mudroom design ideas to life, we recommend making a list of items that will be stored and noting how this list might change with the seasons. It's also a good idea to note which items should be hidden versus visible so various cabinetry options can be considered.
Designing a mudroom to fit your style
Keep in mind that a mudroom doesn't need to feel like a closet or utility room. I encourage my clients to incorporate their personal style into the space by choosing wood tones, finishes, and hardware that reflect their taste. Artwork, accessories, and just the right colors can also showcase your taste in the area. Just because it's practical, there's no reason not to like a mudroom just as much as you would any other space in your home.
If you agree with Benjamin Franklin and want to get "everything in its place" then let's get to work. Call one of the seven KSI Design Centers in Southeast Michigan or Northern Ohio today so we can make a mudroom that will serve as a gateway to a clutter-free kitchen.
---

Jill Johnson
Jill Johnson is a professional designer with 21 years of experience servicing the Ann Arbor, MI area. She specializes in delivering best-in-class design concepts to homeowners by blending style and function.