When thinking about ways to breathe new life into outdated floors, concrete may not be the first surface to come to mind. However, when stained, concrete becomes an incredibly versatile flooring option with a unique look.
According to Tommy Musto of Tommy Rock Inc., "stained concrete has hit huge strides these past three to four years. It's very diverse and adds that green element so many are looking for nowadays."
Stained concrete can be used in flooring and countertops, inside and outside, and in residential or retail spaces that get high foot traffic. Even better? Stained concrete is "green" thanks to its durability, its ability to absorb and retain heat, and its efficient use of raw materials.
Although Jacob Hurwith of ImproveNet notes that it's possible to stain your concrete floors yourself in a DIY project, he warns that "if a homeowner does get it wrong, they will often have the look they want, but lack the durability and strength that a professional could accomplish."
Before you begin looking for a professional to stain your concrete floors, here's an overview of the process so you know what to expect and what questions to ask.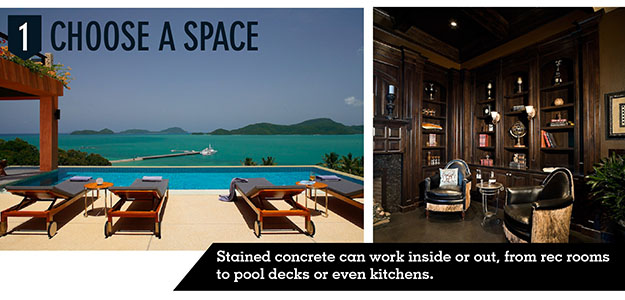 Stained concrete can work both inside and outside of the home, in areas such as basements, rec rooms, home offices, pool decks, backyards, patios, driveways, or even kitchens. Since it's a durable flooring option that holds up well against floods, especially when compared to hardwood floors or carpeting, many homeowners use it in the basement. Any area of the home that gets a lot of foot traffic may be a good choice, since concrete is incredibly durable. Musto says that he's even seen homeowners apply it to garage doors for a truly unique look.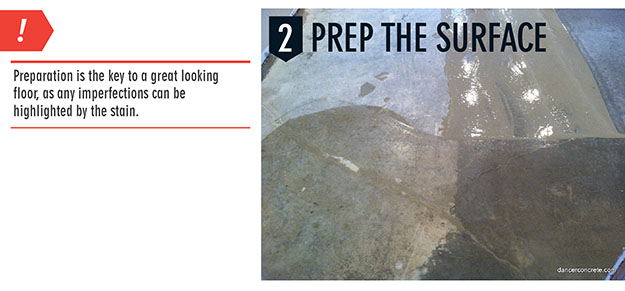 Before any sort of staining begins, a professional should clean your concrete floors thoroughly- otherwise, warns ImproveNet's Hurwith, the new color will emphasize any issues or cracks. He recommends using a concrete degreaser that doesn't leave any residue behind, such as tri sodium phosphate mixed with hot water. For indoor surfaces, a professional will most likely bring in a buffing machine to clean it.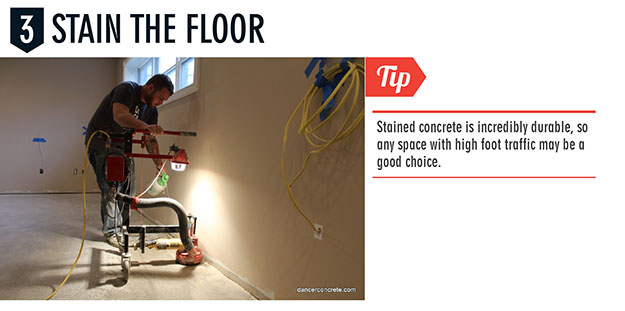 If your floor has any imperfections, you may need to invest time and money to address these issues before you begin the staining process. Some common forms of concrete imperfections are discoloration patches that occur when mistakes were made during the original concrete pour and cracks. Acid staining will create an obviously different finish over patches, although your professional may be able to apply a microfinish overlay to the entire area to make it look the same. Cracks may be hidden with an overlay, or, you can leave them to add interest to your floor.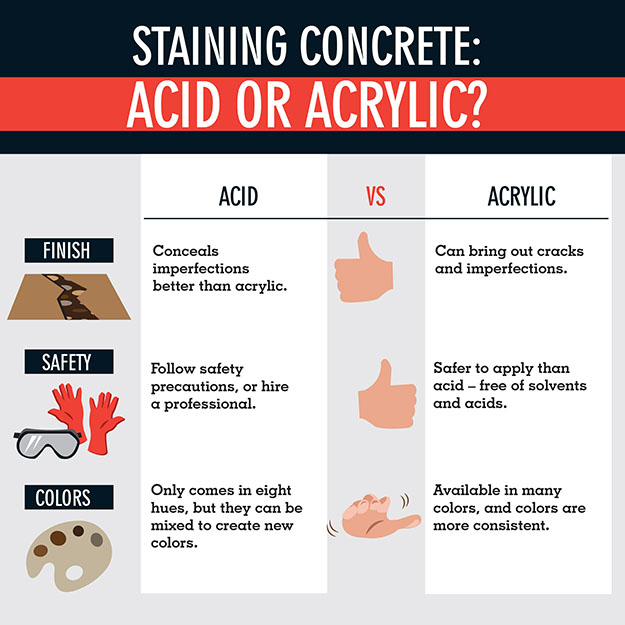 Depending on the color and look you want to achieve with your concrete stain, you and your professional will choose between acid and acrylic stains for this project. While Hurwith and ImproveNet typically recommend acid staining, he acknowledges that there are some instances in which acrylic or water-based stains will work better. Acrylic staining requires no chemical reaction and gives you a more consistent color. It's also safer to apply and may work better in colder areas of the country that experience more severe weather. Acid staining, on the other hand, does a better job of hiding any variations or cracks in the concrete. Acid stains come in only eight hues, but you can easily mix the earthy tones to create a new color. Which type of stain you decide to use will dictate how the professional prepares your surface, applies the stain, and cleans up afterward.
Before the professional applies the stain to the entire area, ask him test a small amount in an inconspicuous area to make sure you have a good idea of how it will look.
To actually apply the stain, a professional will use a plastic pump sprayer and/or mops, rollers, and squeegees. In this part of the process, it's especially helpful to enlist the help of a professional because they'll know how to apply the stain so that there aren't any unsightly roller streaks or color marks left on the ground.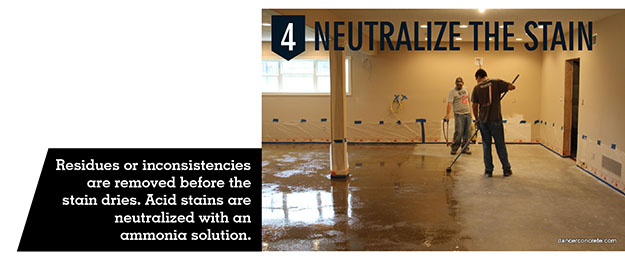 As the final steps, a professional will remove any residue or inconsistencies before the staining dries, so that you get the exact look you want. For acid stains, he'll neutralize the stain by spraying the floor with a mixture of four parts water and one part ammonia, using a clean two-gallon plastic pump sprayer. After neutralizing the stain, he'll allow the floor to dry; once it's dry, he'll clean the floor with a mop, vacuuming up any extra water before beginning sealing. They'll use a wet cloth to blot the surface to remove any prints or splotches.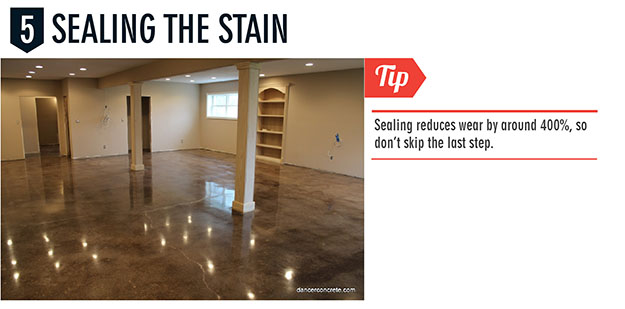 Finally, the professional you hire will seal you floors to create a durable, dust-proof surface and add depth and color to your floor. Sealing is a two-step process: first, the densifier penetrates into the concrete and increases abrasion resistance by 400% while also making the surface less permeable. Second, the stain guard is applied for extra shine and stain protection. Overall, sealing your stained concrete floor ensures that your floor will last for the long haul while still being easy for you to maintain.
Now that your concrete floor has a fresh stain, you'll be able to keep it looking beautiful with simple sweeping and mopping with soap and water. To add a softer touch to your new floors, consider layering an accent rug on top of them. Your stained concrete floor will last for years!
---

KSI Kitchen & Bath
KSI Kitchen & Bath is a leading home design and remodeling firm specializing in kitchen and bath design.