A popular design trend in kitchen renovation is environmental design, or designing a kitchen to maximize natural features. In this type of design, your designer incorporates natural elements into your remodel to make your redesign more sustainable while highlighting the beautiful and unique features of your surrounding area.
There are tons of options for using environmental design in your kitchen remodel, but our three favorite things to feature are natural light, natural or recycled stone, and reclaimed wood.
Natural Light
If you live in a location where you're lucky enough to catch sunlight, incorporating natural light into your kitchen redesign is a simple way to showcase your stunning surroundings. An added bonus of natural light? You'll be saving on electrical lighting costs, making this natural feature a sustainable feature as well.
You can make sure your natural light shines through by planning for enlarged or strategically placed windows. A skylight is a great way to ensure that your kitchen is always sunny, while a window facing east or west can provide dramatic, spectacular views at sunrise or sunset.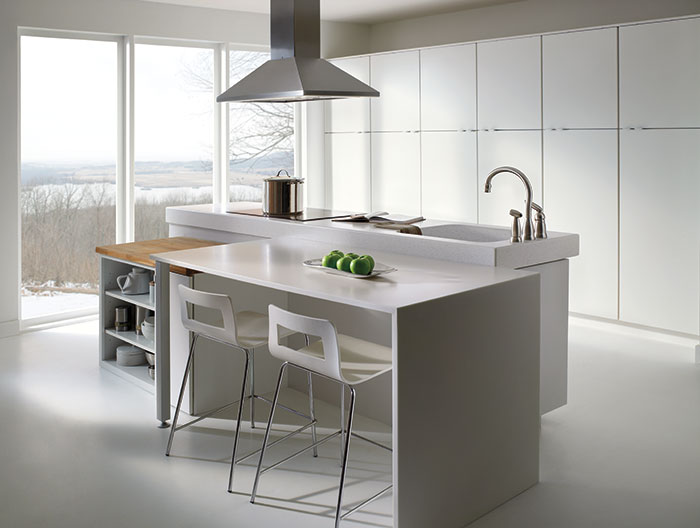 To further accent natural lighting, consider installing white cabinets and keeping other surfaces in the kitchen white or neutral shades. Making these design choices will brighten up your kitchen even more and give the room a fresh, clean look.
For example, in the image above, the all-white kitchen (featuring Merillat Masterpiece Glencoe cabinets in Laminate White) features floor-to-ceiling windows. The dramatic backdrop is emphasized thanks to the white backdrop that the kitchen provides, and this particular kitchen design shows that an environmental design can also fit within a contemporary design style.
In the image below, KSI Designer Don McColl accented this Brighton kitchen's beautiful natural sunlight by keeping the interior light, clean, and free from extra distractions. The neutral color palate in this Detroit area kitchen redesign makes the lush greenery outside the window stand out even more, and no matter the season, the homeowners will be able to look outside and enjoy the natural environment. Don's design works with the outdoor environment and brings it inside, rather than creating a totally separate space.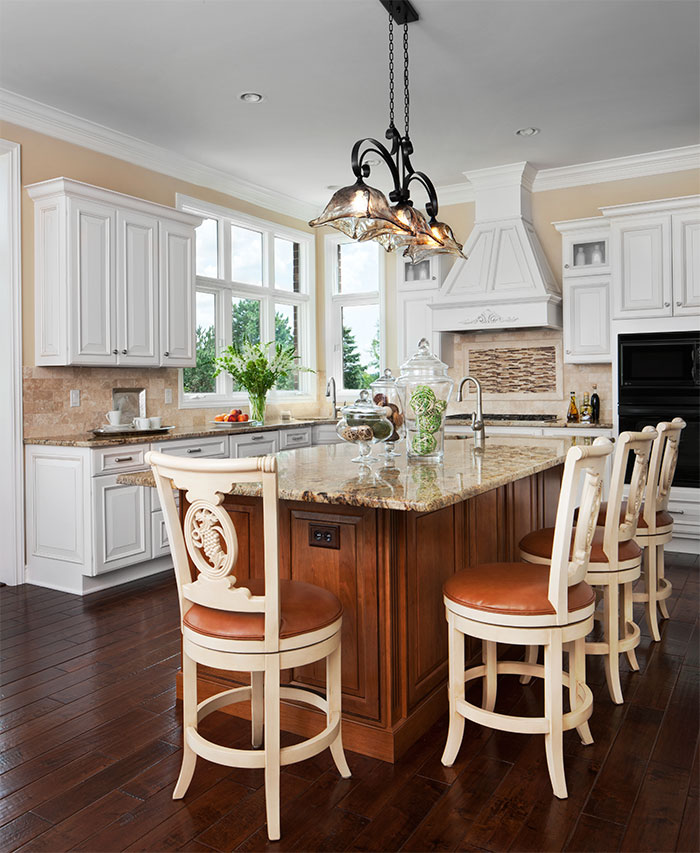 For a final example of natural lighting in a kitchen design, take a look at the next image, a kitchen designed by myself. The kitchen, in Macomb Township, MI, was designed to specifically highlight the area's beautiful farmland and rolling countryside; I chose to emphasize the gorgeous landscape surrounding this Macomb kitchen redesign by using bay windows to offer panoramic views of the lake and allowing room for a breakfast nook. With these kitchen features, the homeowners can enjoy their morning coffee with a side of stunning scenery.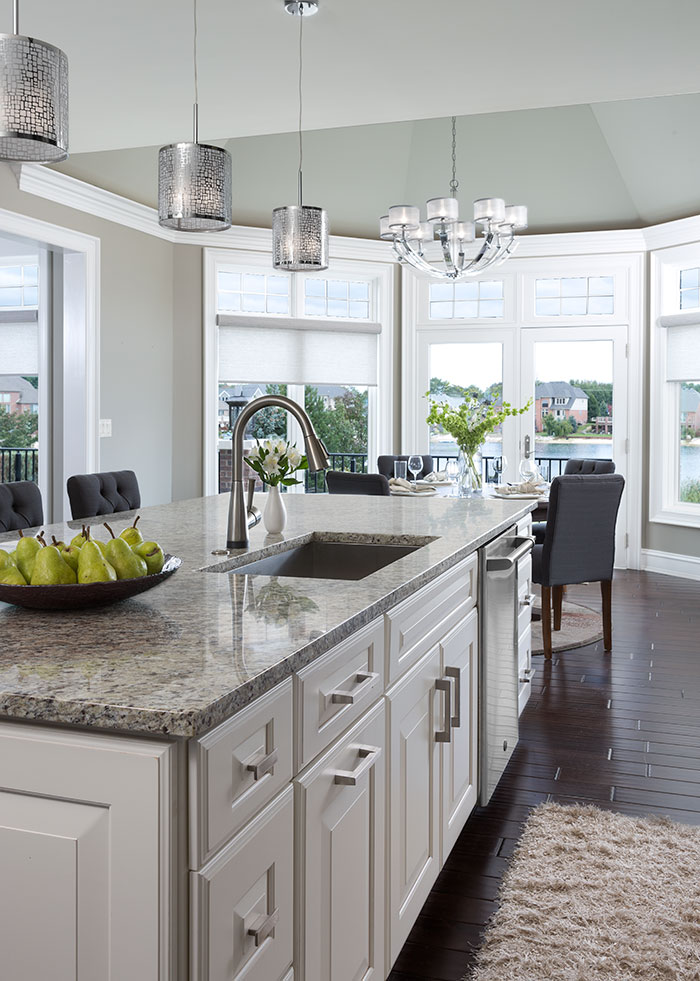 Natural or Recycled Stone
When choosing the surfaces for your kitchen redesign, consider natural or recycled stones. Natural stones are incredibly eco-friendly as modern techniques have made quarries and the extraction process more efficient; plus, natural stones can be recycled and they improve energy efficiency because they absorb the temperature around them.
The best part? Natural stones are among some of the most beautiful surface material options out there- they're a classic material for a reason! They come in a great variety of colors, patterns, and textures, so you'll have a variety of options to choose from to ensure that your kitchen is completely unique. Natural stone is also very durable and typically low-maintenance. They're also heat resistant, making them ideal for a kitchen countertop. Some examples of popular national stone options are granite, marble, limestone, soapstone, and slate.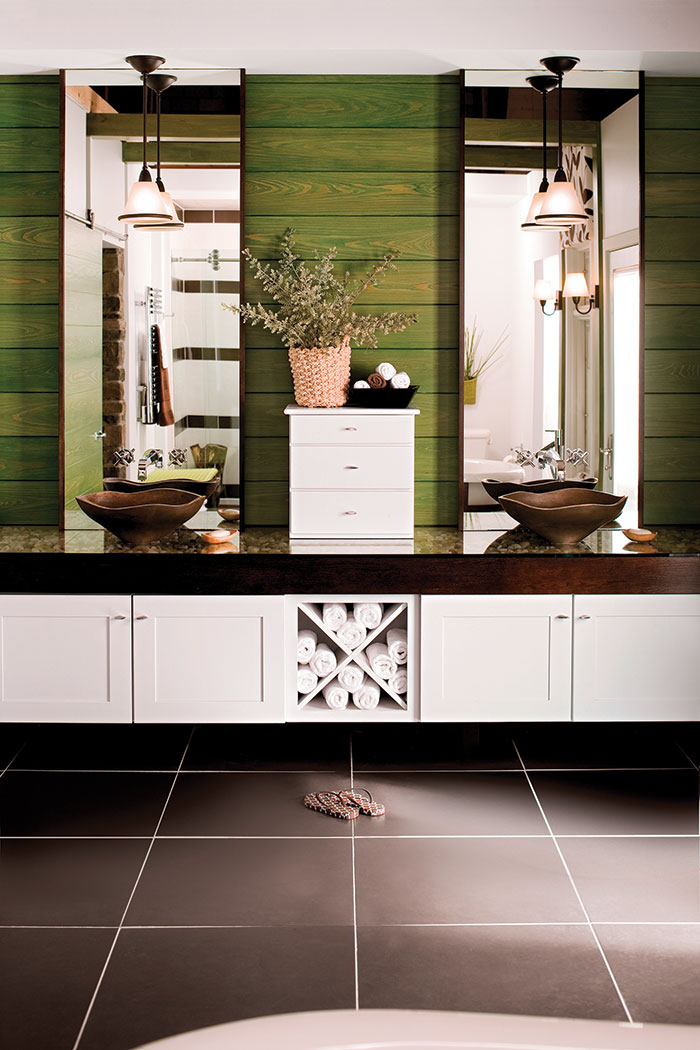 In the image above, a designer used natural stones to add visual interest to the smooth glass surface of the vanity top. The contrast of the green wood on the wall and the darkened wood on the countertop mimics the contrast of a lush forest, giving an overall airy, spacious, and natural feeling to the space.
Reclaimed Wood
Finally, we've recently seen a surge of popularity in using reclaimed wood in environmental design. Reclaimed wood is tougher than wood sourced from first-generation forests, and it has an unusual aged and weather look that adds character to any kitchen.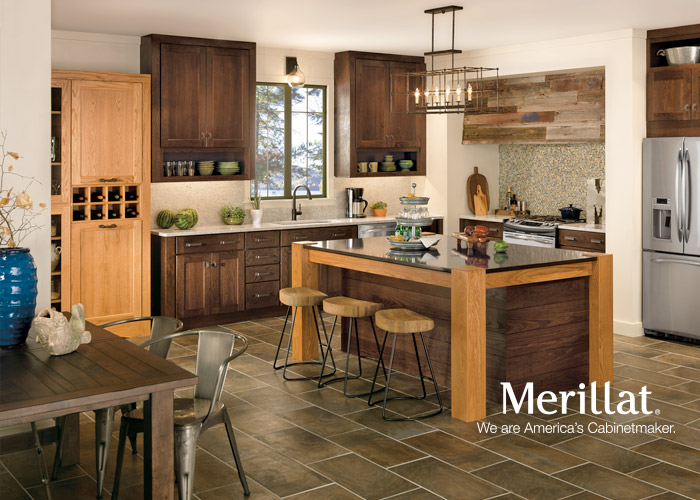 One of the most popular ways we've seen to incorporate reclaimed wood into a kitchen is by letting it stand on its own as the focal point of the kitchen. For example, your contractor could use exposed reclaimed wood beams to accent your ceiling, or you may use it as an extended hood over your range to add character to your stovetop. If you're really looking to make an impact, reclaimed wood also works beautifully when it's featured in a kitchen island.
Environmental design is about working with your surroundings to make your home remodel both beautiful and thoughtful. By making design choices such as natural lighting and locally-sourced materials, you can seamlessly blend your home redesign with the environment outside, resulting in a coherent, natural aesthetic.
---

Jim McVeigh
Jim McVeigh is a professional designer with 25 years of experience servicing the Macomb Twp, MI area. He specializes in delivering best-in-class design concepts to homeowners by blending style and function.