A home redesign is the perfect time to choose new countertops for your kitchen, wet bar, bathroom, or other area where a new surface will freshen up the room. With so much square footage to play with, you really have a chance to make a statement.
Before you begin your countertop renovation, you need to know your options. Countertops can be divided into a few main categories: quartz, granite, solid surface, soapstone, laminate, butcher block, and concrete. Each group has different features and varies in durability, available colors, and required maintenance. It's worth doing thorough research to be sure you find the right fit for your new countertop.
Quartz
Quartz countertops are considered to be one of the most durable options for kitchens or baths. They come in a wide variety of colors, from vibrant hues to earthy browns, blacks and creams, with sparkles and veining to achieve the look of granite or marble. But unlike natural-stone slabs, which are mined, these slabs are engineered in a factory. Their primary ingredient is ground quartz combined with polyester resins to bind it and pigments for color. Small amounts of recycled glass or metallic flecks can be added to the mix for an extra flair. The resins also help these counters become stain and scratch resistant. Quartz is nonporous, so it never needs to be sealed. Other countertop materials, in comparison, may require a new protective top coat periodically.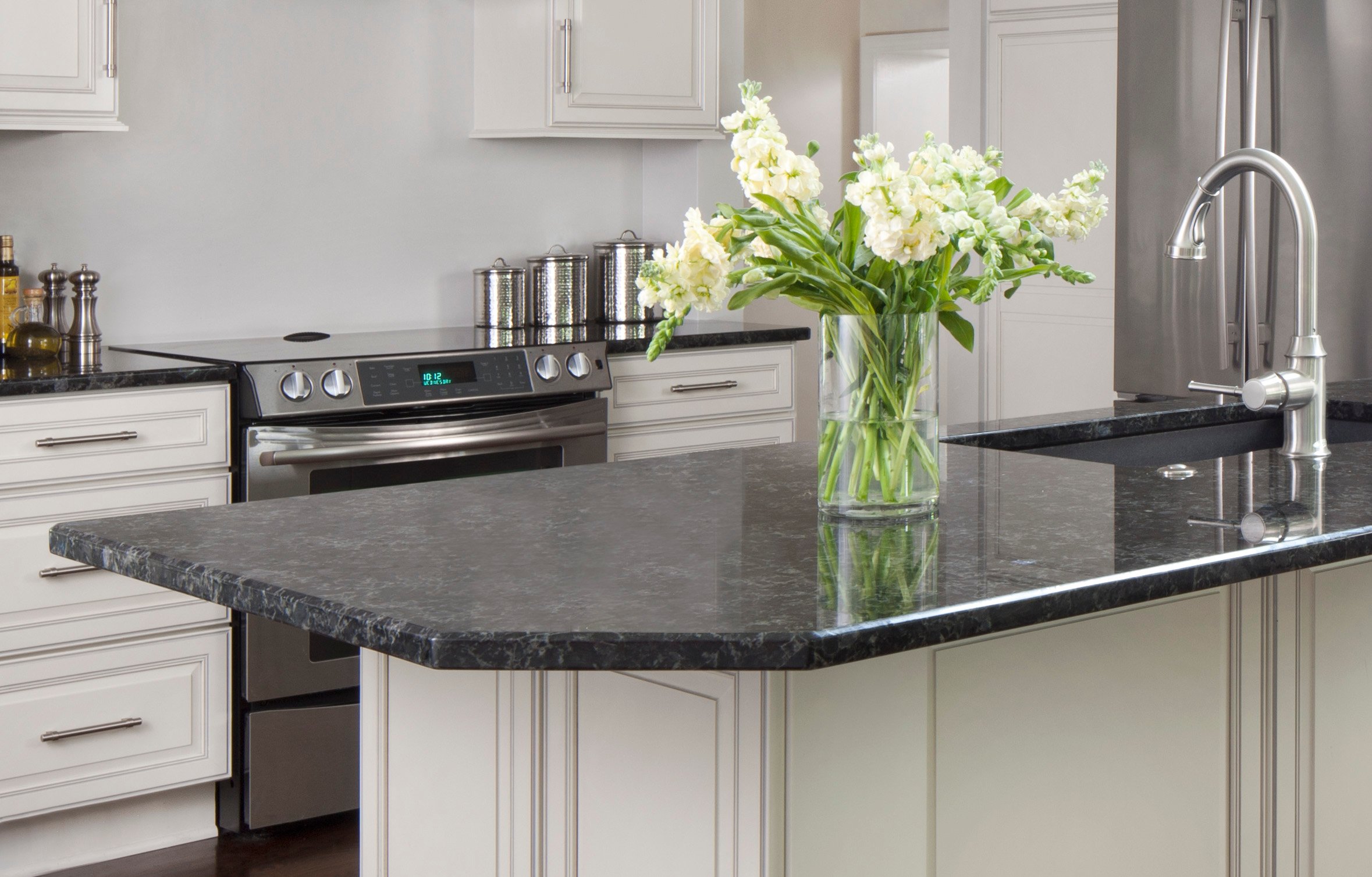 Granite
Granite is a natural material that is formed when volcanic magma blends with various minerals and is compressed under the Earth's surface. Combinations of mica, quartz, feldspar, other minerals and the location of the magma flow are all responsible for the different colors and patterns found in granite which adds to its appeal. Because of its unique beauty and durability, granite is a popular choice for bathroom and kitchen countertops. It can be cut into any shape or size to create a solid, seamless covering. However, as a natural stone, granite is porous and vulnerable to stains if not sealed. Most granite countertops are sealed prior to installation but may require resealing every three or four years, depending on your use. Granite can be affected by the heat from pots and pans as well.
Solid Surface
Solid surface is a non-porous and low-maintenance countertop surface. It can mimic the appearance of stone, wood and other naturally occurring materials, or it can come in solid colors for a contemporary look. Solid surfaces can be joined together during installation for a seamless look unlike laminate tops. Typically manufactured in sheet form for fabrication into finished countertops, solid surface can also be cast into a variety of shapes, including sinks, shower pans and bathtubs. While solid surface countertops can be easy to clean and maintain, they will not hold up well to heat and scratches.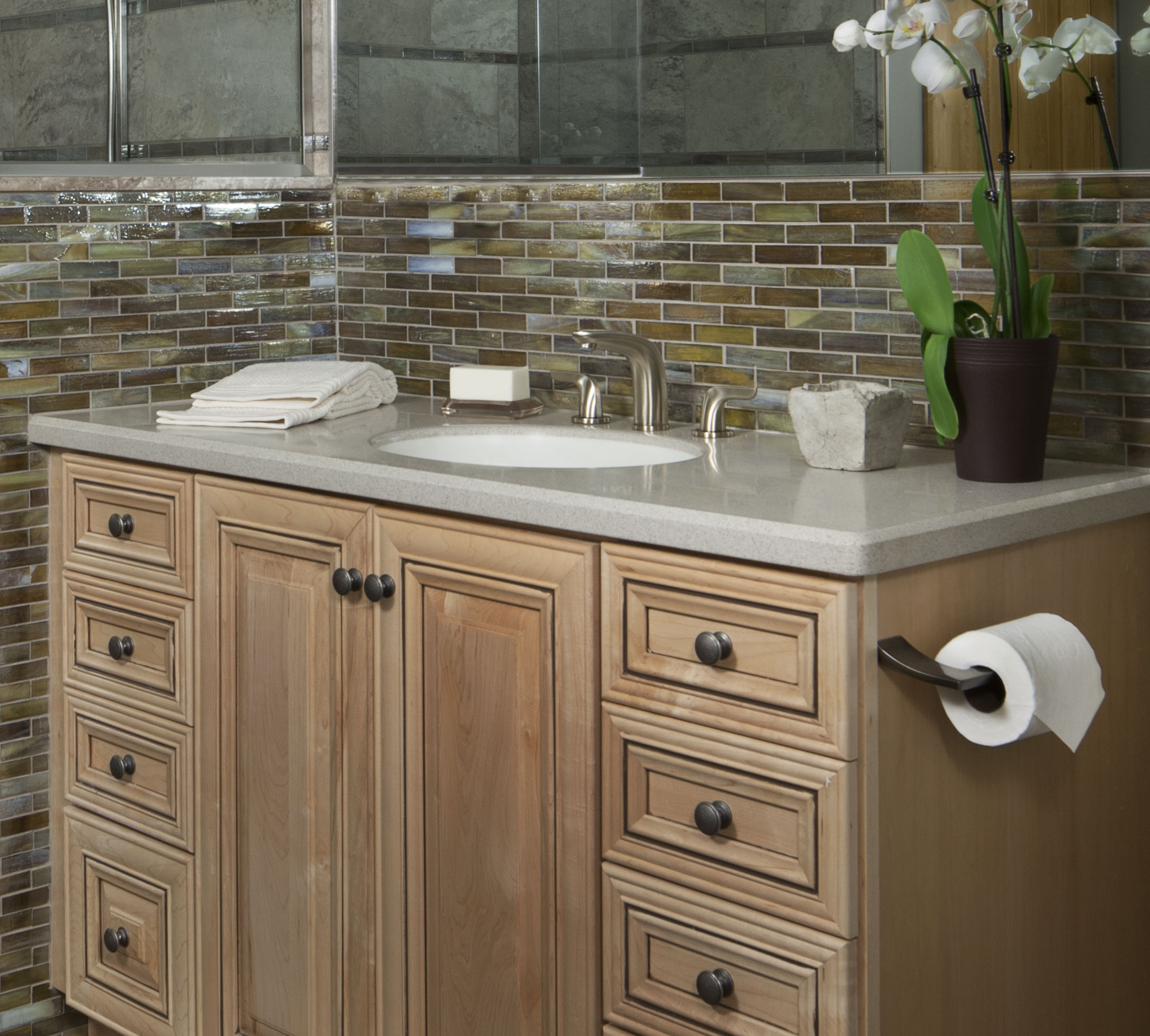 Soapstone
Soapstone is a metamorphic rock that gets its name because of the soft, or soapy, feel of its surface, which is thanks to the presence of talc in the stone. It can be found in many shades along the grayscale; however, if you are looking to add an extra pop of color, you may need to look elsewhere. Soapstone naturally darkens with use over time. Architectural grade soapstone can be altered to achieve a dark charcoal black by applying mineral oil. Unlike granite, soapstonehas a higher density and is non-porous, which allows it to stand up to heat and liquid more effectively. Its natural softness will leave it vulnerable to scratches and cuts, making the use of cutting boards essential, and the natural roughness of the surface can scuff glassware and china. For maintenance, applying a coat of oil for appearance and preventing cracks will help it live a long life.
Laminate
Made of paper blended with resins and fused to particle board, laminate countertops come in an impressive variety of colors and patterns. These options can range from bright hues to faux-wood or even metallic patterns. Laminate has been a popular choice due to its price and flexibility for custom installations. A laminate countertop is low maintenance, easy to clean, and light weight, not requiring the support of a thick cabinet base. However, laminate is prone to scratching, burns and, in some cases, staining. With wear and moisture exposure, the layers can peel.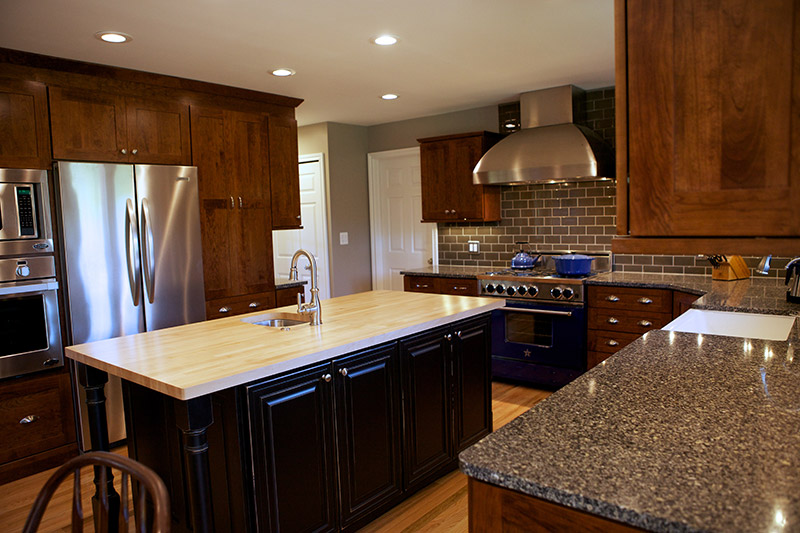 Butcher Block
Butcher block is made from straight cuts of wood glued together into thick slabs in order to provide a sturdy and stable work surface. This look can add warmth and natural colors fitting for traditional, country or cottage-style kitchens. A butcher block countertop can be made from any type of wood; however, maple is one of the most popular because it is hard and has a clear grain. You can use it as a cutting surface, as its name implies; however cuts and scratches will remain and require some minor repair. A wood counter will be vulnerable to heat and stains and can swell or shrink due to changes in climate or humidity. Proper care and maintenance will be required.
Concrete
Concrete countertops are made from one part cement and three parts sand with color added to give them a look unique to the side walk or driveway outside of your home. Because it is porous, sealant must be applied in order to achieve a stainless and heat resistant surface. This sealant will need to be applied frequently for maintenance purposes to avoid cracks. Concrete as a countertop material has gained in popularity recently due to its durability, texture, edge details and wide range of customization. Due to the weight of concrete, stronger support from below may be required.
Which Countertop is Right for You?
Once you've researched your options, it's time to examine your lifestyle and desired aesthetic to choose which countertop is right for you.
Depending on which room you're installing new countertops in, you may wish to choose a certain type of surface material. For example, quartz and granite are perennial countertop favorites for kitchen renovations thanks to their durability, while solid surfaces may be better suited for a bathroom countertop.
Also, you'll want to keep your renovation budget at the forefront of your mind when considering new countertop ideas. If you're on a strict budget, consider laminate countertops, which also have the advantages of being easy to clean. On the other hand, if you're looking to really invest in your dream kitchen or bathroom, you may be willing to spend a little extra for natural stone countertops. Planning out your budget before you begin your renovation will help you stay on track when exploring your countertop options.
Don't forget to consider the aesthetic you want in the room you're redesigning. A wood or butcher block countertop perfectly suits a rustic-chic kitchen, while you can achieve a more modern look with stainless steel countertops. Natural stones like granite and marble will perfectly accent a timeless, high-end look.
Finally, keep your home's particular needs and requirements in mind when looking at countertops. Are you a frequent entertainer and hostess of dinner parties for your friends and family? You'll need a heat-resistant countertop for your delicious dishes- a natural stone countertop could be the perfect combination of practical and beautiful. Dedicated to keeping our planet green? Go for recycled material countertops, like bamboo, paper composite, or recycled glass. By giving your designer a full account of how you use the room you're redesigning, he or she will best be able to help you find the perfect countertop for your home redesign.
No matter what your design style, budget, or lifestyle, a KSI designer can help you find the best countertop for your needs. Get in touch with us today to find out more about how we can help you with your kitchen or bath redesign.
---

Laurén Schaefers
Laurén Schaefers is a professional designer with 10 years of experience servicing the Ann Arbor, MI area. She specializes in delivering best-in-class design concepts to homeowners by blending style and function.