Masterbath redesign has enough room for dance floor
The wife and mother of this busy new blended family knew she needed to redesign the existing house to become a home the entire family could live, function and celebrate life's events in.
It all began with a blowout.
The project started with blowing out the northeast wall of the house. This added an additional 20' x 8' of space on both the first and second floors. What may be surprising is this project began on the second floor in the master bath. The existing master bath was tiny, cramped and had very little closet space. There was a 'his' sink and 'hers' around the corner. Pink tub with small shower. Toilet next to vanity. Very, very, cramped. Both of the closets were in the bathrooms as well. No surprise the project began here!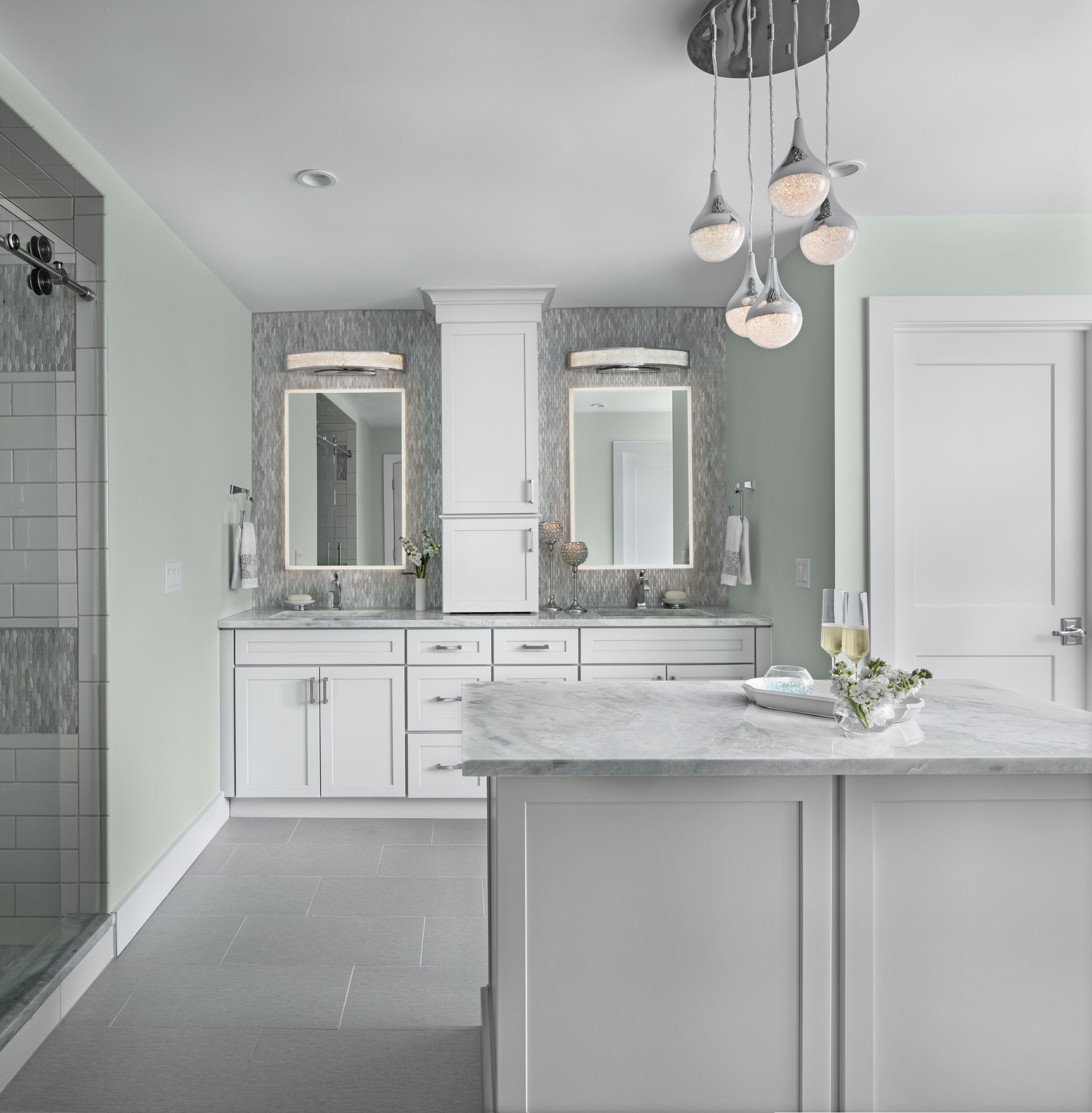 They started with the architectural layout. With the additional square footage added they were able to really expand these spaces and breathe a lot of life and light into the space. They added two vanities and a freestanding tub in front of the window where natural light would brighten the room. Large back lit mirrors were added over each vanity with additional lighting above the mirror that helps pull the super pale green from the Merillat Classic Portrait Mist cabinetry. Brooke Dando, the KSI designer on this project calls this cabinet style "a 'chameleon' color, very adaptable". The vanities are topped with a whispering green and white marble called Lumen. Everything in this space has a grey and green tone. The wall behind the sinks are highlighted with the same iridescent tile laid in the large shower on the opposite wall. It gives off that same gentle glow in the light and adds warmth to the room.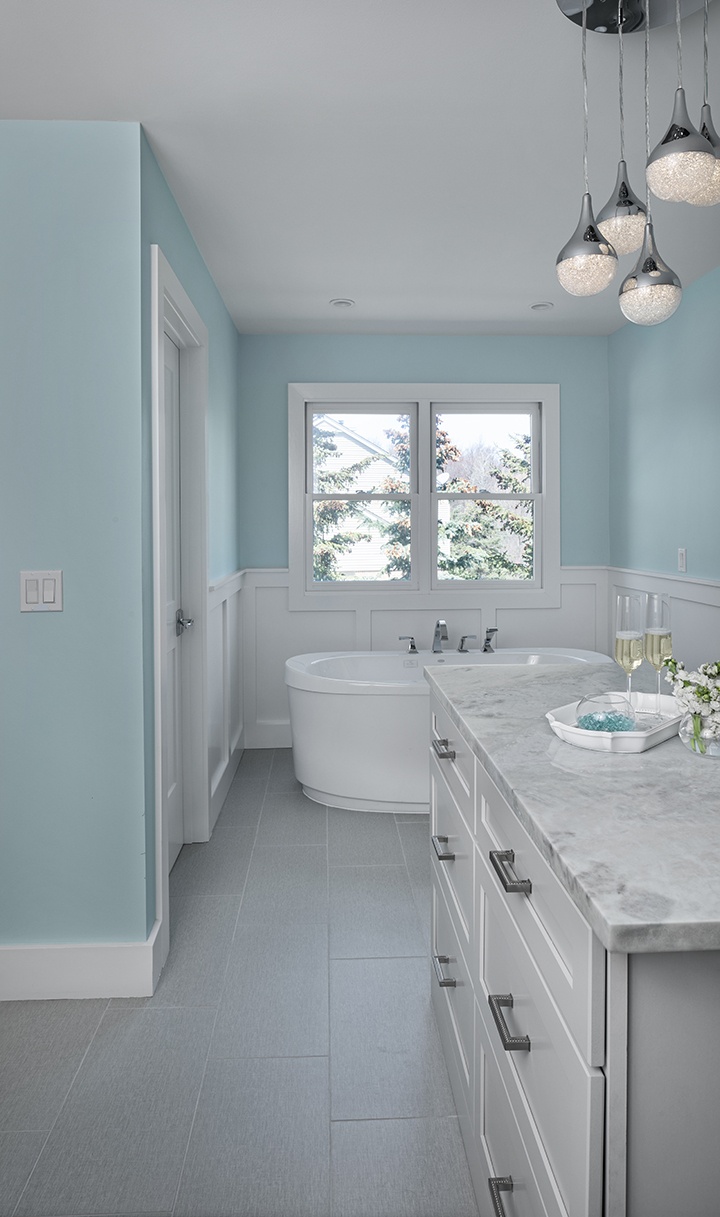 When they discovered they had enough room left for a dance floor in the middle of the bathroom, an island was created with six drawers to house towels and bathroom accessories. The couple finds the counter to be quite handy for laying out towels or clothes for the day.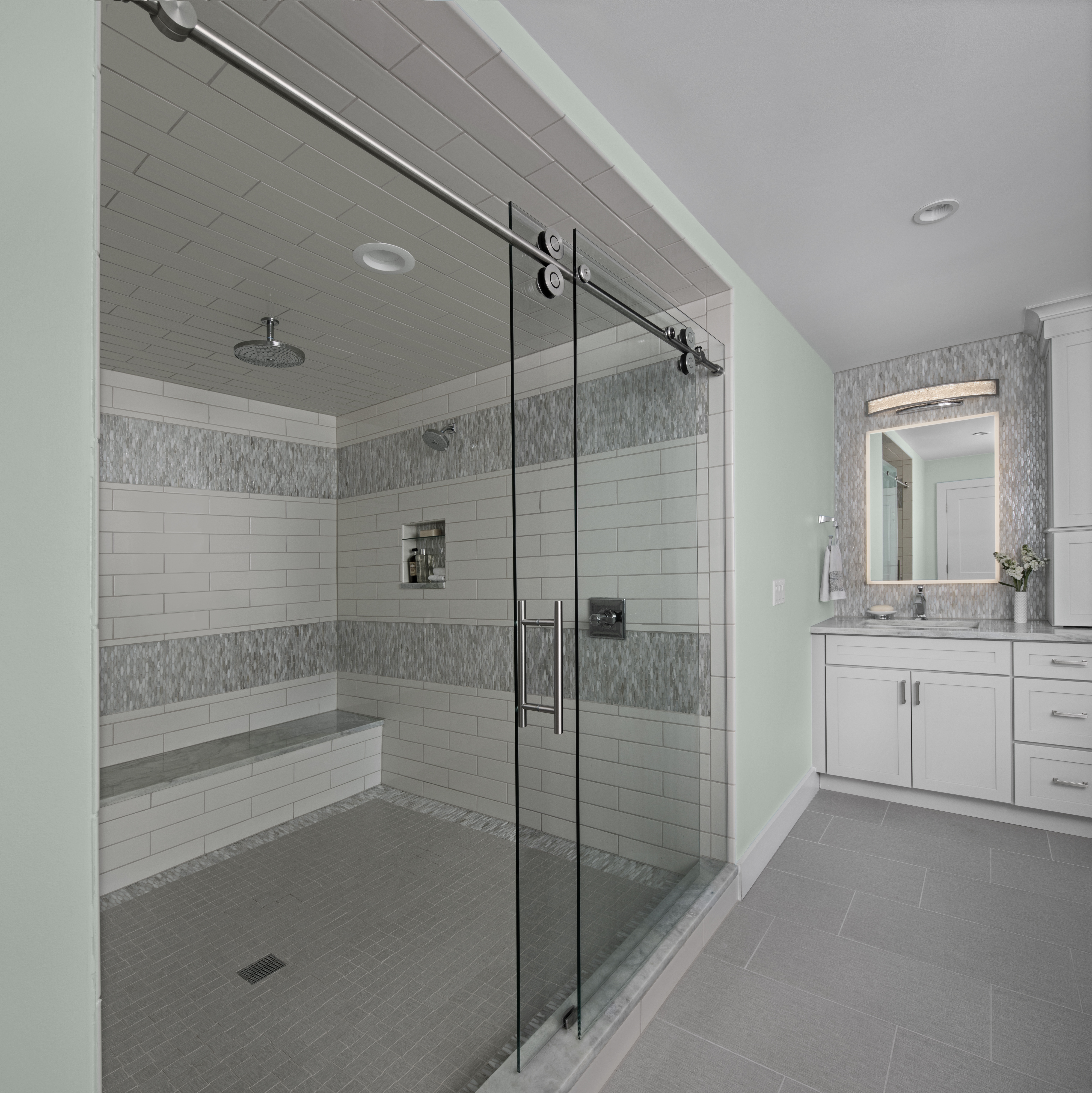 The large shower is 8' x 6.5' and the builder, MCCS, claims it's the biggest shower they've ever done. The full length glass Fleurco bypass shower door finished with decorative hardware resembles the popular barn style sliding doors. These eliminate any access obstruction and open-up the shower allowing in both light and all those soothing tones into the space. Brooke designed the shower specifically in a 'his and her' style. On the left is a hand-held shower with slide bar to accommodate her petite height. It's set closer to the bench making it easier to shave her legs. His side has a more standardized shower head – by design – because he didn't want all the other features. Rain shower overhead. The matching marble tile on bench seat and curb ties it all together.
Designer contact information:
Brooke Dando, KSI Designer
Phone: 586-532-1874
Brooke's bio: https://www.ksikitchens.com/designer/brooke-a-dando/