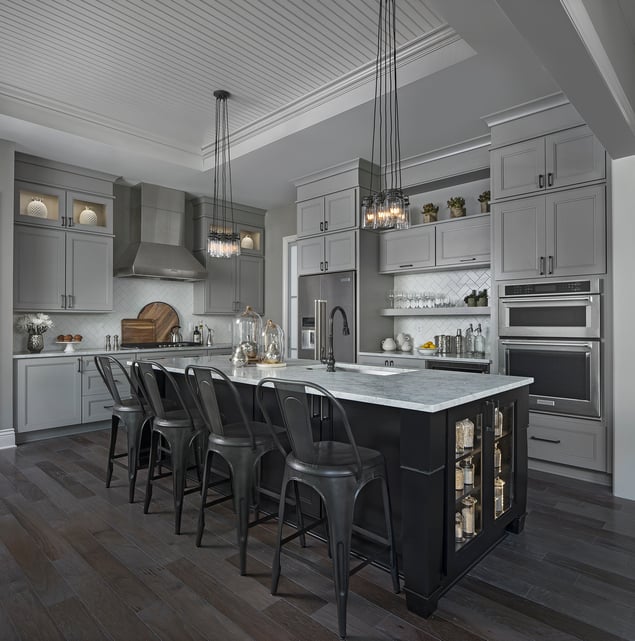 "Wow factors" and calm tones are infused throughout the Lancaster Model by Arteva Homes that is featured in the 2016 Homearama® event at Christenbury Creek in Macomb Township. Visitors are sure to delight in the numerous highly functional features that accent the overall Restoration Hardware theme of the home which blends cozy and warm shades from a gray, brown, black and tan color palette.
KSI Designer Sandra Daubenmeyer created cabinet layouts for ten areas in the home. She focused on unique door styles, simple lines and loads of details to add interest. Oh, and she pulled out all the stops to showcase the best features on the market today for customer convenience.
"This home is warm, inviting and makes you just want to find a cozy chair and relax for a while," shared Sandra who loves to create rooms people enjoy living in. "Everyone should have a house filled with things they love that reflects who they are," she explains.
A few highlights from Sandra's design strategy in the Lancaster Model are below:
Kitchen- The kitchen has a modern/industrial feel with the soft gray color for the perimeter in a recessed mitered door, combined with a black painted island. The builder went with a white subway in a herring bone pattern for the back splash paired with true marble counter tops. The kitchen features design elements from English kitchens that have wider doors and lots of drawers. All of the base cabinets are wide and have either full height doors or a three-drawer stack. These are not the standard drawer and door combination of most kitchens.
A few highlights include a Bread Drawer, a Pots and Pans Drawer and a Spice Drawer. She also included open shelf/floating shelf areas and glass cabinets for an open feel. She adopted a current trend that is popular today by including wide hinge top cabinets between the refrigerator and ovens which have a modern feel.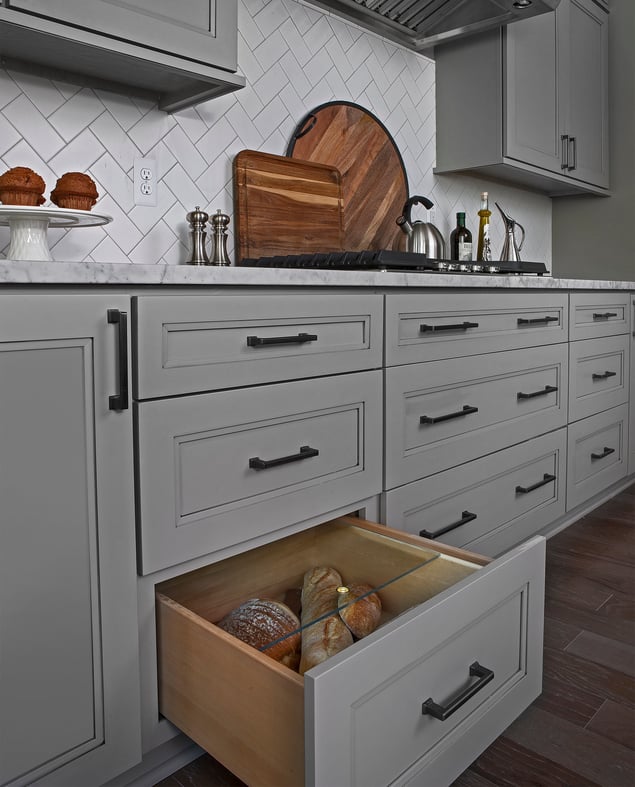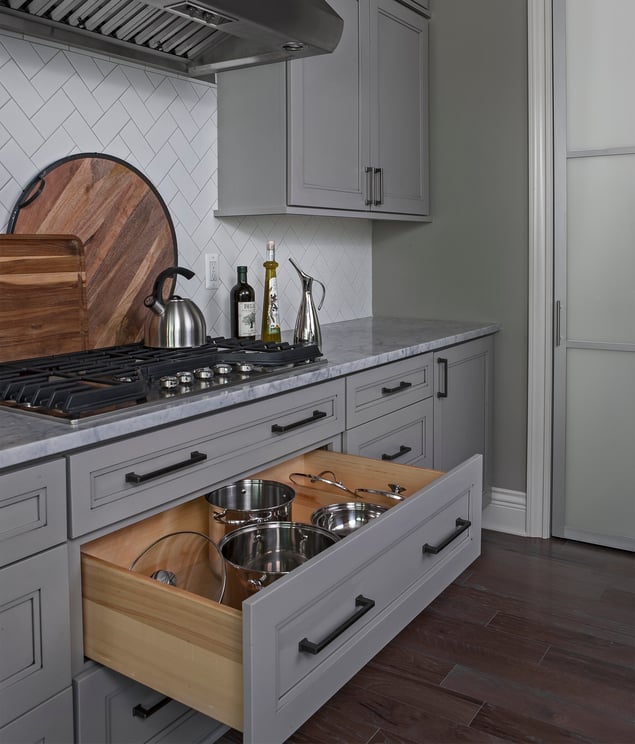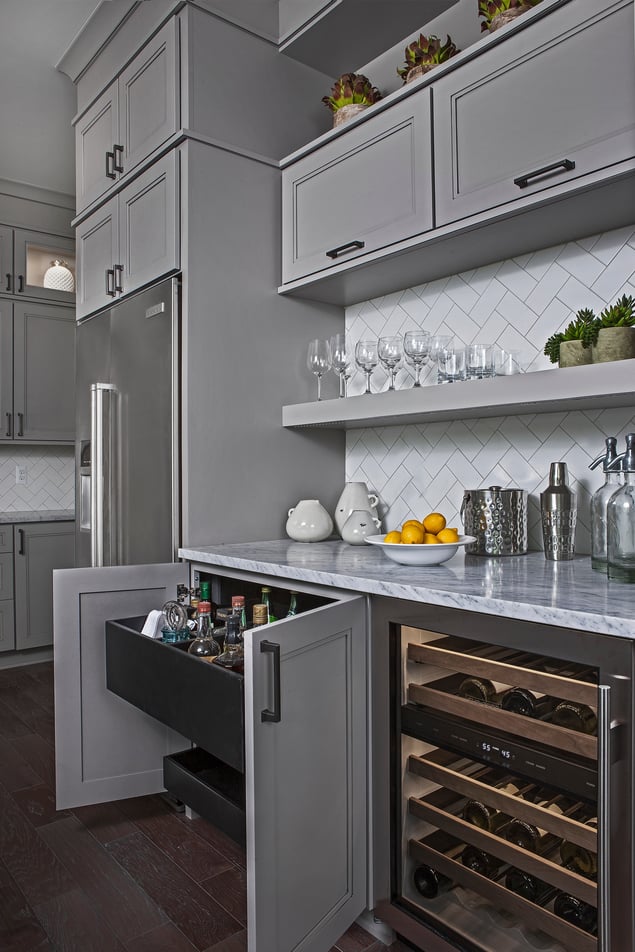 Master Bath – The feel of the bathroom is bright and inviting. Sandra designed custom furniture vanities from Dura Supreme. The door style is simple and the color is a lighter shade of gray than the kitchen. She repeated the same legs from the kitchen island but in a smaller 3 ½" post. The open space below the drawers and sink is perfect for towel or basket storage. The mirrors also are from Dura Supreme in the same light gray weathered finish from the Mudroom.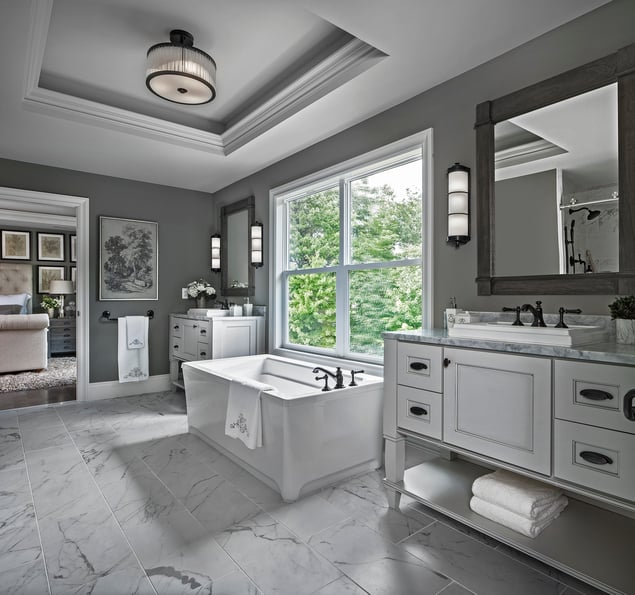 Office and Drop Zone – Sandra used a modern slab door style in a charcoal stain for simple industrial feel. For the Mudroom in the next room, she designed a boot bench area in a light weathered gray finish that has texture, interest and great storage for shoes and back packs.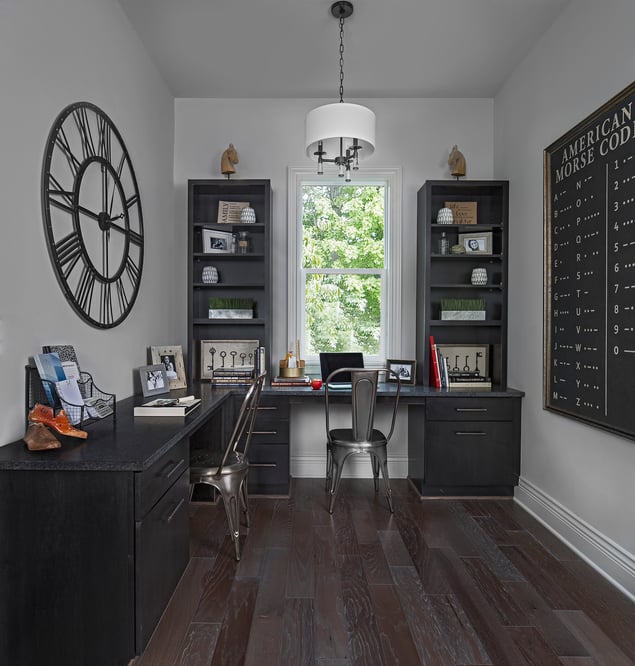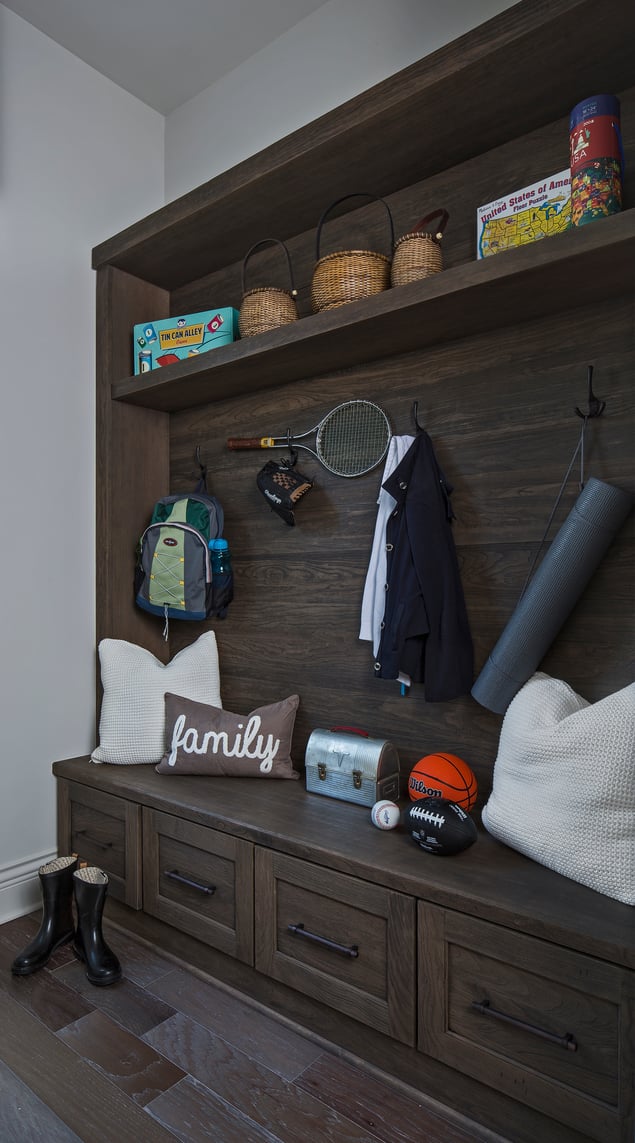 Powder Room – She picked a furniture piece in a similar color to the gray in the kitchen. It has a fancy yet simple raised panel mitered door style with a marble counter top and modern straight line handles.
Lower Level Bar – The Lower Level has a classic cozy pub feel and features cabinets with the same slab door in a charcoal stain from the main floor office and drop zone.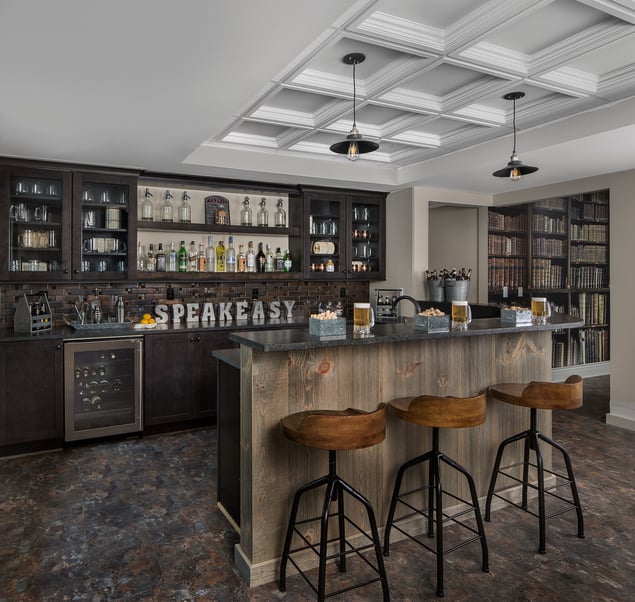 Sandra's Tip for Homeowners who are looking for a smaller upgrade for their home:
"I believe paint colors change everything in a home and a relatively inexpensive. Painting or replacing wood base moldings throughout a home is a great way to update and change the feel of the entire space."
The 2016 Homearama event features eight custom built homes, all located in a single location, that will be open to the public on weekends, from Sept. 23 through Oct. 9th. Tickets for Homearama 2016, which is open from 11 a.m. to 8 p.m. can be purchased online for $10 per person or at the gate for $12 per person. For complete information, visit: https://homearamahba.com/
Designer Contact Information:
Sandra Daubenmeyer, Designer
Email: sdaubenmeyer@teamksi.com
Phone: 586-532-1874
Sandra's bio: http://www.ksikitchens.com/sandra_daubenmeyer.html